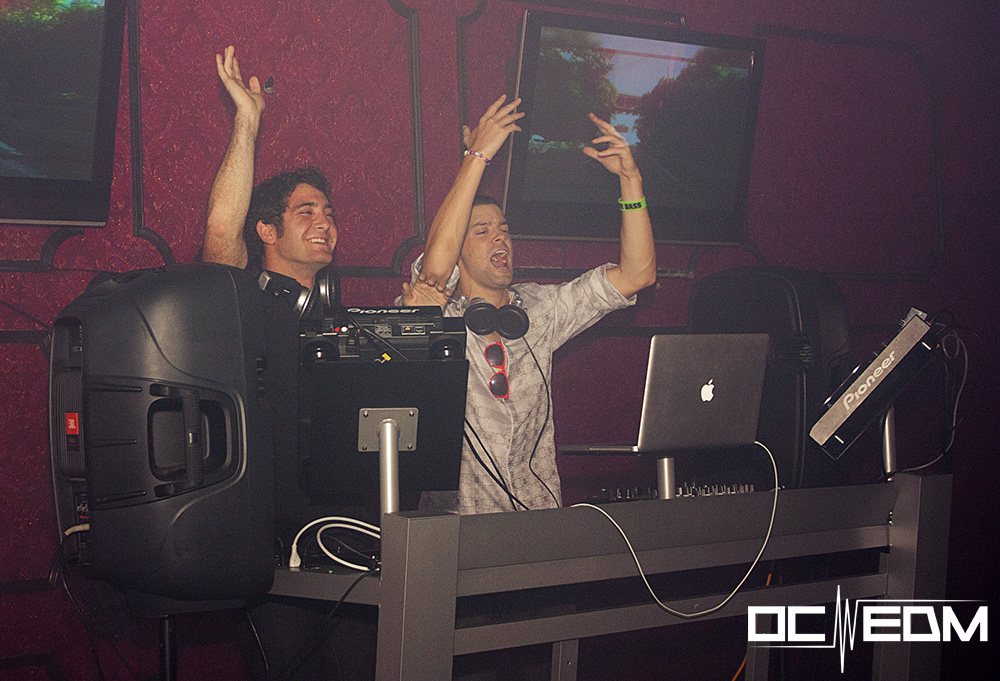 This week, the doctor is in as we're featuring a hot and fresh new group that goes by the name of Dr. Macro. They're a collaborative effort featuring the unique talents of DJ Dizze (Derek) and DJ Ru!nz (Steve) hailing from Orange County, CA. The guys started out individually and yet learned from each other how to DJ while critiquing each other's mixes. But they soon decided to join forces and combine their skills in order to join the ranks of DJ groups such as Swedish House Mafia, Dada Life, and AN21 & Max Vangeli. The Dr. Macro project started in early January 2012 and is accelerating at an almost alarming rate, as seen from their mixes on SoundCloud receiving hits from the UK, Brazil, and Canada. After listening to some of their weekly mixes, including Amoxicillin, Botox, and Codeine, it's easy to see that big things are in store for Dr. Macro.
What influenced you guys to get into the EDM scene?
We got into EDM just before it started going really mainstream when Derek discovered Remix-Nation on his quest to build up his music library. After several months of putting together playlists on CDs for friends, we were hooked. Too many people liked it for us to not go full steam ahead. Ironically, it was almost a year before we made the full plunge and went to our first rave, Identity Fest, in San Diego.
As new artists just getting started in the DJ industry, what are some of the goals of Dr. Macro?
Dr. Macro started out as just a collaborative project idea much like that of Swedish House Mafia or Major Lazer where we had our own careers and then we came together for select times as a duo. After realizing the potential of our brand, we diversified and decided to give back to the EDM community that so happily brought us in. Our blog (doctormacro.wordpress.com) synthesizes everything we do from highlighting new music and artists (Advice From The Doctor), showcasing our individual and collaborative mixes (The Pharmacy), as well as providing tutorials that seek to explain advanced techniques in an easy to understand way (Medical School).
You have started a series of mixes you guys put out once a week. What can you tell us about those and who you're trying to reach?
The weekly mini mixes that we put out contribute directly to our blog section (The Pharmacy) which is set to cure your musical illnesses! Too many times major DJ's only put out podcasts or radio shows once a month or less. These mini mixes also allow us to practice mixing new styles and genres that we wouldn't normally touch for a live set.
Being part of a DJ duo seems tricky. How do you guys get along and decide what tracks to use and how to mix them?
Don't even go there… haha nah, it isn't that bad. We have our moments of frustration like any other group project from school to music. Everybody learns to work through it and collaborate.  Picking songs is pretty easy because we source from a lot of the same website and artists. We each have our own unique mixing styles and that lends to the creative genius of Dr. Macro. It's all give and take, and we respect what each other does.
Who have been your biggest influences so far? Do you incorporate their work into your mixes?
Our friend Zesty gives us a hard time for the music we pick because it's mostly mainstream stuff. Our biggest influences tend to be what we hear the huge names play in their live sets.  We would say our biggest influences for us are Alesso, Avicii, Tiesto, Swedish House Mafia, and Skrillex.  We try to incorporate songs people don't know as well as the songs that people do. It all ties together with our blog and looking at our mini mixes gives you a brief idea of our diversity.
Describe how your first gigs as individual DJ's went.
Dizze's first gigs used a pair of iPods and straight cross fader during his 50 year old dad's disco dance parties. No beat matching or effects. Boring.  Steve is still working on getting that first gig but it should be happening pretty quickly.  We're still pretty young into EDM, so needless to say, we're making steady progress.
Speaking of gigs, you guys have one coming up near the end of March. What's that all about?
We're the closers for the Better World Music private party featuring some huge up and coming names. For more information or tickets, contact Dr. Macro via their blog (doctormacro.wordpress.com)
And now we've come to the Fast Five…
Derek:
Favorite track at the moment: Pon De Floor – Major Lazer
Favorite DJ/Producer: Diplo or his collab Major Lazer (with Switch)
Last track listened to: Who Is Ready To Jump – Chuckie (Dillon Francis Remix) but that isn't fair. I was cueing Dimetap!
Last EDM event attended: Massive – White Wonderland. Club – Marcus Schossow
DJ you'd most like to tour with: Hmmm… Steve Aoki seems to be a silly bitch on tour.
Steve:
Favorite track at the moment: Skyfire – Shogun
Favorite DJ/Producer: Nicky Romero
Last track listened to: Lose My Mind – Alesso
Last EDM event attended: White Wonderland
DJ you'd most like to tour with: Dada Life
Get in touch with Dr. Macro and listen to their mixes at: