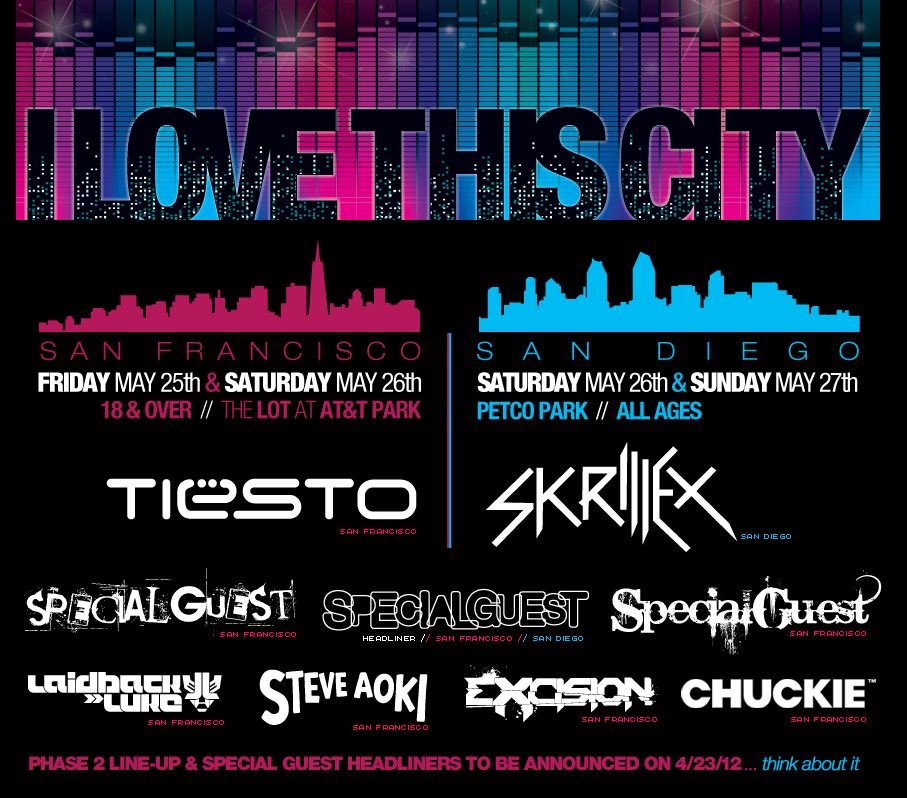 I Love This City has recently announced a huge two city festival involving San Francisco and San Diego in part with Live Nation and LED. The San Francisco show takes place May 25 and 26 at The Lot at AT&T Park and includes the talents of Tiesto, Laidback Luke, Steve Aoki, Chuckie, Excision, and a bunch of other guys that can bring the house down. The San Diego show takes place May 26 and 27 at Petco Park and showcases Skrillex, 12th Planet, The Crystal Method, Savoy, and Cookie Monsta plus many others who can definitely get the crowds going hard.
The early reaction of the fans who have seen the DJ's playing in their respective city has been all over the place. Most people have been saying that San Francisco has the better lineup, while others say that San Diego has the better relatively unknown artists. San Diego's festival has no age limit which was also not taken lightly.
Ticket and on sale information was supposed to be revealed today, but only the San Francisco facts came out, with I Love This City management saying San Diego details will come out next week.
Tickets go on sale for San Francisco March 23 at 10am with early bird two day general admission at $125. (At this time there are no plans for single day passes.) We can probably expect the same price for the San Diego show, whenever they announce it.
We'll keep you guys up to date as soon as we find out more information.