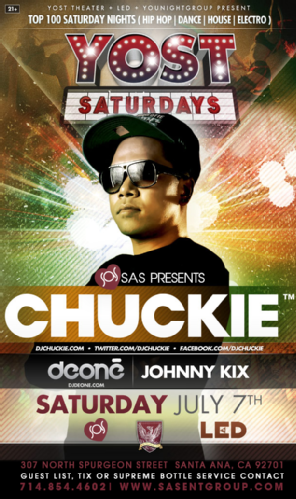 Dutch DJ and producer Chuckie will be playing at the Yost Theater in Santa Ana this Saturday, July 7. He's made some killer tracks, from oldies like "Let the Bass Kick", "Oh What  Night" and "Move It to the Drum"  to recent hits such as "Who is Ready to Jump", "The Numb3r5", "What Happens in Vegas", and "Electro Dude". After listening to his EDC Las Vgas 2012 set, it will definitely be worth it.
Along with Chuckie, deone and Johnny Kix will be playing as well. Tickets are $40 each as of now, or you can go with a special someone and get two for $60.
Get your tickets HERE before they sell out!
Check out Chuckie on Facebook and Twitter!