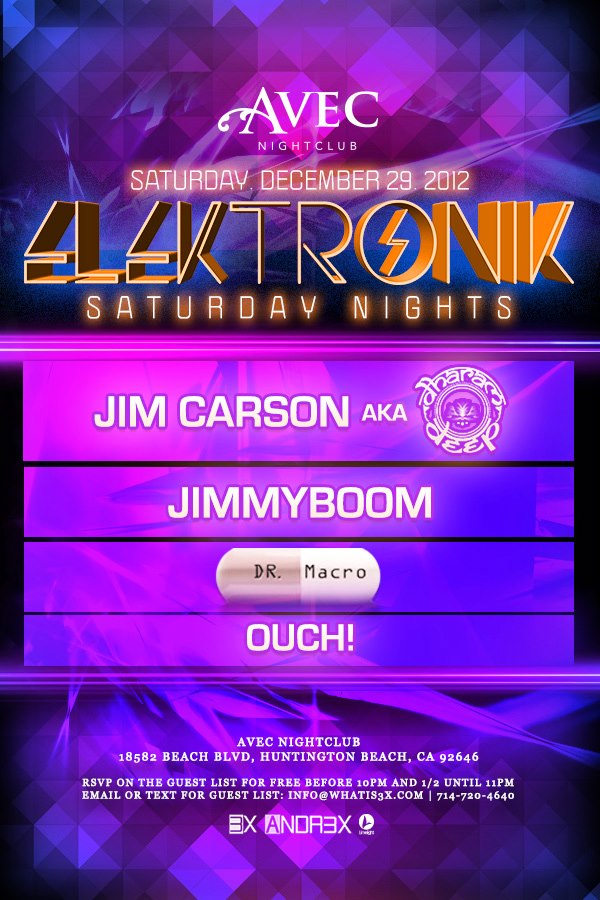 Last night, Saturday, December 29, Dr. Macro was playing at Avec Nightclub in Huntington Beach. In a little over a month, the guys went from opening the club to being the headliners. This time, they brought Ouch! and Jimmy Boom with them to set the pace, and Jim Carson was also on hand to pave the way for Dr. Macro.
Ouch! got everybody in a great mood by playing some sick electro swing, which I've never heard live. While I have listened to that genre here and there, he definitely changed my perception with the surprising hard bass lines and groovy melodies. I don't think there was s ingle person just standing there during his set.
Jimmy Boom was up next and did he put the boom in the room. He threw some madness down on the decks and picked up the pace with some heavy electro and house tunes. He even slipped Psy's "Gangnam Style" in during his set which put a smile on everyones face. Jim Carson came up next and kept things going till Dr. Macro was up.
The guys played a mix of everything that's good, ranging from Clockwork's "Levels" remix to David Guetta and Laidback Luke's remix of "Turn Me On". The song that really caught my attention was their mash up of Dillon Francis' remix of "Hulk" and C&C Music Factory's "Everybody Dance Now". The guys ened the night well, and you can catch them New Years Eve at Ten Nightclub!