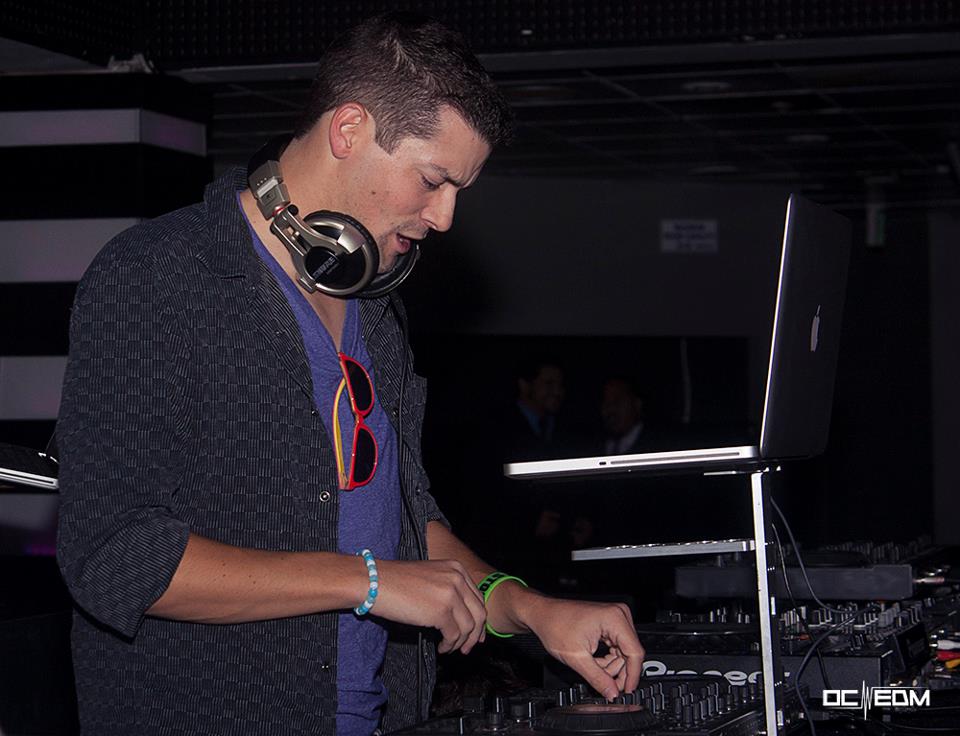 One whole year. Wow. I don't meant to get all cheesy here, but I never thought I'd be doing this when I first started listening to EDM. It just goes to show that you never know where life will take you and what chances you might get. I've had some great opportunities and met some amazing people though this site that I would never have had the chance to before. Thanks to all of you guys who visit the site, Facebook, and Twitter regularly. Showcasing new music that you might not necessarily hear from some of the "big sites" is what keeps me going. Aight, now that we go the mushy stuff out of the way…
One of my close friends in the music world is Nevets, also known as Steve Moore. He's also a part of Dr. Macro with Derek Yegan, of which I've taken photos at some of their shows before. After the guys decided to start playing individually, I asked Nevets to create a mini mix for OC EDM's one year anniversary today. I listened to it last night, and I must say it really impressed me. It's chill, laid back, and relaxed for the most part. The mix is perfect for some background tunes while you're doing homework or just driving around town.
Below is a little interview I set up with Nevets, in which he describes his latest show, the meaning behind his name, and what we can look for in the future from him.
First off, how was Sutra last Sunday?
Last Sunday was a night that most DJ's dream about.  We were slotted to play a 1 and ½ hour set but ended up playing and 2 hour and 15 min set.  On top of that, we pulled crowds from the main stage into the small room we were in and had everyone going crazy! It was a perfect night.
(Edit: Check out photos from the night HERE!)
How did you guys end up playing longer than originally planned?
Haha, the DJ after us never showed up so the club promoters told us to keep going because we were killing it.
How do you think AN21 did in his set?
I had the privilege of hearing the end of his set which was awesome.  On top of that, Andrew Andr3x, the resident DJ at Sutra and 3X Events promoter, said it was one of the best headlining sets he has heard (and he hears a lot of big name DJ's spin there).
Now that Dr. Macro is performing individually, what can you do now that you couldn't do before?
We actually will continue playing together but we want to give everyone we play for a better idea of who we are as individual artists.  I will be able to impart my own artistic views and ideas into my set that I may not have wanted to before.  Derek will be able to do the same, so I am really excited for the future.
Why did you decide on your solo name as Nevets?
The biggest reason was my grandma.  She used it as her computer password when I was young.  This story is a great way for people to remember my name as well as why I chose it. I am a huge believer in family and this is my way of showing that. You can also check out my music history by going to my website, www.stevenbackwards.wordpress.com.
What's up with your "#wearmyglassesat" campaign?
It started as an accident.  I always have a pair of sunglasses I bring to shows and wear.  The night we played the mainstage at Avec, my glasses went missing. That's when I came up with the idea to give away a pair each time I play and sign them.  I am also planning on adding some fun things with this campaign as the shows become bigger and better… It may involve a lucky person coming on stage if they are wearing a pair of my glasses and "helping me" DJ!
Who is your biggest influences as a producer and performer?
As a producer, Above & Beyond is my biggest influence.  I was able to see them play in Los Angeles Last year at The Shrine and it remains the best show I have ever been apart of.  The way they compose each element of each track and tie them all together is incredible.  My biggest influence as a performer is actually Le Castle Vania, he was the first DJ I had ever seen perform live and he makes the crowd go crazy.  I feel like this is a crucial element to any person trying to have success as a DJ.  You have to give people something to remember you by other than just the tracks your playing.
What does the future hold for Nevets?
The future is bright, I am more motivated than ever before and things are coming together.  I am going to begin producing in the next months as well.  I don't want to give anything away but all I can say is, there are HUGE plans for the future.  However, when I can say, OC EDM will be the first to know (other than my family)!
You're trapped on an island and can only listen to five songs. What are they?
Damn you for this….
(In no specific order)
This damn question kept me up for a few hours…
Check out the mini mix below and thanks for visiting the site!