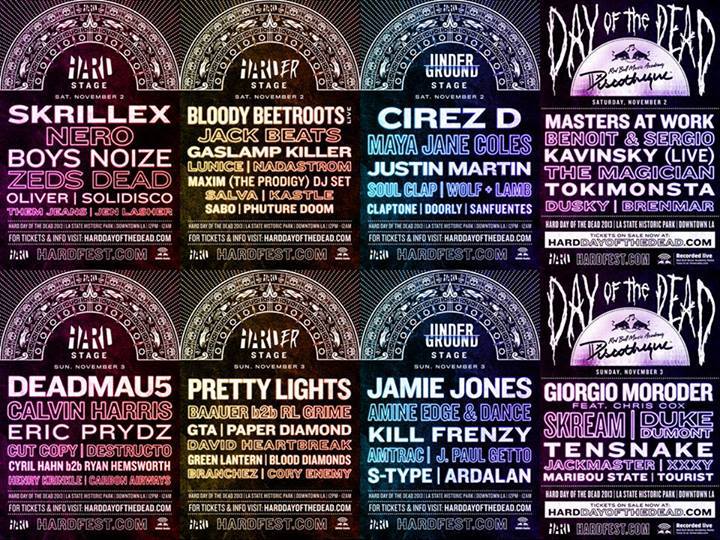 * Check out the set times HERE! *
About one hour ago, the stage lineups for Hard: Day of the Dead were released, which shows us who is playing where. The four stages being utilized this year include the Hard Stage, the Harder Stage, the Underground Stage, and the Red Bull Music Academy Discotheque. It is important to note that HARD has said "these are not the final running order of stages, just artwork so you can see who is playing where. We are working on making sure times are the best they can be for your ultimate enjoying pleasure."
The two day  festival will be in full swing at the Los Angeles State Historic Park on Saturday, November 2 and Sunday, November 3 from 12 pm until 12 am. Saturday's headliners are a doozy, scanning the likes of Skrillex, Nero, Boys Noize, Zeds Dead, Bloody Beetroots, Cirez D, and Jack Beats. Sundays line up is just as good, consisting of deadmau5, Calvin Harris, Pretty Lights, Eric Prydz, Giorgio Mororder, and Bauuer b2b RL Grime.
Two day general admission tickets are $176.80 total as of now, with VIP (21+) being $290.10. Single day general admission is $98.70 and a single day VIP ticket (21+) is $145.05.
Grab your tickets HERE before they go up in price, or worse…sell out!