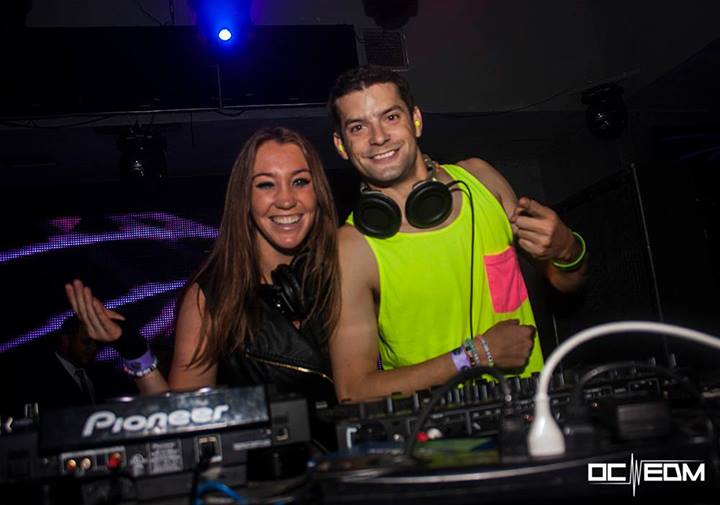 As I said earlier in the week on Facebook, February 22 is the Two Year Anniversary of OC EDM. As we get closer to the date, we'll be celebrating each Thursday leading up with a series of special guest mixes that will get you pumped up for the weekend. Today's mix comes from the local Orange County duo of Frisson, followed by Sheevy from Poland, and finally wrapping up with another Orange County resident in JimmyBoom.
Starting off with Part 1 of our Two Year Anniversary guest mix series is Frisson, consisting of Steve Moore (Nevets) and Caitlin Callahan (Queen of Electro). According to the group, frisson is defined as "a sudden, passing sensation of excitement; a shudder of emotion; thrill. This is what we strive for with every bit of music we play. You hear, you dance, you feel Frisson." Frisson has played at various clubs and events in Orange County, such as Sutra, Yost Theater, Ten Nightclub, and Avec.
The pair have been known to bring a highly energetic set to the decks each time they play, creating more Frisson Freaks each time they perform. They are one of the few DJ's I've seen play Melbourne house that is interspersed throughout their performance, and it always seems to get the crowd going no matter what time they play. This mix is the one they performed at Avec at the end of January, where they headlined the Rose Room at the Huntington Beach club.
Check out Part 2 of the series from Sheevy and Part 3 from JimmyBoom!
Track List:
1. Bombs Away – Fire (Original Mix)
2. Bombs Away – Assassinate (Club Edit)
3. Zane Zero – Drop One Too (Original Mix)
4. Bombs Away – Better Luck Next Time (Joel Fletcher Remix)
5. TON!C ft. Tarantula Man – Big Fat (Radio Edit)
6. TON!C – Phony (Original Mix)
7. Kryder & Danny Howard ft. Joel Edwards – Sending Out An S.O.S. (Original Club Mix)
8. Joker Inc – Smile (Original Mix)
9. Ric Stin ft. Verena & Treyy G – Hypnotized (Original Mix)
10. Deorro ft Tess Marie – Lie (Ric Stin Remix)
11. Gee & T – Shake It All Night Long (Chardy Remix)
12. Far East Movement ft. Riff Raff – The Illest (Deorro Remix)
13. OneRepublic vs. Thomas Gold – Feel Again (Sex Panther Remix)
14. KOMEs, G-Wizard, & Pantheon – Sparta (Original Mix)
15. The Potbelleez & Bombs Away – Saved In A Bottle (Bombs Away Remix)
16. Gregori Klosman & Tony Romera – Bad Guy (Original Mix)
17. Nevets – What Is Frisson?
18. Orkestrated – Schticky (Zooland Remix)
19. Clockwork – Roll The Drums (Original Mix)
20. D!rty Palm – Just Love Me (Original Mix)
21. Red Hot Chili Peppers – Californication (Promise Land Bootleg)
22. Deorro ft. Pasha – Red Lips (Origina Mix)