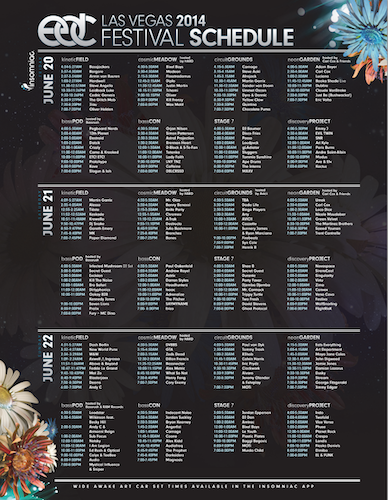 Yesterday, Insomniac finally released the set times for Electric Daisy Carnival 2014 in Las Vegas. The three day festival will be taking place as the Las Vegas Motor Speedway on Friday June 20, Saturday June 21, and Sunday June 22. From insomniac.com:
"Only a few more days until the magic of EDC Las Vegas 2014 begins. If you've been patiently waiting to find out when your favorite performer will take the stage, your wait is over. We've got your set times right here! And what better way to keep track of your schedule than with the new Insomniac app, which is now available for download.
If you haven't added this useful tool to your app collection, you're missing out on a wealth of information at your fingertips—like our custom set time scheduler, so you don't miss a minute of your favorite acts. The app is also loaded with dining information, free water refill station locations, news updates, and organizes all our social channels so you can stay instantly connected. Click here to grab it."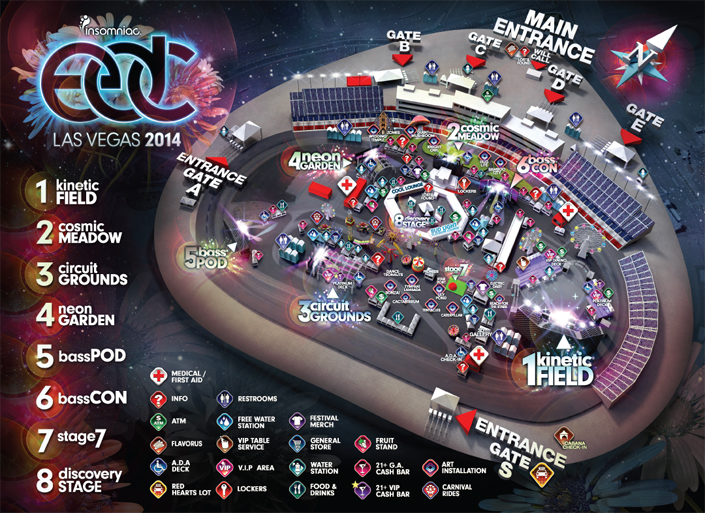 From insomniac.com:
"Headliners, to help you make the most of your festival experience as you roam the colorful landscape, we've mapped out all the special details for this year's event. The stages, carnival rides, the art installations, the lost and found, where to score free water and exclusive Insomniac gear; our festival map is a small but important luxury that we do just for you so you do not miss any of the attractions. We can't wait for you to experience everything we have in store for you this year."
It looks like VIP tickets are the only ones left, so if you've been hesitating on whether to go or not, now you have the set times and venue map…GO!