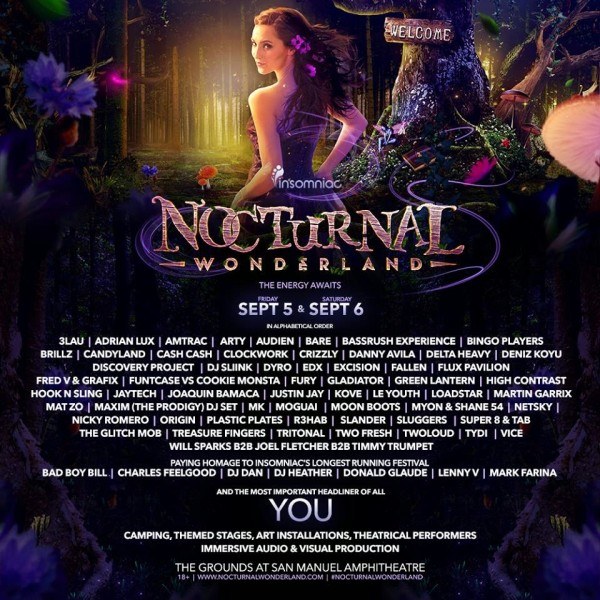 [Updated Photo With Lineup]
Insomniac's longest running festival in Nocturnal Wonderland will be held at the San Manuel Amphitheater in San Bernardino on Friday, September 5 and Saturday, September 6. While no lineup has been released yet for the festival in its 18th year, it's put on by Insomniac and Pasquale Rotella…you just know it's gonna be good. This year, the option of car/RV camping is available again, with either 2 or 3 day options to choose from.
Two day general admission tickets are currently $167 for 18+, with a payment plan option available. Two day VIP tickets for 21+ are sitting at $297 as of now.
"Nocturnal Wonderland invites you into an enchanted wonderland of world-class music and unparalleled production.
Nocturnal Wonderland is a massive electronic music festival that has been steadily growing and brings the biggest names in music and dance to an audience of up to 50,000 musical enthusiasts.
Now in its 18th year, Insomniac's annual end of summer two day event in Southern California is one brand that so many of our fans look forward to. This massive, themed, outdoor event underscores Insomniac's ability to bring its cutting edge production capabilities to bear on completely transforming a venue into an audio-visual experience.
Gather one and all from all walks and points upon the globe, feast your eyes upon the sounds, hear the colors come alive. Explore the mysteries within the music, experience the wonder that is this life, this time, this moment. Gather together your deepest of energies. Let this night scream into the universe and shake the foundations of all creation. The time is now!"
Lineup:
3LAU, Adrian Lux, Amtrac, Arty, Audien, Bassrush Experience, Bingo Players, Brillz, Candyland, Cash Cash, Clockwork, Danny Avila, Delta Heavy, Deniz Koyu, Discovery Project, DJ Sliink, Dyro, EDX, Excision, Fallen, Flux Pavilion, Fred V & Grafix, Funtcase vs. Cookie Monsta, Fury Gladiator, Green lantern, High Contrast, Hook N Sling, Jaytech, Joaquin Bamaca, Justin Jay, Kove, Le Youth, Loadstar, Martin Garrix, Mat Zo, Maxim (The Prodigy) DJ Set, MK, Moguai, Moon Boots, Myon & Shane 54, Netsky, Nicky Romero, Origin, Plastic Plates, R3hab, SLANDER, Sluggers, Super8 & Tab, The Glitch Mob, Treausre Fingers, Tritonal, Two Fresh, Twoloud, TyDi, Vice, Will Sparks B2B Joel Fletcher B2B Timmy Trumpet, Bad Boy Bill, Charles Feelgood, DJ Dan, DJ Heather, Donald Glaude, Lenny V, Mark Farina