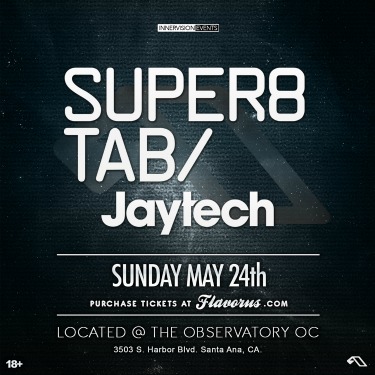 On Sunday, May 24th, the Observatory in Santa Ana will be home to the Finnish duo Super8 & Tab. With Monday being Memorial Day, it's a great chance to see Miika Eloranta (Super8), Janne Mansnerus (Tab) on their last US date supporting their "Unified Extended" album. Included on the album are collaborations with Jaytech, BT, and Sunny Lax, as well as remixes by Jerome Isma-Ae, Juventa, and Estiva.
I had the opportunity to ask Super8 & Tab a few questions about their new album, crazy things that's happened on tour, and who'd they'd like to work with in the future. The guys also included a mix so you can get ready for their show on May 24th.
Hey guys, thanks for taking a few minutes to talk. Your "Unified (Extended Mixes)" album recently came out…how have the two of you changed since your 2010 album "Empire"?
Every time you do something new, you learn from it and you use that for the next thing you do. We learnt a lot from Empire but instead of chasing the trends, we continue to stick to our own sound. One personal thing that has changed since 2010 is that we both became fathers!
"Patience" featuring Julie Thompson and "Who Needs Pain" featuring Jan Burton are a couple of tunes on the album that use vocals. How do you decide which singers to work with and how to incorporate their voice into the track?
We worked with Julie and Jan on Empire and we really liked working with them so we invited them to Finland for Unified. All the tracks on the album were written and recorded in our studio in Helsinki. We feel the end result is better when everyone is in the same room while writing a song. All tracks were written on a keyboard or recorded as a very simple demo. Proper production was done once we had the vocals recorded.
How did you choose the artists who remixed certain tracks included on the album?
It's something we discussed with our record label Anjunabeats. We suggested some artists we'd like to have remixes from and they brought their suggestions to the table as well. 
Super8 & Tab have been with Above & Beyond's record label Anjunabeats for some time now. How did you first get in contact with them?
The very first time was around 2000 or 2001 when Jono and Paavo just walked into our studio without warning! They played their unfinished Madonna remix and we were like, who are these guys, they just walk in our door and next thing they tell us is that they are remixing Madonna!
You guys are set to play at the Observatory on May 24th. What kind of set can we expect on your last United States tour date?
It will be lots of fun because we have new tracks we are now road testing and then there's all the new remixes from Unified. We have so many tracks to choose from! On our Unified Tour, the Observatory was highlight for us so we are not expecting anything less this time. The crowd was insane there so we might have some surprises just for this show!
What's the craziest thing that's happened on tour?
It was a gig in Mar Del Plata in Argentina–one for the books! Because the club was closing, we had to stop after a 4 hour set and it took 5 huge security guys to get us out of the way from the rioting audience because they wanted us to continue playing!
Who would you like to collaborate with that seems totally out of the realm of what you two would normally do?
Film music composer Steven Price is amazing so it would be really interesting to work with him. 
What can we expect from Super8 & Tab for the rest of 2015?
In June there will be one more release from album coming out and after that it will be all new material that we have been working on. There's a couple big profile remixes in the works too that we can't talk about yet.
Favorite song from "Unified": "No Frontiers" ft. Julie Thompson
Best track to play at peak time: "Rubicon" ft. 7 Skies
Unexpected remix to switch things up: The Prodigy – Smack My Bitch Up (The Thrillseekers Bootleg)
Vocalist you'd most like to work with: Tori Amos
Tickets for the 18+ show are only $5 with doors opening at 8pm. Jaytech will be opening the night for Super8 & Tab. You can check out his latest Music Podcast 089 to see what kind of tunes he will be playing that night.
Super8 & Tab – Facebook / Twitter
Tracklist:
01. Super8 & Tab with 7Skies – Antipodes (Extended Mix)
02. Jerome Isma-Ae – Smile When You Kill Me 2015 (Original Mix)
03. Eric Prydz – Generate (Club Edit)
04. L'Tric – This Feeling (Kryder Remix)
05. Luke Chable – Comet (Zerothree Mix)
06. Super8 & Tab with Sunny Lax – Sonata (Extended Mix)
07. Andrew Bayer feat. Asbjørn – Super Human (Original Mix)
08. Super8 & Tab with BT – Aika (Extended Mix)
09. ilan Bluestone – 43 (Original Mix)
10. Super8 & Tab feat. Julie Thompson – Patience (Extended Mix)
11. Genix – Lima (Original Mix)
12. Above & Beyond feat. Zoë Johnston – Peace Of Mind (Above & Beyond Club Mix)