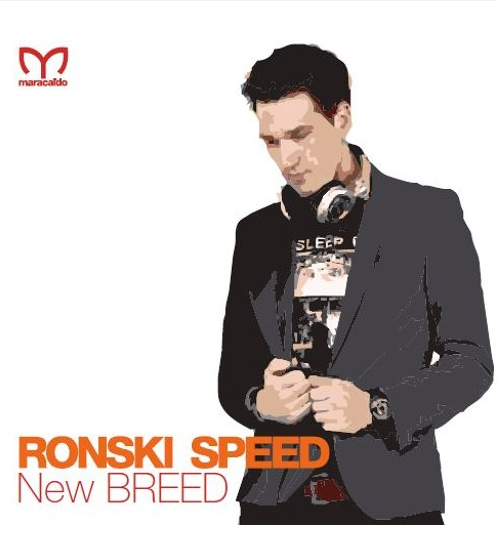 Trance producer Ronski Speed has a new mix compilation out now called "New Breed". The native of Germany has had a very respectable career so far, having released tracks from Euphonic Records, Armada, Black Hole Recordings, Vandit Records, and Anjunabeats. There's also been collaborations with Kyau & Albert, Stoneface & Terminal, Lange, Emma Hewitt, and JES that have helped grow his name even more. He's also created some high profile remixes for the likes Aly & Fila, Armin van Buuren, Above & Beyond, Markus Schulz, and Tritonal.
Ronski took a few minutes to answer some questions about "New Breed", which artists to look out for, and his most memorable show. Check out the mini mix below of the songs that will be included in the compilation album!
Your new mix compilation "New Breed" is being released this week. How did you decide which tracks to feature on the compilation?
I started my very own record label last year and took the brand new and exclusive stuff from the next months and put it on the compilation.
Overall, it is the signed stuff on our label from the demos and productions that we get send every week.
Plus, I've signed some of my latest production from Dennis Sheperd's "Bring You Home" and my track with Ost & Meyer called "Fortress".
You have your own label, Maracaido Records, which gives you access to some young and talented producers. Who should we be on the look out for in the future?
I think that Aimoon is absolutely hot at the moment. Also, a few of my current favorite tracks of my label are coming from LTN from Indonesia who is really rising at the moment.
How have you influences of Chicane, Pet Shop Boys, Depeche Mode, BT, Way Out West, and New Order helped shape your sound?
They influenced my sound very much in the beginning of my production career. Their warm melodic feeling definitely brought me into trance. Today unfortunately there are too many EDM – trance tracks around which are played by the major trance DJs.
The first time your track was chosen by Armin van Buuren as "Tune Of The Week" for his A State Of Trance radio show, what was your reaction?
Actually at this time Armin was slowly rising and his show wasn't that popular in 2004. Tiesto, Paul Van Dyk, etc. were the big guys in the scene. But anyway, the feeling to be played by these guys was really amazing. Every producer knows this amazing feeling to hear your track the first time live or on the radio.
What has been your most memorable show so far?
Oh, there are so many. Maybe I look back to last year; it was definitely my New Year show in Singapore at Marina Bay. The atmosphere to play in between these big skyscrapers and the beautiful bay in connection to the great people there was simply amazing.
Any advice for struggling producers?
Keep on going, you can't force it.
Favorite song from "New Breed": Alex John – Daydream
Best track to play at peak time: Dennis Sheperd – Bring You Home (Ronski Speed Remix)
Unexpected remix to switch things up: Ost & Meyer, Ronski Speed, and Cate Kanell – Fortress (Dan Stone Remix)
Vocalist you'd most like to work with: Cate Kanell
Ronski Speed – Facebook / Twitter
Purchase: ronskispeed.com
Tracklist:
01. Sylvermay – Prometheus (Chill Mix)
02. Nick Callan – A Summer to Remember
03. Ronski Speed & Lucy Saunders – Calm Before The Storm (Aimoon Remix)
04. LTN & Ronski Speed – Lint
05. Moiez & Alina Renae with Mike Shiver & Rapha – What I Need This Time (Ronski Speed Remix)
06. Farhad Mahdavi & Soshians – Back To Amsterdam
07. Sylvermay – Ushuaia
08. Matrick – Rockfall
09. SHato & Paul Rockseek meets Voy-Tech – Crypoint (Ronski Speed Remix)
10. Silvermay – Prometheus
11. Ronski Speed – Scrum
12. Juxie feat. Emma Piitulainen – Teardrops (Ronski Speed Scrum Mix)
13. Aimoon – Punch It (Ronski Speed Scrum Mix)
14. Dennis Sheperd feat. Chloe Langley – Bring You Home (Ronski Speed Remix)
15. Ost & Meyer with Ronski Speed feat.Cate Kanell – Fortress (Dan Stone Remix)
16. Alex John – Daydream