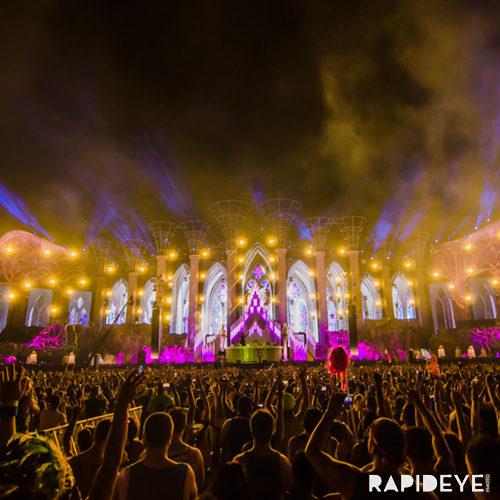 With EDC Las Vegas taking place in 11 days, it's time to get ready and start checking out the lineup to get a gauge on what sets are a must see. And with a photo like the one above from Rapid Eye, how can you not be amped up for the three day festival? Due to the fact that there are many artists and genres represented, any decision you make on who to see will be hard. Here's a list of people who caught my eye, and most importantly, my ear (in alphabetical order).
The Australian artist's name has been picking up speed lately, and for good reason. Alex Sholler's debut album "Run" was released in March, while her first US show was at Coachella this past month. Known for her warehouse parties in Australia, Alison's future bass/trap tunes are starting to rise here in the States, so it's no surprise that she was selected to give it a go at the festival.
If bass music is your calling, there is no doubt that a b2b set of Cookie Monsta and FuntCase will have your covered.,..and then some. One of the most listened to sets in my iTunes is from the UK pair of Tony Cook and James Hazell and their "Circus Two Mix" which came out about two years ago. Just listening to the mix again makes me wonder what the guys will be capable of in front of a live crowd…should be crazy good!
The more I listen to Galantis, the more I keep loving their upbeat and energetic songs. Having played a huge festivals and events such as Coachella, Something Wicked Festival, and Holy Ship!, the Swedish duo keep refining their style to great success. Christian Karlsson (Bloodshy) and Linus Eklöw (Style of Eye) have an album coming up in June that will surely see some play time during their set.
The duo of Niall Dailly and Ben Geffin create some of the funkiest and grooviest songs I know. From their 2012 album "Somebody To Love", to their 2014 "Beatbox EP", to the most recent "One Love" from the OWLSA Spring Compilation 2015, there is nothing in Jack Beats discography that you can't dance to. The British duo are friends with AC Slater, so expect to hear some of his tunes in their set as well.
London based DJ and producer Tom Mundell euphoric drum and bass productions have had me hooked for quite a while now. His album "Universal Language" was released in September 2014 and features Elisabeth Troy, Jan Burton, Kyza, Rocky Nti, ShockOne and Reija Lee. The Hospital Records signee knows a thing or two about getting a crowd hyped up to his vibrant and dynamic tunes.
This duo consists of a Derek Andersen and Scott Land who first met at UC Irvine. The journey of the local guys has been fast and furious, having played at shows in Seattle, Denver, Miami, and Dallas and festivals such as Beyond Wonderland and Nocturnal Wonderland. Their distinctive "heaven trap" style helped launch their success, leading them to have support from Skrillex, DJ Snake, Flosstradamus, Diplo, Porter Robinson, and Adventure Club.
The Canadian DJ and producer first got his start on Black Tiger Sex Machine's label Kannibalen Records and hasn't looked back. He's another person who pioneered his own style called "vomitstep", and although it puts quite the image in your head. Once you listen to a song like "King Is Back" featuring Big Ali or "KRMT" with Botnek, it actually makes sense. His seizure inducing bass music will be sure to leave your brain rattled after an insane set!
Hardstyle is making a case in the United States, and if Italians Technoboy and Tuneboy have their way, we'll be hearing a lot more of the genre. Separately, Cristiano Giusberti and Antonio Donà are each accomplished producers in their own rights. Together, they have created "Digital Nation" with Isaac, "Musick", and "Tritolo". If you're just getting into hardstyle, TNT is the duo to see.
You can say that tech house kingpin UMEK has been around the block once or twice. Last year, the Slovenian artist came out with his fourth album "Rhythmia". He's performed and Essential Mix for BBC Radio 1. Uroš Umek operates his own record label, 1605. He won the International Dance Music Award for Best Techno/Tech House Artist in 2014. He collaborated with freakin' Waka Flocka in "Cheezin'". If you want to move and groove under the electric sky, UMEK is your man.
Denver based producer Kris Barman is known for his genre blending sounds of ghetto tech and booty bass. His releases have come from OWSLA, Main Course, Fools Gold Records, and Ultra…all heavy hitter record labels in the game today. He's also worked with or remixed for Jesse Slayter, Tommie Sunshine, RL Grime, and Anna Lunoe. The booty shaking basslines will most certainly have you dancing from sunset to sunrise.
Check out the set times for EDC Las Vegas 2015 and plan your weekend accordingly!