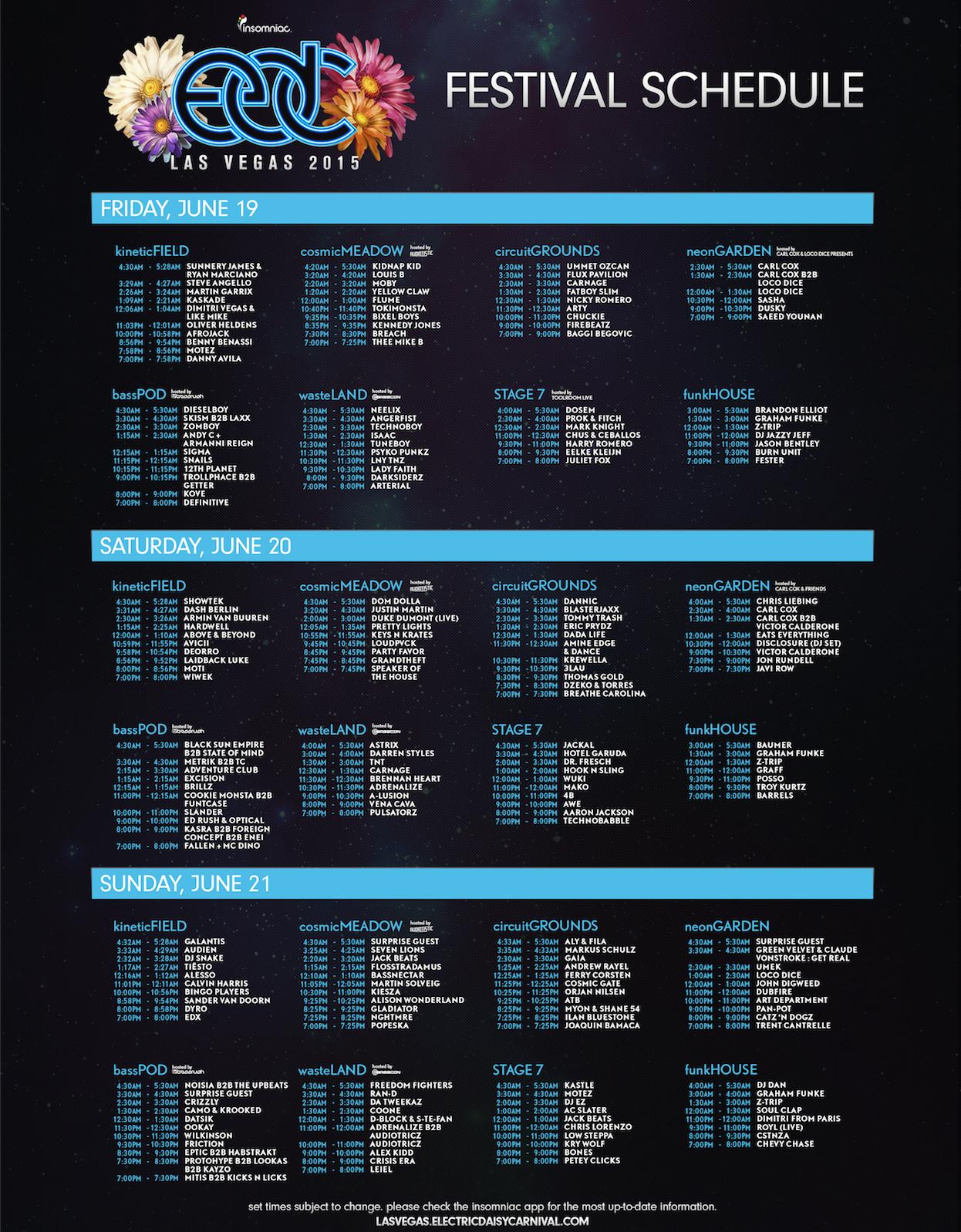 The set times for EDC Las Vegas 2015 have been announced! Check out the image above (or a larger version here) and plan the sets you want to see through the official "Insomniac: EDC Las Vegas 2015" app for iOS or Android. There's also this handy Google Doc with the sets times listed for each stage as well as a Soundcloud link to the artist playing at that time.
Edit 6/19: Check out the live stream here!
In addition to the set times, the festival map has already been released. New this year is Carnival Square, an area set in the middle of the Las Vegas Motor Speedway that's a great spot to meet up with friends or to take advantage of some special features such as:
Artist meet & greets
Charging stations
Photo ops with performers
Seating
Video confessional booth
Food & beverage vendors
Artist merch

Lineup and festival map
Lost & Found
General Store
Consciousness Group
Art installations
Ground Control oasis
Info booth
Vendor Village will include:
Glow, Glasses & Apparel from iHeartRaves
Mobile Chargers
Flowers & Crowns
High-Fidelity Earplugs from ETY Plugs
Festival Belts from FlipBelt
Festy Tattoos from Festy Besty
Vape Lounge with Cuttwood and TSL Flavors with digital wall graffiti curated by legendary street tastemaker The Seventh Letter
Instant Photo Memories by Fujifilm
Massage and Spa
This year, Insomniac and Yahoo will be live streaming all three days of the event. Streaming will be live from 8:30 p.m. to 5:30 a.m. PT each night, followed immediately by a re-broadcast.
To get in the mood for the three day festival, take a listen to the 2015 EDC Las Vegas playlist, featuring a standout track from every artist featured on the lineup.
Check out this list of 10 sets you won't want to miss!
There's still a limited amount of tickets left, so if you were waiting to see the set times before deciding, get on it!
TICKETS! TICKETS! TICKETS! TICKETS