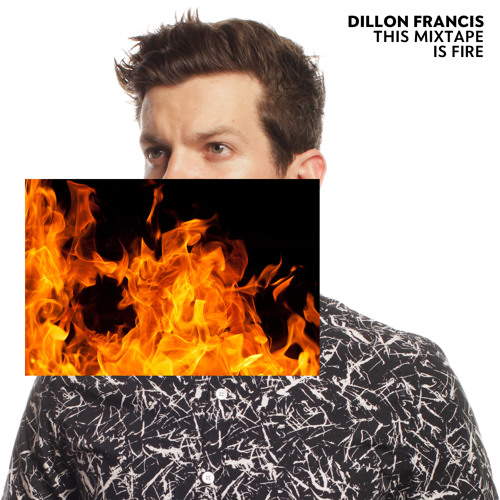 Dillon Francis' much hyped EP "This Mixtape Is Fire" has finally been released today. The six track set features collaborations with Calvin Harris, Skrillex, Bro Safari, Kygo and James Hersey, and Chromeo. There's also a remix of "I Can't Take It" Party Favor, a song from his 2014 debut album "Money Sucks, Friends Rule".
The EP is a nod to his moombahton days, the style in which he first started out gaining recognition in. Out of the six original mixes, there are three that stand out to me. His single "Bruk Bruk (I Need Your Lovin), "Bun Up The Dance" with Skrillex, and "Pull It" with Bro Safari are a couple of solid moombah tunes.
As for the rest of the EP, "What's Your Name" with Calvin Harris is a great festival track to get the crowd pumped up. "Coming Over" with Kygo pushes his tropical house sound with a bit of future bass/trap mixed in as well. "Lies" featuring Chromeo is a chill outro to an otherwise energetic and vibrant set of tunes. Party Favor's remix inserts some monster bass into his heavy trap version.
Overall, it's a pretty good EP from the Los Angeles based DJ and producer. It would have been awesome if he had done some collaborations with noted moombah artists such as Nadastrom, Munchi, Sabo, or David Heartbreak which could have helped bring back the genre after a down period. All in all, the styles that Francis manages to switch between, whether it's on albums, EPs, singles, or remixes, show his ability to get back to his roots while still putting out stunning tracks.
Dillon Francis – Facebook / Twitter / Soundcloud
Tracklist:
1. Dillon Francis – Bruk Bruk (I Need Your Lovin) (Original Mix)
2. Dillon Francis & Calvin Harris – What's Your Name (Original Mix)
3. Dillon Francis & Skrillex – Bun Up the Dance (Original Mix)
4. Dillon Francis & Bro Safari – Pull It (Original Mix)
5. Dillon Francis & Kygo – Coming Over ft. James Hersey (Original Mix)
6. Dillon Francis – Lies ft. Chromeo (Original Mix)
7. Dillon Francis – I Can't Take It (Party Favor Remix)