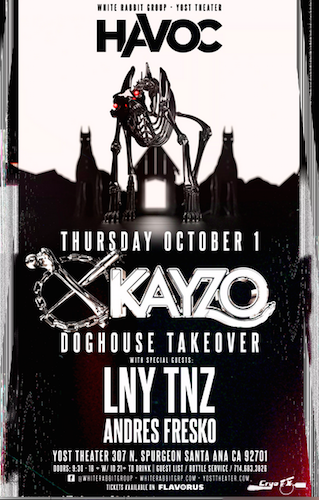 The structural integrity of the Yost Theater in Santa Ana will need to be thoroughly checked after Kayzo is done performing there on Thursday, October 1st for his Doghouse Takeover. Hayden Capuozzo is the crazy mind behind Kayzo, with tracks like "Ultrashock", "Burner", "Take A Picture" with DOTCOM and Sam King, "This Is Halloween" with Lookas, "The Underground", and "Bricks" under his belt. Whether it's hardstyle, trap, or anything bass, the man has got it covered.
In January of this year, the Los Angeles resident shared a video on his Facebook of a track called "Welcome To The Doghouse" that is still yet to be released…hopefully you might hear an updated version that night!
Also performing at the Havoc Thursday's show will by LNY TNZ and Andres Fresko. Doors open at 9:30pm for the 18+ event.
Kayzo – Facebook / Twitter / Soundcloud