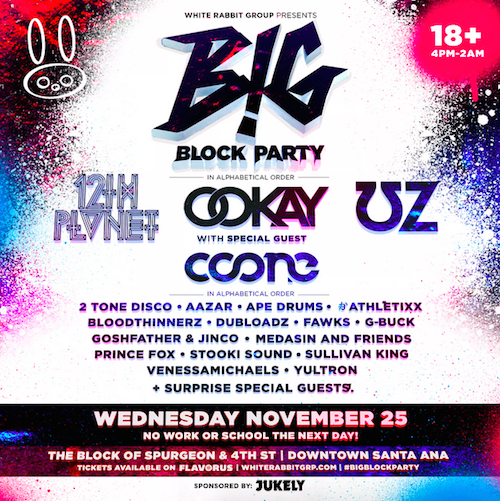 Wednesday, November 25th is shaping up to be a big night at the Yost Theater with 12th Planet, Ookay, UZ, and Coone set to perform at the B!G Block Party. The venue for this pre-Thanksgiving show is the block of Spurgeon and 4th Street in Santa Ana, where the Yost Theater is located.
There will be three stages at the event (as seen in the map below): Havoc Stage (inside the theater), DTSA Stage (in the larking lot), and DSTORTION Stage (to the right of the main entrance). Live street art, food trucks, vendors, and performers will be throughout the area as well.
Also set to perform are 2 Tone Disco, Aazar, Ape Drums, Athletixx, Bloodthinnerz, Dubloadz, Fawks, G-Buck, Goshfather & Jinco, Medasin and Friends, Prince Fox, Stooki Sound, Sullivan King, VenessaMichaels, Yultron.
Tickets for the 18+ event are currently at $50 with the last tier set at $55. Doors will open at 4pm and the event will go until 2am.