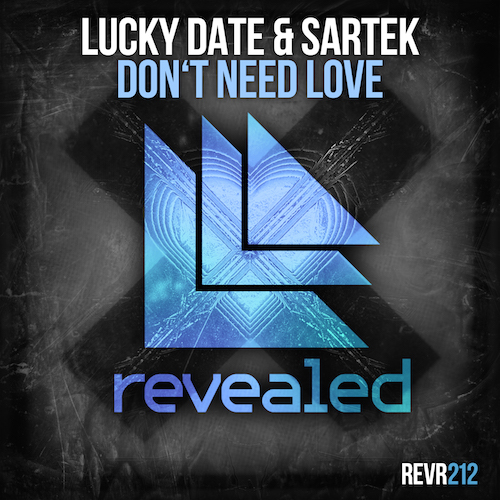 Earlier this month, I wrote about Lucky Date's "Who's Lucky Radio Episode 70" and one of the songs that caught my attention was his collaboration with Sartek titled "Don't Need Love". As luck would have it, the Revealed Recordings track was released just one week later.
California native Jordan Atkins-Loria and and New Delhi based Sarthack Sardana create an energetic progressive house tune that has already been supported by Tritonal, Sick Individuals, Jewelz & Sparks, Danny Avila, MAKJ, Ummet Ozcan, Borgeous, Gregor Salto, and Morgan Page.
Read on for an interview with Lucky Date as he discusses the new release, his plans for the New Year, and a new side project he's almost ready to reveal!
Thanks for taking the time to talk! Your song "Don't Need Love" with Sartek is out now. How did a guy from California collaborate with a producer in India?
We made the song separately and exchanged ideas via the internet. We were supposed to meet up in India during my last Asia tour but at the last second flight delays got in the way. It's weird how you can make an entire song without ever meeting your co-collaberator. 
What has been the reaction to "Don't Need Love"?
It's been awesome! It's a new sound for me, a little more groovy and less intense. This song sounds great in the club and I'm excited by all the support we have got!
The track was released from Revealed Recordings. How did you first get in touch with Hardwell's record label?
I was asked to remix Hardwell's "Apollo" a few years ago. That was the first song that came out on Revealed, "Don't Need Love" is now my 7th release on the label and I have many more to come.
Any big shows lined up for New Years?
Playing in Missoula, Montana, really excited! 
(Tickets here: https://www.ticketfly.com/purchase/event/1028619)
What is one major goal you'd like to accomplish in 2016?
I have a side project that is almost ready for release and I really hope to roll out the first few tracks early 2016.
Track to play at midnight on New Years:
I would love to play "I Remember" by deadmau5 and Kaskade just cuz feels and that song never gets old.
Best track to play at peak time: 
The new track from Henry Fong "Turn It Up" goes OFFFFFFF!
Unexpected remix to switch things up: 
Hardwell – Young Again (KURA Remix). This drop is def a shocker in a good way! 
Vocalist you'd most like to work with:
Little Dragon, would love to try and do something with them/her!
Be sure to check out Lucky Date and Sartek's "Don't Need Love" and stay up to date with them through the links below!
Lucky Date – Facebook / Twitter / Soundcloud
Sartek – Facebook / Twitter / Soundcloud
Purchase: Beatport