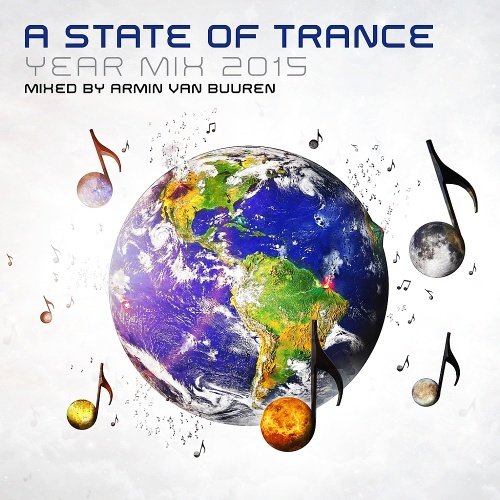 A few days ago, the legendary Armin van Buuren gave us his "A State Of Trance Year Mix 2015" in a two hour long mix from Armada Music. The Dutchman throws in some amazing songs by Gareth Emery, Rafael Frost, W&W, Andrew Bayer, Above & Beyond, Ben Gold, and Orjan Nilsen on Disc 1. Disc 2 has the likes of Alexander Popov, Jorn Van Deynhoven, Lange, Dimension, Heatbeat, Simon Patterson, and Will Atkinson.
"From the first episodes of the year to the last, we feel the excitement every time it grows nearer. We long for the moment of moments, hoping that our favorite records and artists have earned their spot in the selection once again. We cast our votes, spread the word, and await the final unveiling. And although the expectations are high as ever, we are bound to be left speechless.
Coming forth with two hours of absolute magic, Armin van Buuren has once again conjured the most inspiring and massive A State Of Trance episode of the year. Filled with the tracks that shaped the entire Trance year into something worth celebrating, the A State Of Trance Year Mix 2015 encapsulates a year of breath-taking tunes and goosebumps-inducing efforts, brought together through an astounding, seamlessly mixed creation.
For the twelfth time since Armin van Buuren started his A State Of Trance endeavor, the year mix hits the Trance world. And as over a hundred mighty trancers engulf your mind and continue to leave you in awe, there's merely one conclusion left to be made. What a fine year it's been!"
Armin van Buuren – Facebook / Twitter / Soundcloud
Purchase: Beatport / iTunes / Amazon
Tracklist:
Disc 1
01. Armin van Buuren – A State of Trance Year Mix 2015 – The Talk Up Hour on Wwkdasotwkzz FM (Intro)
02. Luke Bond & Omnia – Reflex (Radio Edit)
03. Cosmic Gate & Emma Hewitt – Going Home (Gareth Emery Radio Edit)
04. Ilan Bluestone – 43 (Radio Edit)
05. BT & Super8 & Tab – Aika (Rafaël Frost Radio Edit)
06. Andrew Rayel – Rise of the Era (Digital X Radio Edit)
07. Armin van Buuren & Mark Sixma – Panta Rhei (Radio Edit)
08. Vigel – Sqrt (Radio Edit)
09. Armin van Buuren – Another You (feat. Mr. Probz)
10. W&W – The One (Radio Edit)
11. Ana Criado & Aurosonic – The Force of the Blow (Radio Edit)
12. Rodrigo Deem – Belvedere (Radio Edit)
13. Andrew Bayer – Do Androids Dream, Pt. 2 (Edit)
14. Jean-Michel Jarre & Tangerine Dream – Zero Gravity (Above & Beyond Remix)
15. Armin van Buuren – Hands to Heaven (feat. Rock Mafia) [Radio Edit]
16. Protoculture – Southbound (Radio Edit)
17. Andrew Rayel & Alexander Popov – Mimesis (Radio Edit)
18. Corti Organ – Butterfly (Radio Edit)
19. Dawn – The Truth We Can't Escape (Radio Edit)
20. Above & Beyond – Peace of Mind (feat. Zoë Johnston) [Radio Edit]
21. Denis Sender, DJ T.H. & Hanna Finsen – New Day (Mino Safy Radio Edit)
22. Denis Kenzo & Cari – Be a Dreamer (Radio Edit)
23. Protoculture – Pegasus (Radio Edit)
24. Above & Beyond – Counting Down the Days (feat. Gemma Hayes) [Above & Beyond Club Mix Edit]
25. Markus Schulz – Destiny (feat. Delacey) [Radio Edit]
26. Denis Kenzo & Sarah Lynn – Ashes (Radio Edit)
27. Fabio XB & Liuck – Step Into the Light (feat. Christina Novelli) [Radio Edit]
28. Eximinds & Vigel – Handprint (Radio Edit)
29. Andrew Rayel & Mark Sixma – Chased (Radio Edit)
30. Armin van Buuren – Strong Ones (feat. Cimo Fränkel) [Deem Radio Edit]
31. Cosmic Gate & JES – Yai (Here We Go Again) [Radio Edit]
32. Armin van Buuren & Cosmic Gate – Embargo (Radio Edit)
33. Assaf – After Dark (feat. Laura Aqui) [Radio Edit]
34. Ben Gold – Hide Your Heart (feat. Eric Lumiere) [Radio Edit]
35. Andrew Rayel – Daylight (feat. Jonny Rose) [Radio Edit]
36. 3LAU – Alive Again (feat. Emma Hewitt)
37. Antillas – If I Run (feat. Anki) [Venom One Radio Edit]
38. Omnia – For the First Time (feat. Tilde) [Radio Edit]
39. Farhad Mahdavi – Warsaw (Radio Edit)
40. Arisen Flame – Fireball (Radio Edit)
41. Marlo – Atlantis (Radio Edit)
42. W&W – Rave After Rave (Radio Edit)
43. Deem – Elevation (Radio Edit)
44. Above & Beyond – We're All We Need (feat. Zoë Johnston)
45. Talemono – Overload (Radio Edit)
46. Alexander Popov – Multiverse (Radio Edit)
47. Alexander Popov & LTN – Paradise (feat. Christina Novelli) [Radio Edit]
48. Orjan Nilsen – Don (Radio Edit)
49. Marlo – Hold It Together (feat. Christina Novelli) [Radio Edit]
50. Armin van Buuren – Together (In a State of Trance) [Radio Edit]
51. CUB!C – Endless Horizon (Heatbeat Radio Edit)
52. Willem de Roo – Omen (Radio Edit)
53. Fast Distance – Frontera (Radio Edit)
54. Ben Gold – Atomic (Radio Edit)
55. Ram – Heartfelt (Edit)
56. Armin van Buuren – A State of Trance Year Mix 2015 (Full Continuous Mix, Pt. 1)
Disc 2
01. Ron Alperin – Knockout (Radio Edit)
02. Mark Sixma & Emma Hewitt – Restless Hearts (Radio Edit)
03. Armin van Buuren & Hardwell – Off the Hook (Radio Edit)
04. Feel & Adara – Disappear (DRYM Radio Edit)
05. Sebastien – Escape (feat. Satellite Empire) [Heatbeat Radio Edit]
06. Alexander Popov – Olympus (Radio Edit)
07. Orjan Nilsen – Now We Are Talking (Radio Edit)
08. Rank 1 & M.I.K.E. Push – Juno (Radio Edit)
09. Venom One – Rush (feat. Sarah Howells) [Radio Edit]
10. Andrew Rayel – Impulse (Omnia Radio Edit)
11. Gaia – Carnation (Radio Edit)
12. Jorn Van Deynhoven – Freaks (Festival Radio Edit)
13. Arisen Flame & Driftmoon – Live Your Dream (Radio Edit)
14. A & Z & KeyPlayer – Never Forget (Radio Edit)
15. Gaia – In Principio (Radio Edit)
16. Jorn Van Deynhoven – 101010 (The Perfect Ten) [Radio Edit]
17. Venom One – Serenity (Radio Edit)
18. Lange – Imagineer (Radio Edit)
19. Ferry Corsten & Gouryella – Anahera (Radio Edit)
20. Armin van Buuren & Jean-Michel Jarre – Stardust
21. Armin van Buuren – Embrace (feat. Eric Vloeimans)
22. Marlo – The Dreamers (feat. Jano) [Radio Edit]
23. Dimension – Origami (Radio Edit)
24. 2RocK & Zarex – Hammer Blow (Eximinds Radio Edit)
25. Stefan Viljoen – Divinity (feat. Jade Mc Donald) [Spark & Shade Radio Edit]
26. Fisherman & Hawkins & Gal Abutbul – United (Radio Edit)
27. Heatbeat – It's Killing Me (Radio Edit)
28. Simon Patterson – Time Stood Still (feat. Matt Adey) [Radio Edit]
29. Craig Connelly – Shipwreck (feat. Cate Kanell) [Radio Edit]
30. Standerwick & Jennifer Rene – All of Us (Radio Edit)
31. Will Atkinson – Numb the Pain (Radio Edit)
32. A.R.D.I. & Leolani – The Light (Radio Edit)
33. Alex M.O.R.P.H. & Heatbeat – Amistad (Radio Edit)
34. Armin van Buuren & Rising Star – Safe Inside You (feat. Betsie Larkin) [Radio Edit]
35. Bryn Liedl – Statues (feat. Bethany Marie) [Bryan Kearney Radio Mix]
36. Lee Osborne – Safe in the Sky (feat. Roxanne Emery) [Cold Rush Radio Edit]
37. Ram & Susana – Someone Like You (Radio Edit)
38. Alex Di Stefano – I've Got the Power (Radio Edit)
39. Standerwick, Philippe El Sisi & Ana Criado – Magic Light (Radio Edit)
40. Aly & Fila & The Thrillseekers – Es Vedra (Radio Edit)
41. Ucast & Susana – To Another Day (Radio Edit)
42. Matt Darey – See the Sun (feat. Kate Louise Smith) [Dan Stone Radio Edit]
43. Bobina – Flying Kitten (Radio Edit)
44. Easton – Healing Rain (feat. Roxanne Emery) [Bryan Kearney Radio Edit]
45. Aly & Fila, Omar Sherif & Jonathan Carvajal – A New Age (Fsoe 400 Anthem) [Radio Edit]
46. Sneijder & Christina Novelli – Love of My Control (Radio Edit)
47. Vini Vici – The Tribe (Radio Edit)
48. Jordan Suckley – Droid (Heatbeat Remix Edit)
49. Simon Patterson – Apex (Radio Edit)
50. Armin van Buuren – A State of Trance Year Mix 2015 – Apparently (Outro)
51. Armin van Buuren – A State of Trance Year Mix 2015 (Full Continuous Mix, Pt. 2)