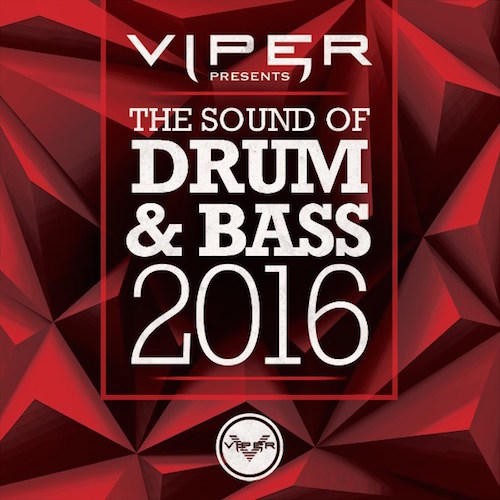 Last month, Futurebound released "The Sound Of Drum & Bass 2016" from his own respected UK record label, Viper Recordings. The compilation album is stacked with notable drum and bass producers as well as up and coming artists to keep your eye on in the future. Be sure to listen to the album megamix and 13 exclusive tracks below!
"Viper Recordings launched their new 'The Sound of Drum & Bass' compilation series last year to high acclaim worldwide. Registering in at #12 in the official UK Dance Albums chart, following the 2015 edition was going be a challenging task, but Futurebound's forward thinking label is never one to shy away from a challenging task.
From start to finish, #SODNB is chock-full of Drum & Bass superstars; Matrix & Futurebound, Noisia, The Upbeats, Cyantific, The Prototypes, InsideInfo, Mefjus, Tantrum Desire, Rene LaVice, as well as legendary dance pioneers The Prodigy, who all sit seamlessly alongside Viper's rising stars: Smooth, Trei, Mob Tactics, BMotion, and more.
With such a stacked lineup, at this point you'd think that was enough… but not when Futurebound is at the helm. Viper head honcho and A&R mastermind, Futurebound, has squeezed in 12 new unreleased Viper exclusive tracks from legends and newcomers such as: J Majik, Trei, North Base, Wickaman, Insomniax, Loko, Killer Hertz, Six Blade, Cynematic, Dossa & Locuzzed, Toronto Is Broken, NCT & Franky Nuts, Citybox, and Octo-Pi & Modify Perspective. This all wrapped up with a bonus DJ mix by the mighty Koven."
Viper Recordings – Facebook / Twitter / Soundcloud
Purchase: Beatport / iTunes / Amazon / Viper Recordings
Tracklist:
01. Tinie Tempah feat. Jess Glynne – Not Letting Go (Matrix & Futurebound Remix)**
02. The Prodigy – Rebel Radio (René LaVice's Start A Fucking Riot Remix)
03. Noisia & The Upbeats – Dead Limit
04. Cyantific – OutaTime
05. Tantrum Desire & Matrix & Futurebound – Shadows
06. The Prototypes – City of Gold (Extended Mix)
07. North Base & ISVK feat. Ragga Twins – What R U Doing? (Trei Remix)
08. Smooth – Revenge
09. BMotion – Ignition
10. InsideInfo & Mefjus – Talisman
11. Mob Tactics – Return Of The Snitch
12. Ekko & Sidetrack – AM PM
13. Trei – Get Down
14. ShockOne feat. Phetsta & Reija Lee – Universes
15. Koven – One's Own
16. Maduk feat. Hebe Vrijhof – Life
17. Cyantific – No More Heroes
18. Killer Hertz – All Out*
19. Dossa & Locuzzed – Bad*
20. Loko – Who Are You?*
21. Six Blade – Bane*
22. J Majik feat. Jonay & Louie Cabrera – Drop It*
23. Insomniax feat. Alicia King – Do You Remember?*
24. Octo-Pi feat. Modify Perspective – Pay Off*
25. Cynematic & Citybox – Exhale*
26. Toronto Is Broken – Zero One*
27. NCT & Franky Nuts – Looking Forward*
28. Wickaman – Tryptamine*
29. Trei & North Base – Hostile Universe*
30. The Sound of Drum & Bass 2016 mixed by Koven (Continuous DJ Mix)*
*New, unreleased track
**UK/IE only