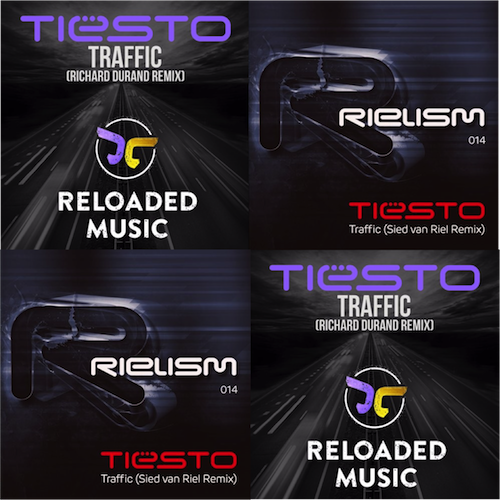 Going head to head and taking on the classic Tiesto track "Traffic" are Richard Durand and Sied van Riel. The songs were released from each producer's own record labels, Reloaded Music and Rielsism, respectively. The two Dutch trance artists take different approaches in how they each created their own version of the tune. Durand's remix is a perfect peak time track that will get the crown going in no time at all, while van Riel's is the consummate tune to end a set to.
On the Durand remix…"On Reloaded Music, (former Tiesto protégée no less) Richard Durand reimagines 'Traffic' as a visceral late-night-special. Metal-on-metal percussion, heavily reverbed bass, fast-firing snares, squelched radio 'traffic' and squelchier still 303, all conspire."
On the van Riel remix…"With a tempo & tone gearshift, he lifts the feel of the Original, before commencing a taut, high-wire-tense rollout of its mainline. A razor-edged sub-riff in underneath and big stabs over the top, he masses them together for a distinctly 'primetime' finale."
Durand's remix has been played by Markus Schulz, Andrew Rayel, Jordan Suckley, Jorn van Deynhoven, Lange, Ferry Corsten, and Photographer.
The list of supporters for van Riel's version include Aly & Fila, Armin van Buuren, Giuseppe Ottaviani, and Mark Sherry.
Richard Durand – Facebook / Twitter / Soundcloud
Sied van Riel – Facebook / Twitter / Soundcloud
Purchase: Richard Durand Remix / Sied van Riel Remix