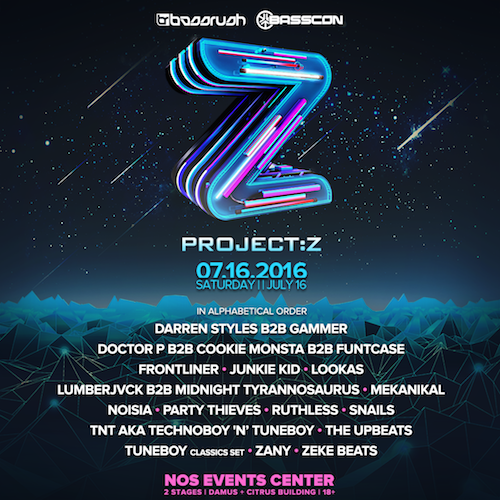 The worlds of Bassrush and Basscon will collide on Saturday, July 15th at Project: Z, taking place at the NOS Events Center in San Bernardino. With Bassrush known for its drum and bass, dubstep, and all things bass lineups and Basscon's hardstyle productions, this is one mash up you do not want to miss!
The lineup is as crazy and insane as one would think with this being the first event of its kind. On the Bassrush side, there will be heavyweights such as a back to back consisting of Doctor P, Cookie Monsta, and FuntCase (!), Lookas, Noisia, Snails, and The Upbeats. Basscon will be bringing a back to back of Darren Styles and Gammer, Frontliner, TNT aka Technoboy 'N' Tuneboy, and Zany.
Tickets for the 18+ show are currently at $50 with the show going from 6pm until 2am.
Lineup:
– Darren Styles b2b Gammer
– Doctor P b2b Cookie Monsta b2b FuntCase
– Frontliner
– Junkie Kid
– Lookas
– Lvmberjvck b2b Midnight Tyrannosaurus
– Mekanikal
– Noisia
– Party Thieves
– Ruthless
– Snails
– TNT aka Technoboy 'N' Tuneboy
– The Upbeats
– Tuneboy
– Zany
– ZEKE BEATS