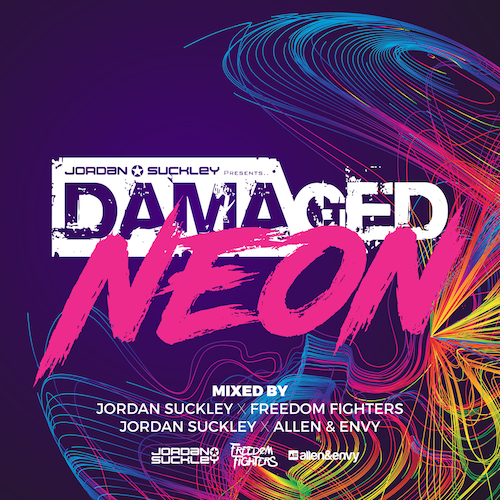 Jordan Suckley has been involved in some of the finest back to back sets I've heard, and trance fans will get a chance to listen to two mixes by the British producer in "Damaged Neon". The first mix is with fellow UK duo Allen & Envy and incorporates some heart pounding and euphoric tunes. Songs by Sam Jones, Maarten de Jong, Will Rees, Richard Durand, and Amir Hussain.
Israeli DJ and producer Freedom Fighters (also known as Shahaf Efrat) is the collaborator with Suckley in Mix 2 and goes the heavy psytrance route in the 77 minute mix. It features tracks from Vini Vici & Ave Ventura, Astrix, Eddie Bitar, Indecent Noise & Christopher Lawrence, and Ritmo & Liquid Soul.
"Damaged Neon" contains over two hours of various types of trance, with 34 tunes used overall in the Black Hole Recordings release. Chances are you'll hear something you'll like, whether it be uplifting and melodic or hard hitting and underground!
Jordan Suckley – Facebook / Twitter / Soundcloud
Allen & Envy –Facebook / Twitter / SoundCloud
Freedom Fighters –Facebook / Twitter / SoundCloud
Mix 1 – Jordan Suckley vs Allen & Envy:
01. Jordan Suckley – Contaminated (Argy Remix)
02. Sam Jones – Unknown
03. Maarten de Jong – Clockwork
04. Project 8 – Blood Drunk
05. Orla Feeney & Kriess Guyte – Vortex
06. Jordan Suckley – Ritual
07. XGenic – Soothsayer
08. Will Rees – Weapon
09. Tiësto – Traffic (Richard Durand Remix)
10. Allen & Envy & Neev Kennedy – Without You (Dan Stone Remix)
11. Allen & Envy with Cari – Promises
12. Allen & Envy featuring Robin Vane – lmmortal
13. Graeme Harrison – Xanthe (Allen & Envy & Mark W Rework)
14. Forerunners – Lifecycle (Amir Hussain Remix)
15. Allen & Envy & Allen Watts – Vega (Cold Rush Remix)
16. UDM featuring lrina Makosh – Set Me Free (Mike Sanders Remix)
17. Chris Metcalfe & Allen Watts – Trinity
18. Miroslav Vrlik – Backyard
19. Allen & Envy & UDM – Ignite (F.G. Noise Remix)
Mix 2 – Jordan Suckley vs Freedom Fighters:
01. Freedom Fighters – Wasteland
02. Loud & Burn In Noise – A Real Good Time
03. Freedom Fighters & Lifeforms – Spiral
04. Vini Vici & Ace Ventura – The Calling
05. Astrix – Deep Jungle Walk
06. Astrix & Tristen – Awake the Snake
07. Pixel & Wrecked Machines – Mother Funker (Outsiders Remix)
08. Revolution 9 & Amara – The Tube
09. Phaxe – Angels Of Destruction (Neelix Whatz Up Remix)
10. Jordan Suckley – Aztec Curse (Eddie Bitar Remix)
11. Indecent Noise & Christopher Lawrence – Zulu Magic
12. Liquid Soul – Revolution (Future Frequency Remix)
13. Revolution 9 & Amara – Scolopendra
14. Ritmo & Liquid Soul – Be Right
15. Christopher Lawrence – Banshee (Lostly Remix)