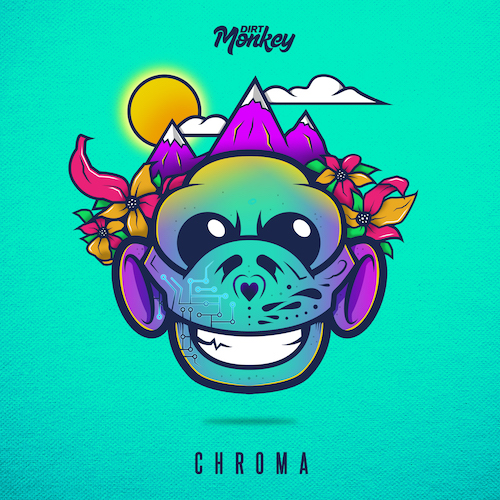 What's better than a Dirt Monkey album? How about if you can download it totally for free? The Colorado based producer's album "Chroma" is out now on Kairos Audio, the record label he runs alongside Jantsen. The 11 track set features a variety of musical styles and influences, from dubstep to trap to all sorts of bass.
I've actually been following Patrick Megeath a bit over the past few years, with songs like his "Imperial March" VIP and his remix of The Prodigy's "Voodoo People" with Shank Aaron two of the older songs in my music library. After listening to the whole album, it's great to see him brach out into other genres and hear how much his production skills have expanded over the years.
A few of my favorites from "Chroma" include "Combination Style", "Truffle Shuffle", "Cosmic Rose", and "The Juice". The album also features the vocals of Seraiah, Clinton Sly, and Harvey J.
"All I am looking to accomplish as a producer/performer is to take as many people on a journey as I can. To help them turn off their brains & egos and let themselves fall into a trance via my music. I intend to do that via the Dirt Monkey project and other projects in the future that will span farther out. Music and dancing are such crucial innate parts of our lives, and I want to help people tap into those as much as possible."
Read on for an interview with Dirt Monkey about "Chroma", his plans for the rest of the year, and some of his favorite tracks!
Hey Dirt Monkey, thanks for taking the time. Your album "Chroma" was just recently released. How long did it take you to put it together where you felt confident with all the songs?
It took about a year and a half. It started as a bunch of songs (about 20). Some of the songs were made with the purpose of being part of a separate project, but I decided to take the plunge and just release them all together as one diverse collection of music. To be honest, I wasn't fully confident about this album until it came out and I started seeing all the amazing feedback on it. I was pretty nervous that releasing so many different styles and genres in one album would freak people out or something..
As a Colorado native, did the bass music scene there inspire you in the creation of "Chroma"?
In some ways it did, but for the most part it was playing and being at festivals that inspired the creation of the album. I wanted to make something that takes people on a journey, going through really high energy heavy sections and through pretty, ethereal sections. I feel like this type of flow is more conducive to festivals, but now I want to start bringing it into the club setting..
Any interesting stories behind some of the songs included on the album?
My wife helped me make 'Work It'. She kinda backseat produced it when I was making the beat, then we actually recorded vocals of her & her friend acting like obnoxious drunk girls in the club yelling at the dj. Also, 'Super Saiyan' is featuring Harvey J, who is also known to a lot of the world now as 'Chef Henny' because he cooks everything with Hennesey..
How have you been able to play in so many shows around the country as an independent artist with no major company deal or booking agency?
By hustling my ass off and working with the right people. Once Jantsen and I started our label Kairos Audio, we started with the same booking agent who has been getting us all these shows around the country and setting up headlining tours, which would have been otherwise impossible had we been on a major agency.
What are your plans for the rest of the year? Any major shows coming up, a few more releases on the horizon?
I've got a Chroma tour that is in the works right now. Currently a midwest leg of it is happening, and we will be filling in more dates into the winter for that. Also I'm really stoked to be playing with Jantsen in Maui on Halloween for the 2nd year in a row! And yea got a bunch of dope songs on deck that I will be putting out as singles with my friends Jantsen, JSTJR, Run DMT, Savoy, Ruxell, Wooli, and more…
2016 summer headbanger: Soltan – "Jadu"
Best track to play at peak time: House of Pain – "Jump Around" (Jantsen & Dirt Monkey ReTwerk)
Unexpected remix to switch things up: Rihanna – "Cockiness" (Dirt Monkey house edit)
Vocalist you'd most like to work with: Ragga Twins
Be sure to take a listen to "Chroma" and download the album for free below!
Dirt Monkey – Facebook / Twitter / Soundcloud
Tracklist:
01. Chroma
02. Combination Style
03. Battlestar Dirtlactica ft. Seraiah
04. Truffle Shuffle
05. Work It ft. Clinton Sly
06. Maui Sunrise
07. Super Saiyan ft. Harvey J
08. Cosmic Rose
09. Rainbow Road
10. The Juice
11. Gum Drops