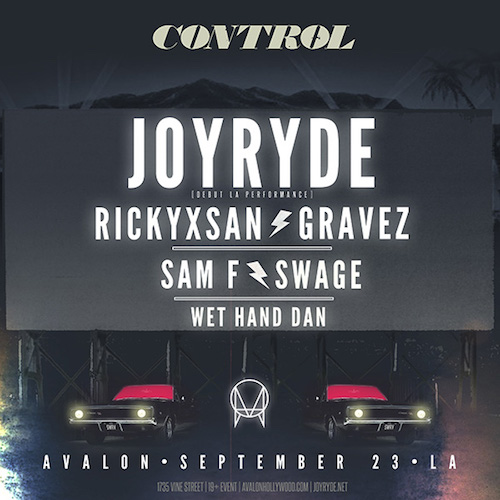 One of the best rising bass house producers that has been picking up steam within the past year is JOYRYDE. You can catch the UK artist at Avalon in Hollywood this Friday, September 23rd, alongside Rickyxsan, Gravez, Sam F, Swage, and Wet Hand Dan. You might recognize him from "The Box", "Hari Kari", his remix of "Feel The Volume" by Jauz, or "Speed Trap", all of which are available to download for free. It's also his Los Angeles debut, so you know it's gonna be packed!
Tickets for the 19+ Control Fridays show are $25 if you arrive before 11pm, with doors opening at 9:30pm.
Check out the 70 minute mix JOYRYDE made with Rickyxsan, Gravez, Sam F, and Swage ahead of the show below. There's a few familiar tracks you might have heard from the guys before, but there's also a few IDs thrown in the mix too!
JOYRYDE – Facebook / Twitter / Soundcloud
JOYRYDE TRACK LIST:
1 Ookay – The Rhythm w/ Joyryde – ID
2 Joyryde – Hot Drum
3 Brohug – Cut
4 Destructo – 4 Real [ Joyryde 'Swurve" Mix ]
5 Stanton Warriors – Cut Me Up [ Cause And Effect Remix ]
6 Joyryde – ID
7 Jauz – Feel The Volume [ Joyryde ' Stick It In Reverse Mix ]
8 RIOT! x Apashe – Fire Inside
9 Joyryde – Hoam
10 Coming Soon!!! – Trippin' In Paris
11 Borgore – Forbes [ Boombox Cartel Remix ]
12 Riot Ten X H&D – Money Walk
13 Boombox Cartel & Quix – Supernatual
14 R.A.T.M – Killing In The Name Of [ Sebastian Remix ]
15 Joyryde ft Rick Ross – Windows
…
RICKYXSAN TRACKLIST:
1 Rickyxsan – Nu Dub
2 Must Die! – Neo Tokyo
3 Porter Robinson – Unision (Crankdat Remix)
4 Rickyxsan & Dirty Audio -Gettin' That (Spag Heddy Remix)
5 Rickyxsan & Dirty Audio – Gettin' That (Hydroski Remix)
6 Brillz & Willy Joy – Power
7 Barely Alive – Jungle Demon
8 Hydraulix & Oski – Ducksworth
9 What So Not – Jaguar Trap
10 Boombox Cartel – B2U
11 Dubloadz – ID
12 Skrillex – ID
13 Skrillex & Wiwek – Killa (Rickyxsan Remix)
14 Skrillex & Wiwek – Killa
15 Graves – Heretic
16 Graves & Rickyxsan – The Plague
…
SAM F (b2b) SWAGE TRACKLIST:
1 Delta Jack – Bitch Dust
2 Swage – High stakes
3 Cooda – Brad Counce
4 Kaiya Wolf – Projects (Sam F x Swage Remix)
5 Chris Bushnell – Spitta
6 SWAGE – Say ft. Malcolm Anthony
7 YDG & Swage – Burn
8 Sam F – Dab On Em
9 Dombresky – Wait
10 Sam F – Unstopable
11 Sam F – ID
12 Sam F – ID X Khia – My Neck My Back
…
GRAVEZ TRACK LIST:
1 Graves – Whip
2 Kali Uchis – Ridin Round (Gravez Remix)
3 Gravez – Crash
4 Gravez – Rizen