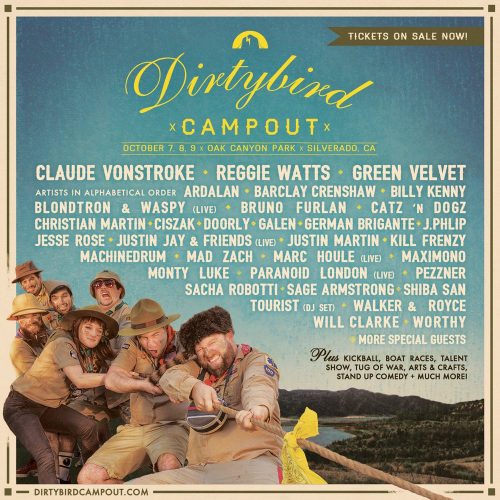 Claude VonStroke's annual Dirtybird Campout will be taking place Friday, October 7th through Sunday, October 9th at Oak Canyon Park in Silverado. Some of the performers during the three day event are Reggie Watts, Green Velvet, Billy Kenny, Doorly, J.Phlip, Justin Jay, Justin Martin, Kill Frenzy, Machinedrum, Shiba San, and Will Clarke.
In addition to fantastic music, there will also be kickball, boat races, a talent show, tug of war, Arts and crafts, stand up comedy, and more. If you missed out on summer camps as a kid or want to add to those childhood memories, this will be the place to be. Visit the Dirtybird Campout website for more information on what else will be going on at the event.
Check out the link below for ticket pricing and options.
Dirtybird Campout – Facebook / Twitter / Website
Dirtybird Campout 2016 Lineup:
Claude VonStroke, Reggie Watts, Green Velvet, Ardalan, Barclay Crenshaw, Billy Kenny, Blondtron & Waspy (Live), Bruno Furlan, Catz 'N Dogz, Christian Martin, Ciszak, Doorly, Galen, German Brigante, J.Phlip, Jesse Rose, Justin Jay & Friends (Live), Justin Martin, Kill Frenzy, Machinedrum, Mad Zach, Marc Houle (Live), Maximono, Monty Luke, Paranoid London (Live), Puzzler, Sacha Robot, Sage Armstrong, Shiba San, Tourist (DJ Set), Walker & Royce, Will Clarke, Worthy