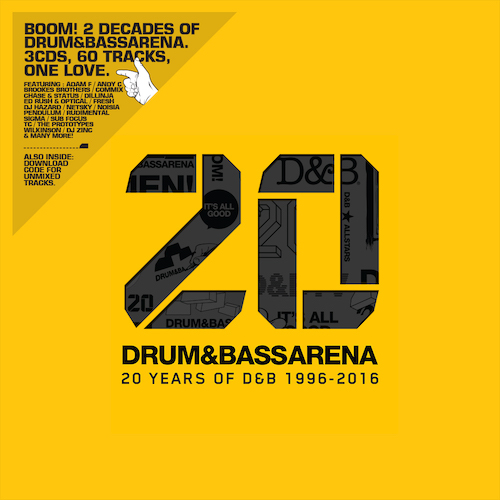 Start the week off right with the Drum&BassArena "20 Years" compilation album, filled with a variety of the most legendary drum and bass tracks. The label will commemorate their two decades of activity throughout the next year, hosting events and stages around the world, including Let It Roll Festival, Sundown, The Social Festival and international tour dates in Australia, Slovakia, Czechia, Hungary and many more.
The record label, which was founded by The Risky (James Cotterill) in 1996 in Sheffield, England, pays respect to the past, present, and future of drum and bass in three distinct sets. Two decades of drum and bass are covered in Drum & Bass Music For The Masses, Recollections, and Deeper Cuts, with three separate mixes for each of the separate sets.
CD 1 contains tunes from Pendulum, Sub Focus, The Prototypes, TC, The Upbeats, Spor, Original Sin, Chase & Status, Rudimental, and Wilkinson. CD 2 includes tracks by Adam F, Dillinja, DJ Zinc, Shimon, Andy C, Ed Rush & Optical, Noisia, and RAM Trilogy. CD 3 is composed of songs from S.P.Y., Hybrid Minds, Alix Perez, Calibre, Netsky, Sigma, and Brookes Brothers.
Loads of classic drum and bass tracks like "Rock It" by Sub Focus, "Tap Ho" by TC, "Aztec" by Spor, "El Presidente" by Sigma, and Rudimental's "Feel The Love" are in the compilation…and that's just the first set! Here's to twenty more years of drum and bass from Drum&BassArena!
Drum&BassArena – Website / Facebook / Twitter / Soundcloud
Tracklist:
CD 1: Drum & Bass Music For The Masses
01. Pendulum feat. Fresh, $Pyda & Tenor Fly – Tarantula
02. Sub Focus – Rock It
03. The Prototypes – Pale Blue Dot
04. TC – Tap Ho
05. Pendulum – Vault
06. Noisia & The Upbeats – Dead Limit
07. Spor – Aztec
08. Hive – Neo (Remix)
09. InsideInfo & Mefjus – Mythos
10. Phace & Misanthrop – What's Wrong
11. The Upbeats – Beyond Reality
12. Original Sin – Dr Feels Good
13. DJ Hazard – Machete
14. Break – Music Is Better
15. Sigma – El Presidente
16. Chase & Status – Hurt You
17. Rudimental feat. John Newman – Feel The Love
18. BCee & S.P.Y – Is Anybody Out There? (Friction & K-Tee Remix)
19. Sub Focus – Airplane
20. Wilkinson – Afterglow
CD 2: Recollections
01. Adam F – Brand New Funk
02. Q Project – Champion Sound (Hardcore Will Never Die Remix)
03. John B – Up All Night
04. Dillinja feat. Lorreia Loushy – Nasty Ways
05. Digital – Deadline
06. Nasty Habits – Shadow Boxing
07. DJ Hype feat. MC Fats – Peace, Love & Unity
08. DJ Zinc – Reach Out
09. Shimon & Andy C – Nightflight
10. DJ Krust – Warhead (Steppa Mix)
11. Ed Rush & Optical – Bacteria
12. Noisia – Diplodocus
13. Digital & Spirit – Phantom Force
14. Dillinja – Grimey
15. Ed Rush & Optical – Pacman (RAM Trilogy Remix)
16. Moving Fusion – Turbulence
17. RAM Trilogy – Titan
18. Twisted Individual – Bandwagon Blues
19. Moving Fusion – The Beginning
20. Total Science – Defcom 69
CD 3: Deeper Cuts
01. S.P.Y – By Your Side
02. DRS feat. LSB & Tyler Daley – The View
03. Hybrid Minds – Lost
04. Lenzman feat. Riya – Open Page
05. Ivy Lab – 20 Questions
06. SpectraSoul feat. dBridge – Glimpse
07. Dawn Wall feat. Artificial Intelligence – Between the Sheets
08. Alix Perez feat. Peven Everett & SpectraSoul – Forsaken
09. Sabre, Stray & Halogenix feat. Frank Carter III – Oblique
10. Calibre – Archive
11. Icicle feat. SP:MC – Dreadnaught
12. dBridge feat. Vegas – True Romance
13. Commix – Be True
14. Bachelors of Science – Songs for Lovers
15. Artificial Intelligence – Desperado
16. Marcus Intalex – Temperance
17. Technimatic – Night Vision
18. Netsky – I Refuse
19. Sigma – All Blue
20. Brookes Brothers – Tear You Down