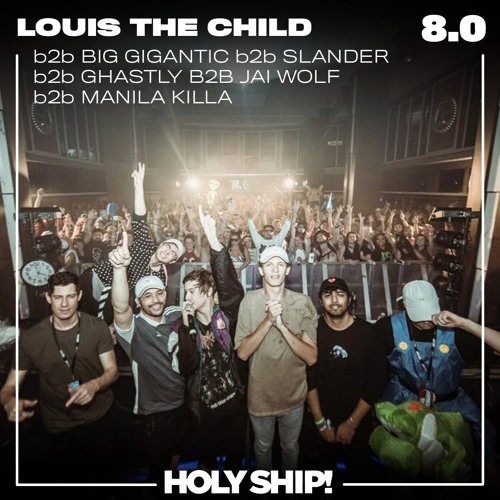 When you take a cruise on Holy Ship!, you never know what's going to happen, whether it's a surprise DJ appearance or an epic back to back, as is the case with this new free download. Early in January, Louis The Child, Big Gigantic, SLANDER, Ghastly, Jai Wolf, and Manila Killa all went back to back for an insane 105 minute mix aboard the Norwegian Epic.
Included in the mix is Alex Young's remix of "Right On Time", "Hellifornia" by Gesaffelstein, "Get Low" by Dillon Francis and DJ Snake, Flume's remix of "Tennis Court", "Feel Good" by Gorillaz, "Jaguar" by What So Not, and "All Of Me" by Big Gigantic featuring Logic and Rozes.
But wait, there's more! "After All" by SLANDER and YOOKiE featuring JINZO, Skrillex's remix of "Cinema", Flosstradamus' remix of "Original Don", "Need You" by Dillon Francis and NGHTMRE, "Alien" by REZZ and Raito, and "Scrub The Ground" by Chocolate Puma and Tommie Sunshine featuring DJ Funk are also thrown in as well.
Download the set for free right now!
Louis The Child – Facebook / Twitter / Soundcloud
Big Gigantic – Facebook / Twitter / Soundcloud
SLANDER – Facebook / Twitter / Soundcloud
Ghastly – Facebook / Twitter / Soundcloud
Holy Ship! 2017 – Louis The Child b2b Big Gigantic b2b SLANDER b2b Ghastly b2b Jai Wolf b2b Manila Killa Tracklist:
01. Zella Day – Compass (Louis The Child Remix) [FREE]
02. M.I.A. – Paper Planes [XL]
[04:15] Drake – Best I Ever Had (ID Remix) [YOUNG MONEY]
w/ Louis The Child – From Here [OWSLA]
[05:08] Chet Porter feat. Chelsea Cutler – Stay [FOREIGN FAMILY COLLECTIVE]
05. Skrillex & 12th Planet & Kill The Noise – Right On Time (Alex Young Remix) [FREE/BIG BEAT]
06. Kanye West feat. Rick Ross, Jay-Z, Bon Iver & Nicki Minaj – Monster [ROC-A-FELLA]
07. Gesaffelstein – Hellifornia [PARLOPHONE]
w/ Dr. Dre feat. Snoop Dogg & Kurupt & Nate Dogg – The Next Episode (Acappella) [AFTERMATH]
[08:40] Cozway – Windbreaker [FREE]
09. J-Kwon – Tipsy [ARISTA]
10. Nelly – Ride Wit Me [UNIVERSAL]
11. Rich Chigga – Dat $tick [SELF RELEASED]
12. Dillon Francis & DJ Snake – Get Low [MAD DECENT/COLUMBIA]
w/ LORDE – Tennis Court (Flume Remix) [UNIVERSAL]
13. Chance The Rapper feat. Knox Fortune – All Night [SELF RELEASED]
14. Hayden James – Something About You (ODESZA Remix) [FUTURE CLASSIC]
15. Party Pupils – Ms. Jackson [FREE]
w/ The Weeknd feat. Daft Punk – Starboy (Acappella) [REPUBLIC (UNIVERSAL)]
16. Nelly Furtado feat. Timbaland – Promiscuous [GEFFEN]
17. Janet Jackson – All For You [VIRGIN]
18. ODESZA feat. Zyra – Say My Name (Jai Wolf Remix) [COUNTER]
19. Teedra Moses – Be Your Girl (KAYTRANADA Edition) [FREE]
20. Carly Rae Jepsen – Call Me Maybe [POLYDOR]
21. Gorillaz – Feel Good Inc. [PARLOPHONE]
22. San Holo – Fly [HEROIC]
23. What So Not – Jaguar [OWSLA]
24. TroyBoi – Grimey [FREE]
25. Mura Masa – Lotus Eater [FREE]
26. Big Gigantic feat. Logic & Rozes – All Of Me [BIG GIGANTIC]
27. TNGHT – Acrylics (RL Grime Edit) [LUCKYME]
28. RL Grime feat. What So Not – Tell Me (Baauer Edit) [FREE/SELF RELEASED]
29. Patrick Pinney – Spongebob Squarepants Theme Song
30. Benny Benassi & Skrillex vs. Rustie & Flume – Cinema Slasherr (Benzi & Elephante 2k17 Edit) [ULTRA / NUMBERS]
31. Flux Pavilion – I Can't Stop (Ekali Tribute) [CIRCUS UKF]
32. Slander & YOOKiE feat. Jinzo – After All [NEVER SAY DIE]
[39:30] G-Rex – Savage Squad
34. What So Not – Divide & Conquer [SWEAT IT OUT!]
[42:00] Aweminus & Phiso – Hijinks [NSD: BLACK LABEL]
36. The Chainsmokers feat. Daya – Don't Let Me Down (Spag Heddy Remix) [COLUMBIA]
37. Benny Benassi feat. Gary Go – Cinema (Skrillex Remix) [ULTRA]
38. Major Lazer feat. The Partysquad – Original Don (Flosstradamus Remix) [MAD DECENT]
39. TNGHT – Goooo [WARP]
40. Yo Majesty – Club Action (Smookie Illson Bootleg) [FREE]
w/ Rustie – Coral Castlez [FREE]
[50:00] ID – ID
42. D.R.A.M. feat. Lil Yachty – Broccoli [EMPIRE DISTRIBUTION]
w/ Jack Ü feat. 2 Chainz – Febreze [ATLANTIC]
43. Knife Party – Bonfire [BIG BEAT]
44. Zomboy – Like A Bitch [NEVER SAY DIE]
w/ Enya – Only Time [WARNER UK]
w/ PhaseOne feat. In Hearts Wake – Welcome To Mayhem [DISCIPLE]
45. Psychic Type – You Alone [FREE]
[56:00] Los Del Rio – Macarena (ID Remix) [RCA]
47. Usher feat. Ludacris & Lil Jon – Yeah! [ARISTA]
48. Dillon Francis & NGHTMRE – Need You [MAD DECENT]
49. Rich Chigga – Dat $tick [SELF RELEASED]
50. Knife Party feat. Mistajam – Sleaze [EAR STORM]
[61:05] REZZ X Raito – Alien [FREE]
52. The White Stripes – Seven Nation Army [XL]
w/ Chocolate Puma & Tommie Sunshine feat. DJ Funk – Scrub The Ground [HELDEEP]
53. Tiga – Bugatti [TURBO]
w/ Ghastly – Bitch U Ghastly [FREE]
54. Ghost Town DJ's – My Boo (Tom Budin Remix) [FREE/COLUMBIA]
[67:30] BROHUG – Hooey [SPINNIN' PREMIUM]
56. Shiba San – Okay (Dave Winnel Remix) [ULTRA]
[69:30] Disclosure feat. Sam Smith – Latch (ID Remix) [PMR]
w/ ID – ID
[73:00] Porter Robinson – Fellow Feeling (Shadient Remix) [ASTRALWERKS]
59. Skrillex feat. Diplo & G-Dragon & CL – Dirty Vibe [OWSLA]
60. Yeah Yeah Yeahs – Heads Will Roll (A-Trak Remix / Kid Kamillion Trap Edit) [FREE/FOOL'S GOLD]
61. NGHTMRE – Street (VIP) [MAD DECENT]
[78:06] Panama – Always (Wave Racer Remix) [FUTURE CLASSIC]
63. Jack U ft. Justin Bieber vs. Post Malone – Where Are Ü Iverson (Flosstradamus Edit) [ATLANTIC / UNIVERSAL]
[82:00] ID – ID
w/ Savage – Let Me See Your Hips Swing (Acappella) [UNIVERSAL]
65. Knife Party – Destroy Them With Lazers (heRobust Busted Remix) [EARSTORM]
66. Franz Ferdinand – Take Me Out [DOMINO]
67. Drake – Child's Play [YOUNG MONEY]
w/ DJ Fresh & Diplo feat. Dominique Young Unique – Earthquake (Excision & The Frim Remix) [FREE/MINISTRY OF SOUND]
[87:10] Alon Mor & Clockvice – The Fifth Collaje
[91:00] ID – ID
[91:30] Steve Angello & Laidback Luke feat. Robin S – Show Me Love (Steven V & Alvo Remix) [ULTRA]
[93:00] Cassie – Long Way 2 Go (ID Remix)
[94:00] Chode Gang – Boy Were They Wrong [FREE]
[95:20] Tisoki & Watgood – How About It [BUYGORE]
[96:00] Bad Royale & Wheeto – Alchemy [GOOD ENUFF]
[97:20] ID – ID
76. Just A Gent feat. R O Z E S – Limelight (NGHTMRE Remix) [FREE]
[100:00] deadmau5 feat. Greta Svabo Bech – Raise Your Weapon (Hex Cougar Remix) [MAU5TRAP]
78. Phoenix – 1901 [GLASSNOTE]