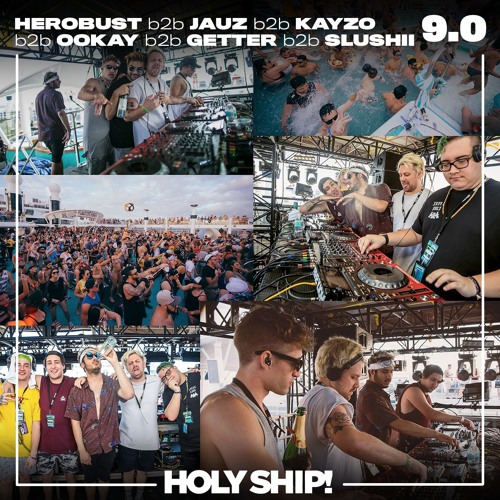 After releasing an epic back to back set a few weeks ago, Holy Ship! has released another stunning b2b set with Herobust, Jauz, Kayzo, Ookay, Getter, and Slushii. These six artists got behind the decks for an astonishing five hours while throwing down a wide array of songs. When the mix was first put out, most of the tracklist was just a bunch of IDs. But now according to 1001Tracklists, there's 262 songs in the set…and that might be low considering the numerous IDs and edits mixed in as well.
Included in the set are songs like "Rock The Party" by Jauz and Ephwurd, "Ritual" by marshmello featuring Wrabel, "FUK UR MGMT" by Kill The Noise, "Masta Blasta 2.0" by Dillon Francis, "Febreze" by Jack Ü featuring 2 Chainz, and "Don't Let Me Down" by The Chainsmokers featuring Daya.
Not done yet though…"To U" by Jack Ü featuring AlunaGeorge, "Boss Mode" by Knife Party, "What's That Spell" by Dillon Francis featuring TJR, "NGAF" by Subshock & Evangelos, "Home" by Cesqeaux and Kayzo, Jauz's remix of "Plur Police", and "Higher" by Destructo are also spread throughout.
Download the entire five hour set for free right now!
Herobust – Facebook / Twitter / Soundcloud
Jauz – Facebook / Twitter / Soundcloud
Kayzo – Facebook / Twitter / Soundcloud
Ookay – Facebook / Twitter / Soundcloud
Getter – Facebook / Twitter / Soundcloud
Slushii – Facebook / Twitter / Soundcloud
Holy Ship! 2017 – Herobust b2b Jauz b2b Kayzo b2b Ookay b2b Getter b2b Slushii Tracklist:
01. DJ Vas – Wizard Funk [RAZOR-N-TAPE]
02. Oliver $ – Doin Ya Thang [PLAY IT DOWN]
03. Skitzofrenix – Bounce [MAIN COURSE]
04. Pass The 40 – American Pimp [MAIN COURSE]
05. Prince – FUNKNROLL (Chris Lake Edit) [WARNER BROS.]
06. Mike Metro – Crybaby [CLUB SWEAT]
07. Steve Stoner – Gimme Back My Kush
08. Gucci Mane – Pillz (Dr. Fresch Remix)
09. Doctor P – Sweet Shop (Moksi Remix) [CIRCUS UKF]
[17:45] ID – ID
[18:31] BROHUG – Molens [GOOD ENUFF]
[19:15] Ty Dolla $ign feat. Future & Rae Sremmurd – Blasé [ATLANTIC]
[20:16] Jauz & Ephwurd – Rock The Party [SPINNIN']
[21:03] Carnage feat. Lil ƱZi Vert & A$ap Ferg & Rich The Kid – WDYW [ULTRA]
[21:34] Habstrakt – Time [NEVER SAY DIE]
[22:35] ID – ID
[23:33] Rob Se7en – Flame
[24:37] Getter – Hecka Tight [OWSLA]
[25:37] Claude VonStroke – Make A Cake (Nick Siarom Dirty Bootleg) [DIRTYBIRD]
[26:50] Friend Within – The Renegade [METHOD]
[29:31] BURNS – Make It Clap [DOORN]
[31:27] Dillon Francis & GTA feat. Snappy Jit – Candy (Topi Flip) [COLUMBIA]
[32:15] Rune RK – Calabria (Firebeatz Remix) [MUSICAL FREEDOM]
w/ Dustycloud – Rebel [FREE]
[33:38] DJ Snake & AlunaGeorge – You Know You Like It (Tchami Remix) [ISLAND]
[35:13] ID – ID
[36:52] CID – No! [MUSICAL FREEDOM]
[37:54] Sartek & Gregori Hawk – I'm Trippin [SHOWLAND]
[39:58] ID – ID
[41:25] Aylen & DIV/IDE – Bump That [GOOD ENUFF]
[43:13] Leftwing & Kody – I Know [OFF REC.]
[44:14] SIS – Nesrib (Man Without A Clue Remake) [GET PHYSICAL]
[46:47] Carmada feat. Noah Slee – Realise (Cause & Affect Remix) [OWSLA]
[47:33] Redlight – Gold Teeth [POLYDOR]
[48:45] Dog Blood – Middle Finger Part 2 [OWSLA]
[51:00] ID – ID
[51:42] Dillon Francis feat. Will Heard – Anywhere (A-Trak Remix) [COLUMBIA]
[53:40] Eric Prydz – Pjanoo (Leon Lour Remix) [PRYDA]
[54:54] Pegboard Nerds & Tony Junior – Voodoo [SPINNIN']
[56:30] Drezo – Guap [FREE]
[57:25] Getter & Ghastly – 666! [OWSLA]
[58:30] ID – ID
[59:50] Bob Marley – Is This Love (Montmartre Remix) [ISLAND]
[62:30] ID – ID
[63:30] ID – ID
[64:30] ID – ID
[67:20] Rich Chigga – Dat $tick [SELF RELEASED]
[68:08] Skrillex & Kill The Noise feat. Fatman Scoop & Michael Angelakos – Recess (Valentino Khan Remix) [OWSLA/BIG BEAT]
48. Sikdope – Snakes [FLY EYE]
[70:00] ID – ID
[72:00] ID – ID
51. Joe Stone feat. Montell Jordan – The Party (This Is How We Do It) [SPINNIN']
[75:13] Eptic – The End (Breaux VIP) [FREE/NEVER SAY DIE]
[76:00] ID – ID
[76:47] Medasin & X&G feat. Josh Pan – The Zoo [ELYSIAN]
[77:19] Dellux – Need U [MTA]
56. Nero – Two Minds [MTA]
[81:00] ID – ID
[81:35] ID – ID
[82:35] Marshmello feat. Wrabel – Ritual [OWSLA]
[84:00] ID – ID
61. Ookay – New Jack Swing [FREE]
[86:00] Billy Kenny – Work [FOUR40]
[87:00] ID – ID
[88:30] ID – ID
[91:00] ID – ID
[92:00] Miike Snow – Animal [DOWNTOWN]
[94:00] Nick Olivetti – Sax O Sex
68. GTA feat. Sam Bruno – Red Lips (Skrillex & Dillon Francis Rebirth) [FREE/THREE SIX ZERO]
[97:00] ID – ID
70. Daft Punk – One More Time [VIRGIN]
[100:00] Sinden & AC Slater – Waterverb [NIGHT BASS]
72. Denzel Curry – Ultimate [C9]
[102:00] Butch – No Worries [CECILLE]
74. Neville Bartos & Chris Lorenzo – Coke Diet [FREE]
75. O.T. Genasis – CoCo (Kidz Bop Edition) [ATLANTIC]
[105:24] ID – ID
[106:00] ID – ID
[108:00] Diplo & Sleepy Tom – Be Right There (MK Remix) [MAD DECENT]
[109:30] Branko – 2 Nice
[111:00] ID – ID
[112:30] ID – ID
[114:00] Mac Dre – Since '84 [THIZZ]
83. Kill The Noise – FUK UR MGMT [OWSLA]
[116:47] ID – ID
85. Shiba San – Okay [DIRTYBIRD]
[118:30] JOYRYDE – Fuel Tank [FREE]
87. GTA & Digital Lab & Henrix – Hit It! [SIZE]
88. R. Kelly – Ignition [ZOMBA]
[120:00] ID – ID
w/ Zedd & Lucky Date feat. Ellie Goulding – Fall Into The Sky (Everybody Fuckin Jump Acappella) [INTERSCOPE]
[121:00] $uicideboy$ & Pouya – Cold Turkey
[122:00] My Chemical Romance – Helena
[123:24] ID – ID
[124:00] Hannah Wants & Chris Lorenzo – Rhymes [VIRGIN EMI]
94. Run DMC – It's Tricky [PROFILE RECORDS]
95. Ookay – Ground [CONFESSION]
[127:00] Valentino Khan – Deep Down Low (Getter Remix) [OWSLA]
97. The Game feat. Skrillex – El Chapo (Sikdope Remix) [FREE/BLOOD]
98. Dillon Francis – Masta Blasta 2.0 [FREE]
[130:30] ID – ID
w/ Barely Alive – Rough And Rugged [DISCIPLE]
[132:00] Matroda x Migos – Bad And Boujee (VIP Edit) [FREE]
101. Ghastly – Bitch U Ghastly [FREE]
[134:28] ID – ID
103. Fetty Wap feat. Monty – My Way [300 ENTERTAINMENT]
104. The White Stripes – Seven Nation Army [XL]
w/ Ookay – The Rhythm [CONFESSION]
[139:00] P-Money – Round The Clock (Cause & Affect Remix) [RINSE]
106. Jack Ü feat. Alvaro & MERCER – Jungle Bae (Brian Dawe & Deville Bootleg) [FREE / ATLANTIC / REVEALED]
w/ Wiwek – Riot [BARONG FAMILY]
[143:00] Rae Sremmurd – Look Alive [EARDRUMMERS/INTERSCOPE]
108. Barely Alive – Back To Back [OWSLA]
[145:00] Coldplay – Fix You [PARLOPHONE]
110. Major Lazer & DJ Snake feat. MØ – Lean On (Dillon Francis & Jauz Remix) [MAD DECENT]
111. Lil Wayne – A Milli [YOUNG MONEY]
w/ Major Lazer & DJ Snake feat. MØ – Lean On (Ookay It's Lit Bootleg) [FREE/MAD DECENT]
112. Benny Benassi pres. The Biz – Satisfaction (RL Grime Remix) [ULTRA]
113. Jack Ü feat. 2 Chainz – Febreze [ATLANTIC]
[149:32] Huff 'N Doback – Boats 'N Hoes
[150:20] ID – ID
w/ KAYZO – Whistle Wars [DOGHOUSE]
[151:00] RL Grime vs. Darude – Core vs. Sandstorm
[152:00] Deorro & ZooFunktion – Hype (Dirty Audio Remix) [DIM MAK]
[153:15] Sam Smith – Lay Me Down (Flume Remix) [CAPITOL]
119. Nonsens & Holly – 2 Kill A Stage [FREE]
120. Flosstradamus feat. Casino – Mosh Pit [ULTRA]
[156:00] Datsik & Virtual Riot – Nasty [FIREPOWER]
[157:00] FuntCase & Virtual Riot – Borg (Downlink Remix) [DISCIPLE]
123. GTA feat. Sam Bruno – Red Lips (Skrillex Remix) [OWSLA]
w/ Chibs – Sharingan
124. Marshmello – Alone (Getter Remix) [MONSTERCAT]
[158:30] ID – ID
[159:09] Cascada – Everytime We Touch [ROBBINS]
[160:00] The Frim – Swipe My Swords [ROTTUN]
[160:30] Ookay & LAXX – ID
129. DJ Sammy & Yanou feat. Do – Heaven [DATA]
[162:00] Squnto – Sayim
131. Flosstradamus & GTA feat. Lil Jon – Prison Riot [ULTRA]
132. Skrillex – Untitled DJ Tool [OWSLA]
[163:34] Journey – Don't Stop Believin' [COLUMBIA]
134. RL Grime – Core [WEDIDIT]
w/ ID – ID
135. Kanye West – New Slaves (DJ Snake Remix) [FREE/DEF JAM]
w/ Zomboy – Invaders [NSD: BLACK LABEL]
136. Young Jeezy feat. Kanye West – Put On [ISLAND DEF JAM]
137. Zomboy – Like A Bitch [NEVER SAY DIE]
w/ ID – ID
138. DJ Fresh feat. Ce'Cile – Gold Dust (Flux Pavilion Remix) [DATA]
w/ Ookay – Paris Hilton [FREE]
[169:40] Tryple – Hypnosis
140. Flosstradamus & Valentino Khan – M.F.U. (Middle Fingers Up) [ULTRA]
w/ Eptic – Swords & Dragons [NEVER SAY DIE]
[171:48] ID – ID
142. Ginuwine – Pony (eSenTRIK Remix) [EPIC]
w/ Weezer – Say It Ain't So
[173:00] ID – ID
144. D4L – Laffy Taffy [WEA]
w/ Phiso – Jotaro (Slushii Edit) [SMOG]
w/ Tisoki – Adrenaline (VIP) [SELF RELEASED]
[176:24] ID – ID
146. Juicy J – Bandz A Make Her Dance [KEMOSABE]
[179:00] Fall Out Boy – Sugar, We're Goin' Down
w/ D.R.A.M. feat. Lil Yachty – Broccoli (heRobust Busted Remix) [EMPIRE DISTRIBUTION]
148. Da Tweekaz – Tequila [DIRTY WORKZ]
[181:26] Datsik – Sensei [FIREPOWER]
150. DMX – X Gon' Give It To Ya
151. Juvenile feat. Mannie Fresh and Lil Wayne – Back That Azz Up [CASH MONEY]
152. Sage The Gemini feat. Iamsu – Gas Pedal [REPUBLIC (UNIVERSAL)]
w/ ID – ID
153. OutKast – Ms. Jackson (San Holo Remix) [FREE/ARISTA]
154. Lil Jon & The Eastside Boyz – Get Low [THE ORCHARD]
[187:07] Lil Dicky feat. Rich Homie Quan & Fetty Wap – Save Dat Money
156. 2 Chainz – I'm Different [DEF JAM]
157. Gent & Jawns – Swizzy [FREE]
158. Hoodie – El Mecanico (Corrupted Data Remix) [FREE]
w/ Snoop Dogg feat. Pharrell – Drop It Like It's Hot [DOGGYSTYLE/GEFFEN]
w/ StereoLiez & PU666Y – We Gonna [FREE]
159. Migos – Fight Night [QUALITY CONTROL]
160. DJ Snake & Skrillex – Sahara [INTERSCOPE]
161. Rihanna – Bitch Better Have My Money (GTA Remix) [ROC NATION]
162. Hoodie – El Mecanico (Corrupted Data Remix) [FREE]
163. Party Favor feat. Toy Conner – Sweat (VIP) [BOMB SQUAD]
w/ Beyoncé – Single Ladies (Acappella)
[195:30] Dirtcaps – El Fuego [ARMADA]
[196:30] JWLS – Bashin [DIABLUMA]
166. DJ Kool – Let Me Clear My Throat (Party Favor Re-twerk) [AMERICAN RECORDINGS/WARNER BROS.]
167. The Weeknd feat. Daft Punk – Starboy [REPUBLIC (UNIVERSAL)]
168. Twenty One Pilots – Stressed Out [WARNER]
w/ Diplo feat. Lazerdisk Party Sex – Set It Off (TWRK Remix) [MAD DECENT]
[200:43] Donald Bucks – Felgam [GOOD ENUFF]
170. OutKast – Ms. Jackson [ARISTA]
[203:00] Lady Bee – Bring The Trumpets [DOWNPITCH]
[205:00] JWLS – Lagrimas
[205:34] Diplo feat. Nicky Da B – Express Yourself [MAD DECENT]
w/ Command Q – Dolphin [NEST]
174. Daddy Yankee – Gasolina [UNIVERSAL]
175. Munchi – Pa Lo Under [SELEGNA]
176. Ape Drums feat. Major Lazer & Busy Signal – The Way We Do This [MAD DECENT]
177. Munchi – Sandungueo [MAD DECENT]
[210:00] Nadastrom & Gent & Jawns – Snake Juice [T&A]
179. Justin Timberlake – Rock Your Body [JIVE]
180. TUJAMO vs. Donald Bucks – Darth Theme vs. Bloodclat (Jack Ü Mashup) [FREE]
181. Kendrick Lamar – M.A.A.D City [AFTERMATH]
w/ 4B & Aazar – Pop Dat [FREE]
182. Flosstradamus – Underground Anthem [FREE]
183. Schoolboy Q feat. Kendrick Lamar – Collard Greens [INTERSCOPE]
w/ NGHTMRE – Burn Out [MAD DECENT]
[216:10] Party Favor & Ookay – ID
185. Ookay – Buck [DIM MAK]
186. Bone Crusher – Never Scared [ARISTA]
187. Showtek feat. We Are Loud & Sonny Wilson – Booyah (Party Favor VIP Remix) [SPINNIN']
188. Skellism & Terror Bass feat. Lil Jon – In The Pit [FREE]
[219:47] ID – ID
w/ Isaac – Face Down, Ass Up (Acappella) [CLOUD9]
[220:12] ID – ID
w/ Sigma – Nobody To Love (Acappella) [3BEAT]
[221:30] Slander & YOOKiE feat. Jinzo – After All (Skrude Edit) [NEVER SAY DIE]
192. The Chainsmokers feat. Daya – Don't Let Me Down [COLUMBIA]
193. DJ Snake & Yellow Claw – Ocho Cinco (heRobust Remix) [INTERSCOPE]
194. KAYZO & RIOT – Wake Up [FREE]
195. Jack Ü feat. AlunaGeorge – To Ü [ATLANTIC]
[226:00] Excision & Dion Timmer – Final Boss [FREE]
197. Jack Ü feat. Kiesza – Take Ü There (Alternative Extended Mix) [ATLANTIC]
198. Knife Party – Boss Mode [EARSTORM/BIG BEAT]
[228:31] Robots Can't Dance – Bada Bing [CIRCUS RECORDS]
w/ Darren Styles & Gammer – Big Ting
200. TNGHT – Higher Ground [WARP]
w/ Skrillex feat. Sirah – Kyoto [BIG BEAT]
[231:13] Fixate – Rickety Cricket [20/20]
202. Gent & Jawns – Collecta (Rathero Flip) [FREE]
[233:00] ID – ID
[234:00] Dougal & Gammer – Shoulder Lock [TOGETHER WE RISE]
[235:20] ID – ID
[236:00] Command Q – D1LL1GAF [GOOD ENUFF]
207. Jack Ü feat. Alvaro & MERCER – Jungle Bae (Brian Dawe & Deville Bootleg) [FREE / ATLANTIC / REVEALED]
w/ Moksi – The Dopest (Cesqeaux Remix / Boombox Cartel Flip) [FREE/BARONG FAMILY]
[237:30] June Miller – Robots And Romans [RAM]
[238:20] TC – Tap Ho [DON'T PLAY]
[239:00] Big Tymers – Still Fly [CASH MONEY]
211. Slander & NGHTMRE – You [MAD DECENT]
212. GTA – Saria's Turn Up [FREE]
213. A$AP Ferg feat. A$ap Rocky, French Montana, Schoolboy Q & Trinidad – Work (Remix) [A$AP]
[242:00] Command Q & JSTJR – Gobble [FREE]
215. GTA – The Crowd [FLY EYE]
[244:00] Skrillex feat. Sirah – Weekends!!! (Crankdat Re-crank) [BIG BEAT]
[245:00] SpydaT.E.K – Esa Muchacha
218. Skrillex & Wolfgang Gartner – The Devil's Den (VIP) [BIG BEAT]
[247:00] ID – ID
220. Dyro vs. Nirvana – Go Down Teen Spirit (Henry Fong Mashup) [COLUMBIA / REVEALED]
w/ Michael Sparks – Ja Rasta [PANDA FUNK]
221. DJ Snake – Propaganda (Jauz Remix) [FREE/POLYDOR]
222. Dillon Francis feat. TJR – What's That Spell [COLUMBIA]
w/ Cesqeaux & Mike Cervello – SMACK! [BARONG FAMILY]
223. heRobust – Skurt Reynolds (VIP) [MAD DECENT]
224. Jauz & Ephwurd vs. Bingo Players – Rock The Party vs. Rattle [SPINNIN']
w/ ID – ID
225. Oasis vs. Dimitri Vegas & Like Mike & Martin Garrix – Tremor vs. Wonderwall (JӨSΣPH BΣ Edit) [CREATION / SPINNIN']
w/ Tiësto & KSHMR feat. VASSY – Secrets (Don Diablo VIP Mix) [MUSICAL FREEDOM]
226. GTA & TJR – Mic Check [THREE SIX ZERO]
w/ ID – ID
227. Borgore & Caked Up – Tomahawk [BUYGORE]
228. AC/DC – Thunderstruck (Crookers Remix) [ATCO]
w/ Subshock & Evangelos – NGAF [ONES TO WATCH]
[260:00] SonicC – Stickin [MIXMASH]
230. Skrillex & Jauz feat. Fatman Scoop – Squad Out (VIP) [OWSLA]
w/ Daft Punk – Harder Better Faster Stronger (Acappella) [VIRGIN]
231. Kanye West – Black Skinhead [DEF JAM]
w/ Habstrakt – Cheezus [NEVER SAY DIE]
232. Rae Sremmurd feat. Gucci Mane – Black Beatles [EARDRUMMERS]
w/ Ookay – Thief (BAILO & Subtronics Remix) [FREE]
233. Calvin Harris – Summer (Diplo & Grandtheft Remix) [MAD DECENT]
w/ Benny Benassi feat. Gary Go – Cinema (Skrillex Remix) [ULTRA]
234. Travis Scott – Antidote (Lookas Remix) [GRAND HUSTLE]
w/ Ookay – Thief [FREE]
235. MNEK & Zara Larsson – Never Forget You (Carnage & KAYZO Remix) [TEN]
w/ ID – ID
236. Kanye West feat. Rihanna – All Of The Lights [ROC-A-FELLA]
w/ San Holo – Light [BITBIRD]
w/ Jack Ü feat. AlunaGeorge – To Ü [ATLANTIC]
[271:00] ID – ID
[272:00] 21 Savage feat. Future – X [SELF RELEASED]
[273:00] ID – ID
240. Boombox Cartel & QUIX feat. Anjulie – Supernatural [MAD DECENT]
[276:00] The Lonely Island feat. T-Pain – I'm On A Boat
[276:42] Chode Gang – Its Chodegang Motherfucker [FREE]
243. Ookay – Stay Forever [FREE]
244. Zomboy – Like A Bitch [NEVER SAY DIE]
[279:08] ID – ID
[280:00] ID – ID
w/ Zomboy – Terror Squad (Bro Safari & Ricky Remedy Remix) [FREE/NEVER SAY DIE]
247. Ookay – Egg Drop Soup [DIM MAK]
w/ Drowning Pool – Bodies (Acappella) [WIND-UP]
248. Cesqeaux & KAYZO – Home [BARONG FAMILY]
w/ Knife Party – PLUR Police (Jauz Remix) [EARSTORM]
[282:22] Dodge & Fuski – Bring It Back [DISCIPLE]
250. FuntCase – Scary Yikes Grrz [CIRCUS UKF]
w/ Wuki – Dadadada [FREE]
w/ FuntCase & Virtual Riot – Borg [DISCIPLE]
251. Destructo – Higher [OWSLA]
252. Ookay – Buck (Awoltalk Remix) [DIM MAK]
[290:00] Chance The Rapper feat. 2 Chainz & Lil Wayne – No Problem [SELF RELEASED]
w/ Virtual Riot – Dragons [DISCIPLE]
[291:30] heRobust & LAXX – No Time (Pixel Terror Remix) [NEVER SAY DIE]
255. Desiigner – Panda (Styles&Complete Remix) [LODUBS]
w/ Skrillex feat. Rick Ross – Purple Lamborghini [ATLANTIC]
[293:17] Metallica – Enter Sandman [ELEKTRA]
257. Valentino Khan & Skrillex feat. Kstylis – Slam Dunk [OWSLA]
258. 4B & Aazar – Pop Dat [FREE]
w/ Cookie Monsta – Beast Mode [CIRCUS UKF]
259. 4B & Aazar – Pop Dat (Aazar Edit) [FREE]
[297:00] Creed – With Arms Wide Open
[297:43] Zomboy – WTF!? (Cookie Monsta Remix) [NEVER SAY DIE]
262. Sigma – Nobody To Love [3BEAT]