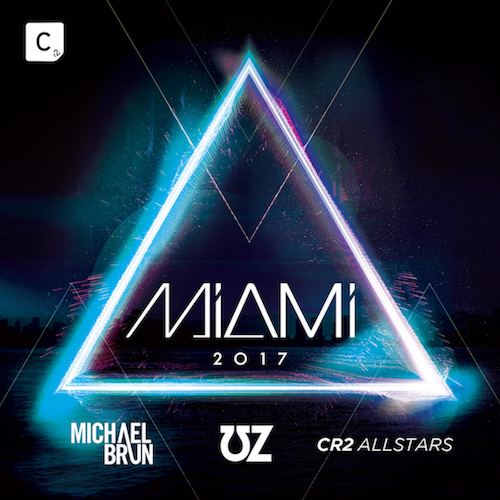 Cr2 Records have released their "Miami 2017" compilation album, mixed by Michael Brun, UZ, and Cr2 Allstars. Last years edition brought in well over 10 million streams on Spotify alone! The massive album features over 75 tracks and loads of special exclusives, with songs by Michael Brun, UZ, Aaron Jackson, Solardo, Dirty South, CamelPhat, Oliver Heldens, Vincent, Vanilla Ace, and Gent & Jawns.
But the London based label isn't done yet! Pierce Fulton, Sunnery James & Ryan Marciano, Third Party, Mayhem, Oski, QUIX, Yotto, Deorro, Henrix, and Lush & Simon also have their tunes thrown in the set. There's also four continuous mixes of the songs included as well.
One of the stand out tracks for me is Michael Brun's VIP of his song "Summer Dreams" with Marcio Lama, due to the bouncing basslines and re-energized melodies. UZ's "You Never Know" featuring Chaz French also caught my attention with its hip hop and future bass vibes.
Get ready for Miami Music Week with Cr2 Records and this energetic compilation album!
Cr2 Records – Facebook / Twitter / Soundcloud
Michael Brun – Facebook / Twitter / Soundcloud
UZ – Facebook / Twitter / Soundcloud
Purchase: Beatport / iTunes / Spotify
Cr2 Records – Miami 2017 Tracklist:
1. Michael Brun & Marcio Lama – Summer Dreams (Michael Brun VIP Radio Edit) (3:35)
2. UZ – You Never Know (4:16)
3. Detlef – Swagon (6:12)
4. Tom Zanetti – Eargasm (Aaron Jackson Remix) (5:42)
5. Kolsch – Gray (04:53)
6. Solardo – The Spot (6:12)
7. Hannah Wants – Hidden Love ft. (Detour City) (George Kwali Remix) (6:12)
8. Alvin Risk – Beastmode (UZ Remix) (3:48)
9. Dirty South – All Of Us (ft. SOUL!) (06:33)
10. Charlie Atom – Feeling Alright (ft. Adriana Lucia) (04:40)
11. Luca Guerrieri – Lighter (4:35)
12. Ryan Riback Vs SOUNDCHECK – Take Me Away (ft. Rachel Elberg) (4:56)
13. CamelPhat – The Quad (6:09)
14. Sirenz – Thrillcakes (3:11)
15. Oliver Heldens & Martin Mayne – Javelin (6:01)
16. Vincent – Alpha (03:21)
17. Mr Gonzo – Moon (05:47)
18. The Golden Boy – Egyptian Lover (Latmun Remix) (6:43)
19. Dateless – This Is The Underground (5:17)
20. Matthew Heyer – Day After Day (ft. Kate Elsworth) (3:02)
21. Moon Boots – Do Not Ask Why (ft. Kyiki – Vanilla Ace & Barber Remix) (7:37)
22. TOKiMONSTA – Caught In The Rain (3:24)
23. Gent & Jawns – Mahal (3:12)
24. JJoy – Lovelife (4:51)
25. Michel Cleis – Litoral (Triangle Mix) (9:49)
26. Pierce Fulton – Kuaga (5:30)
27. Secondcity & Manu Gonzalez – Funk'd (7:27)
28. Michael Mandal & Forbes – Really Love (Illyus & Barrientos Remix) (6:16)
29. Sunnery James & Ryan Marciano – Do Not Make Me Wait (5:08)
30. Low Steppa & Skapes – The Horn (5:45)
31. Michael Brun & The Audio Institute – Wherever I Go (03:34)
32. Third Party – Collide (ft. Daniel Gidlund) (6:53)
33. Basement Jaxx – Mermaid Of Bahia (Eden Prince Remix) (5:10)
34. ANDRSN – High Voltage (04:00)
35. DJ Wady & Roger Vasha – Amalae (6:43)
36. Will Clarke & DJ Funk – Booty Percolatina (5:50)
37. That Matters – Bamba (4:42)
38. Lex Luca – Best Thing About (5:35)
39. BAHA – Awakening (Michael Brun Mix) (4:51)
40. Michael Brun & Still Young – Check This Out (5:17)
41. Michael Brun – All I Ever Wanted (ft. Louie) (5:09)
42. Michael Brun – Jupiter (ft. Roy Inglese & Uni) (3:39)
43. Sirenz – Attic (3:18)
44. Adam & Rickfors Philip Oakleaves – Higher (ft. T-Birch) (5:19)
45. Cardiac – Fellatio (8:21)
46. Andy Bach – Understand It (5:03)
47. Jojo Angel & Matthew Brown – Diva (6:19)
48. Space Jump Health – Spirit (6:30)
49. Ben Bodle – Body Talk (6:15)
50. PHILIPP WOLF – Coziness (7:59)
51. Dabow – Bomb (2:42)
52. Masayoshi Limori – TAP (4:03)
53. Lifecycle (NL) – Babylon (2:46)
54. MineSweepa – Stop Talking (3:48)
55. Mayhem & UZ – Amazon (3:55)
56. JaySounds – The Vibe (Ian Munro Remix) (2:59)
57. Two Fresh & Falcons – Bad Gal (3:01)
58. levitate – Hands Up (4:27)
59. Jordan Comolli – Rise (3:38)
60. Oski – Super Hot (3:27)
61. Tascione & Kompany – Paranoia (03:33)
62. UZ – Magellan (TYNVN Remix) (3:36)
63. UZ – Magellan (3:10)
64. UZ – Trap Shit 22 (03:41)
65. UZ & ATLiens – Cavern (UNKWN Remix) (3:48)
66. UZ & Two Fresh – Stockholm White (3:39)
67. Dimebag & Pasdat – Ride Out (2:35)
68. Hydraulix & QUIX – Jam Dizzle (3:19)
69. Masayoshi Iimori – Hello (3:43)
70. Matvey Emerson – Games (ft. Philip Manning) (5:32)
71. Pierce Fulton – Kuaga (Yotto Remix) (6:20)
72. Chuckie & Junxterjack – Make Some Noise (Deorro Remix) (4:02)
73. Lee Cabrera & Thomas Gold – Shake It Move A Little Closer (DJ PP Terrace Mix) (7:07)
74. Henrix & Celeda – The Underground (5:37)
75. Alex Gray & Rowetta – It's All About House Music (6:33)
76. Felguk – The Tuba (Original Mix) (04:32)
77. Pink Panda – Make Your Move (Kideko Remix) (4:33)
78. Osen & Baha – The Warrior (Lush & Simon Remix) (05:22)
79. Various – Miami 2017 (Continuous DJ Mix By Michael Brun) (1:01:55)
80. Various – Miami 2017 (Continuous DJ Mix By UZ) (50:12)
81. Various – Miami 2017 (Continuous DJ Mix By Cr2 Allstars) (1:02:19)
82. Various – Miami 2017: Miami Classics (Continuous DJ Mix By Cr2 Allstars) (1:39:11)