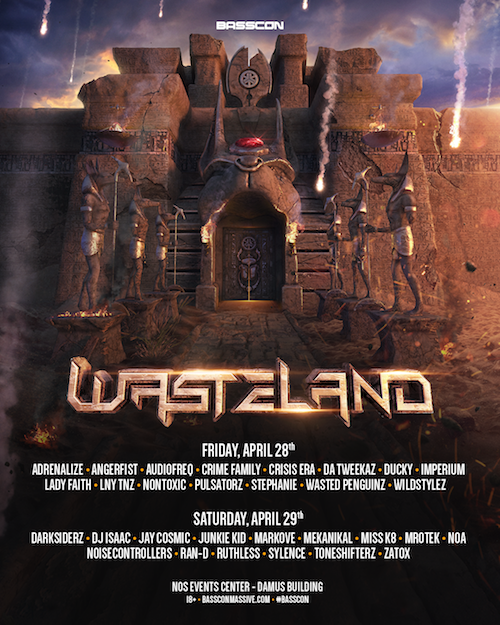 Basscon presents Wasteland will be returning to a two day event on Friday, April 28th and Saturday, April 29th at the
NOS Events Center in San Bernardino. The 2017 edition n the Damus Building will feature two stages, 30 artists, and multiple US debuts.
On Friday, Adrenalize, Angerfist, Audiofreq, Crime Family, Crisis Era, Da Tweekaz, DUCKY, Imperium, Lady Faith, LNY TNZ, Nontoxic, Pulsatorz, Stephanie, Wasted Penguinz, and Wildstylez will be playing. Saturday will see Darksiderz, DJ Isaac, Jay Cosmic, Junkie Kid, Markove, Mekanikal, Miss K8, Mrotek, Noa, Noisecontrollers, Ran-D, Ruthless, Sylence, Toneshifterz, and Zatox perform.
One day tickets are $55, while two day tickets are $110. Doors for the 18+ show open at 6pm.
Basscon – Facebook / Twitter / SoundCloud