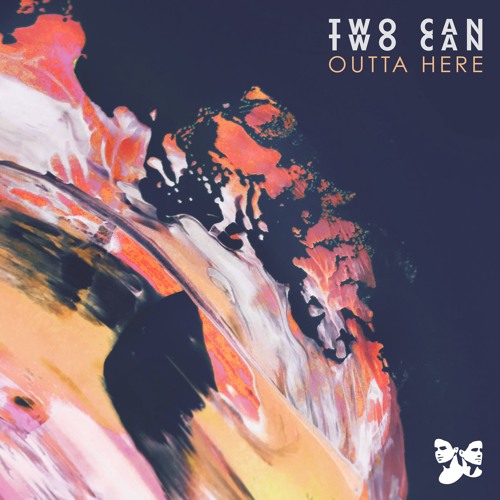 If you're looking for an early summertime jam, look no further than Two Can's next single "Outta Here". The upbeat and catchy house tune was released through Miami based label Tipsy Records. Consisting of brothers Oscar (a jazz percussionist) and Myles (an audio-engineering student), the duo have already shown their production talents with a handful of remixes and originals that have seen heavy support.
Two Can have previously had releases from respected labels such as OWLSA, Virgin/EMI, etcetc, and Sweat It Out. Their songs have seen airplay from BBC Radio 1, Triple J, Unearthed (Rotation), and Fox FM. With just two years of experience under their belts, the accomplishments are certainly stacking up quickly.
Read on for an interview with Two Can about their latest track "Outta Here", their live performances, and some of their favorite songs of the year so far!
Hello guys, appreciate your time. For those who are unaware of your style, how would you describe it in three words?
Hi OC EDM! Thanks for having us! Our sound is pretty simple to describe and to be honest with you; we really like to think of it fitting best under the genre 'electronica' – however, in saying that we don't really have a format or sound that we strive to produce and more want to create good music that our followers will like.
Your new song "Outta Here" is the perfect song to listen to on a long summer drive. What was the process like in creating the song?
Thanks guys! This is actually the exact vibe we wanted to achieve with 'Outta Here'. The process was pretty interesting. We wrote a very stripped back version of the song that you've heard, and got sent an amazing vocal back. Once we received that, the song sort of all fell into place pretty quickly and we couldn't be happier with the result!
You guys will be doing a set of live shows in the US later this year. What all goes into your live performances?
That's definitely the goal! We have been working hard at making sure we get to travel as much as possible and play our songs as far and wide as possible. Our live performance is really flexible. We have an ever-growing arsenal of synths, drum machines, drum pads and drum kits, which we can use at any of our shows. We try and change up the live show as much as possible and try to tailor it to the space and vibe of the venue we are playing at.
In the two years since you have started, what has been your biggest achievement so far?
We are really proud to have received 3 Hype Machine #1's for 3 of our previous remixes. We never expected them to get the attention that they did, however we are so thrilled that people are responding well to our sounds and really pushing us to continue developing as artists!
What do you hope to accomplish in the rest of 2017?
We are really keen to do a number of support tours throughout the year and push our sound into new and interesting places and in front of new and interesting people! America is definitely a huge goal and regardless of how soon it happens, we definitely want to get over there when the time is right and introduce ourselves to a number of other American artists doing really cool stuff.
Lastly, both of us really want to build upon our live set and make it bigger and better than ever! We hope to be able to travel with vocalists, pianists, saxophonists and other talented musicians whom will all bring different elements to our shows and really take the project to the next level!!
Favorite song of 2017 so far:
We really love Two Door Cinema Club at the moment! In particular, their song 'Bad Decisions' would have to be an all time favorite of ours. We were both big fans of it when it came out last year. However, we don't think we gave it the attention it deserved so when it recently popped back into our newsfeed from the Coachella 2017 live stream – it came back on repeat!
Best track to play at peak time:
One of our favourites as of recent, is Tom Budin's unofficial remix of ZAYN's 'Like I Would'. It seems to be perfect sing-a-long song but with a solid drop which is sure to get everyone moving! Here's a video of us playing it at St Kilda Festival this year!
Thanks so much OC EDM for having us! Much Love <3
Two Can – Facebook / Twitter / Soundcloud