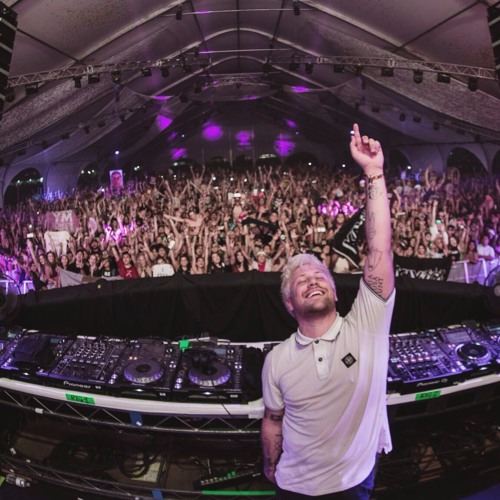 Los Angeles resident Kayzo took over the Green Stage at HARD Summer a few weeks ago with a 75 minute long mix. The two day festival took place Saturday, August 5th and Sunday, August 6th at the Auto Club Speedway in Fontana. The mix is loaded with head banging tracks from Hayden Capuozzo himself, as well as a bunch of other heavy hitting artists. Scattered throughout are a number of IDs from Kayzo and other artists that we'll have to wait on for the official release.
Some of the tracks by Kayzo in the set include "This Time", "Home" with Cesqeaux, "Welcome To The Doghouse", "Whistle Wars", "Frequency" with Gammer, and his remix with Gammer of "Language" by Porter Robinson featuring Bright Lights.
Other songs include "Party Don't Stop" by Darren Styles, Dougal, and Gammer, "Pump" by Valentino Khan, "Great Spirit" by Armin van Buuren and Vini Vici featuring Hilight Tribe, and "Superhuman" by SLANDER featuring Eric Leva.
Kayzo – Facebook / Twitter / Soundcloud
Kayzo – HARD Summer 2017 Set Tracklist:
[00:45] KAYZO & SLANDER – ID [FREE]
[03:21] Toneshifterz – PSYSTYLE [WE R]
[04:02] KAYZO – This Time [MONSTERCAT]
[05:16] KAYZO – This Time (GOMMI X TYEGUYS REMIX) [MONSTERCAT]
[05:47] Cesqeaux & KAYZO – Home [BARONG FAMILY]
w/ Warez – Arrakis [FREE]
[07:13] Krimer – Die [NSD: BLACK LABEL]
[08:09] Zomboy feat. KATO – Young & Dangerous [NEVER SAY DIE]
[08:39] KAYZO – Kill It [BARONG FAMILY]
[09:23] Darren Styles & Dougal & Gammer – Party Don't Stop [MONSTERCAT]
[10:21] Skellism & Terror Bass feat. Lil Jon – In The Pit [GEFFEN]
[11:41] Fedde Le Grand & Nicky Romero feat. Matthew Koma – Sparks (Turn Off Your Mind) (Atmozfears & Audiotricz Remix) [FLAMINGO]
w/ KAYZO & Khemehk – Scream [FREE]
[12:37] Skrillex feat. Sirah – Weekends!!! (ID Remix) [BIG BEAT]
w/ KAYZO – Welcome To The Doghouse [DOGHOUSE]
[14:00] KAYZO – Whistle Wars (Yultron Remix) [DOGHOUSE]
[15:00] KAYZO – Whistle Wars [DOGHOUSE]
w/ KAYZO – Whistle Wars (Slushii Bootleg) [DOGHOUSE]
YULTRON on stage
[17:08] KAYZO – Whistle Wars (Yultron Remix) [DOGHOUSE]
[18:52] KAYZO – Whistle Wars (JSTJR Remix) [DOGHOUSE]
[19:37] Brillz & Tony Romera – ID
[20:27] ID – ID
[22:09] Skrillex feat. Poo Bear – Would You Ever (Prismo Remix) [OWSLA]
w/ ID – ID
19. ID – ID
19. ID – ID
[23:35] Swedish House Mafia feat. John Martin – Save The World (Crankdat Re-Crank) [VIRGIN]
w/ Aazar & Kovalenco Gennadi feat. Lil Jon – 2 Lit [INTERSCOPE]
[24:58] Carnage feat. Migos – Bricks (Kayzo Harder Mix) [ULTRA]
w/ KAYZO & Wuki – WAYZO [FREE]
w/ KAYZO & Wuki – WAYZO (ID Remix) [FREE]
[26:26] ID – ID
[27:26] Yellow Claw feat. GTA – Hold On To Me [MAD DECENT]
[28:46] Gammer & KAYZO – Frequency [FREE]
w/ Gammer & KAYZO – Frequency (Gammer Edit) [FREE]
[29:58] KAYZO & Crankdat feat. Devin Oliver – ID
[30:22] Linkin Park – In The End [WARNER BROS.]
w/ Brillz & Trav Piper – Aliens [TWONK]
[32:32] Jauz & Crankdat feat. Slushii – I Hold Still [FREE]
w/ Valentino Khan – Pump [MAD DECENT]
w/ Jauz – Alpha
[36:25] Armin van Buuren – This Is A Test (Arkham Knights Remix) [ARMIND]
[38:04] Jauz – Feel The Volume (Ben Nicky Remix) [MAD DECENT]
[39:54] ID – ID
[40:20] Vini Vici – FKD Up Kids [IBOGA]
[41:37] Armin van Buuren vs. Vini Vici feat. Hilight Tribe – Great Spirit [ARMIND]
[42:31] EH!DE & Midnight Tyrannosaurus – Planet Purge! [FREE]
w/ Cookie Monsta – Them [CIRCUS RECORDS]
[44:23] Lil Uzi Vert – XO TOUR Llif3 [ATLANTIC]
w/ KAYZO & Warez – ID
[46:33] Beastie Boys – Fight For Your Right (ID Remix) [DEF JAM]
w/ Destructo feat. YG – Party Up [INSOMNIAC]
w/ Sub Zero Project & GLDY LX – Basstrain [DIRTY WORKZ]
[47:31] Flosstradamus feat. Casino – Mosh Pit [ULTRA]
w/ Mastadon – Danger [NSD: BLACK LABEL]
36. ID – ID
[49:17] Pendulum – The Island (Erin Coltman Acoustic Remix) [WARNER UK]
w/ Gammer – ID
w/ DJ Snake – Propaganda [POLYDOR]
[51:32] ID – ID
w/ KAYZO – ID
[54:50] KAYZO feat. Micah Martin – Feel The Power [FREE]
[56:57] XXXTENTACION – Look At Me! [FREE]
w/ Spag Heddy – Oh My [NEVER SAY DIE]
[57:37] Dr. Ozi feat. MagMag – HartyHar [NEVER SAY DIE]
[58:06] Zomboy – Like A Bitch [NEVER SAY DIE]
w/ ID – ID
[58:49] Kendrick Lamar – Humble [AFTERMATH]
w/ KAYZO & RIOT – Wake Up [FREE]
w/ KAYZO & RIOT – Wake Up (Naoto Remix) [FREE]
[60:40] ID – ID
[61:28] KAYZO feat. Dylan Matthew – Avalanche [BARONG FAMILY]
w/ Zero Hero – Bass Drop [MONSTERCAT]
[62:22] KAYZO – ID
[64:04] Gammer feat. Dylan Matthew – Stay Tonight
w/ SLANDER feat. Eric Leva – Superhuman [MONSTERCAT]
[66:28] Porter Robinson feat. Bright Lights – Language (Gammer & KAYZO Remix) [BIG BEAT]
w/ DJ Snake feat. Bipolar Sunshine – Middle (Acappella) [INTERSCOPE]
[70:10] ID – ID
w/ ID – ID
[74:20] ID – ID