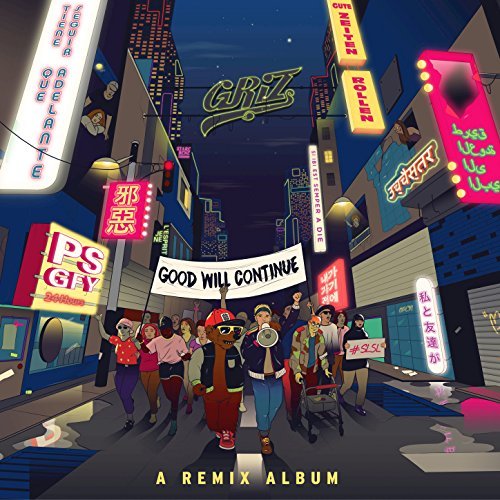 Last September, GRiZ released his fifth album "Good Will Prevail" from his own label All Good Records. Eleven months later, Grant Kwiecinski gives us a striking remix album titled "Good Will Continue". Remix albums tend to be hit or miss for me, with some having too many versions and others having one or two great remixes and fillers for the rest.
That's not the case at all for the Detroit natives remix album. From start to finish, every remix is as diverse and unique as they come. The 13 track set includes remixes from Dirty Audio, Boogie T, Dusty Bits, Jenaux, Ephwurd, and Rowland Evans. There's also versions from Opiuo, Tommy Trash, IHF, Tisoki, Barclay Crenshaw, AC Slater, and Birocratic. From bass house to funk and trap to future bass, it's all pretty much covered here.
GRiZ will also be on his fall Good Will Continue tour, with stops in Orange County, San Diego, San Francisco, and more. Check out his tour dates here!
GRiZ – Facebook / Twitter / Soundcloud
Dirty Audio – Facebook / Twitter / Soundcloud
Boogie T – Facebook / Twitter / Soundcloud
Dusty Bits – Facebook / Twitter / Soundcloud
Jenaux – Facebook / Twitter / Soundcloud
Ephwurd – Facebook / Twitter / Soundcloud
Rowland Evans – Facebook / Twitter / Soundcloud
Opiuo – Facebook / Twitter / Soundcloud
Tommy Trash – Facebook / Twitter / Soundcloud
IHF – Facebook / Twitter / Soundcloud
Tisoki – Facebook / Twitter / Soundcloud
Barclay Crenshaw – Facebook / Twitter / Soundcloud
AC Slater – Facebook / Twitter / Soundcloud
Birocratic – Facebook / Twitter / Soundcloud
GRiZ – Good Will Continue (Remixes) Tracklist:
01. GRiZ – Wicked ft. Eric Krasno (Dirty Audio Remix)
02. GRiZ – Can't Hold Me Down ft. Tash Neal (Boogie T Remix)
03. GRiZ – My Friends & I ft. ProbCause (Dusty Bits Remix)
04. GRiZ x Big Gigantic – Good Times Roll (Ephwurd Remix)
05. GRiZ – I Don't Mind ft. SunSquabi, Artifakts, & iDa Hawk (Jenaux Remix)
06. GRiZ – Feelin' Fine (Rowland Evans Remix)
07. GRiZ – PS GFY ft. Cherub (Opiuo Remix)
08. GRiZ – What We've Become ft. Cory Enemy & Natalola (Tommy Trash Remix)
09. GRiZ – If There Ever Comes A Day ft. Eli Paperboy Reed & Louis Futon (IHF Remix)
10. GRiZ – Rather Be Free ft. Muzzy Bearr (Tisoki Remix)
11. GRiZ – Gotta Push On ft. Brasstracks & Eric Krasno (Barclay Crenshaw Remix)
12. GRiZ – Before I Go ft. Leo Napier (AC Slater Remix)
13. GRiZ – Driftin' ft. Son Little (Birocratic Remix)