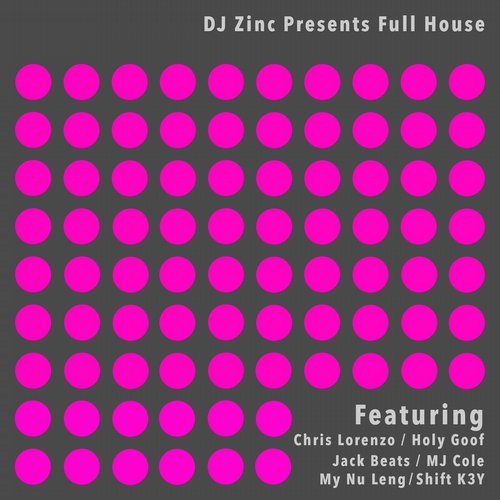 DJ Zinc has released his "Full House" EP on his own record label Bingo Bass. The six track set includes collaborations with Jack Beats, Holy Goof, Chris Lorenzo, MJ Cole, Shift K3y, and My Nu Leng. Benjamin Pettit has shown the ability to jump from jungle to house, to breakbeat to UK garage across his 25+ year career. The Londoner's new EP goes the bass house route with haunting drums and thumping beats throughout the six tunes.
"I had a lot of fun making this EP with some of my favourite producers. Every one of the collabs is with someone whose music I play, so I knew the results would be club-ready bangers. From the musical bliss of MJ Cole to the lunatic bass of Lorenzo, the studio science of Shift K3y to the intricate workings of Jack Beats, the fresh angles from Holy Goof to the tidal wave of My Nu Leng – every track was a pleasure to make."
Various songs from the EP have been supported by Pep & Rash, Gregor Salto, Chuckie, Don Diablo, Mr. Belt & Wezol, Chocolate Puma, D.O.D, Destructo, Bart B More, Arty, Dr. Fresch, and Benny Benassi.
DJ Zinc – Facebook / Twitter / SoundCloud
DJ Zinc – Full House EP Tracklist:
01. DJ Zinc x Jack Beats – The Anvil (Original Mix)
02. DJ Zinc x Holy Goof – Push It (Original Mix)
03. DJ Zinc x Chris Lorenzo – Gammy Elbow (Original Mix)
04. DJ Zinc x MJ Cole – Interbass (Original Mix)
05. DJ Zinc x Shift K3y – Soup Dragon (Original Mix)
06. DJ Zinc x My Nu Leng – Crawler (Original Mix)