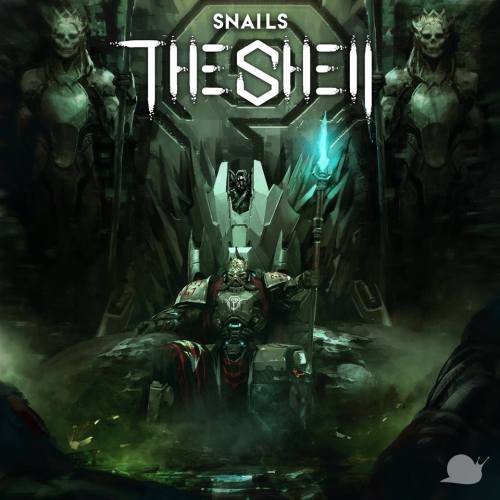 Snails goes full on vomitstep in his debut album out now titled "The Shell", released from his own label Slugz Music. From the early days of his signature sound to his collaborations with Diplo and Skrillex and Flux Pavilion, the Canadian producer has seen his stock soar over the past five years. Check out his release party where he played an hour long set you can watch live right here.
Frédérik Durand collaborates with talented artists like Foreign Beggars, Big Gigantic, Collie Budz, Sarah Hudson, Waka Flocka Flame, HYTYD, MAX, NGHTMRE, Akylla, Varien, Liam Cormier, Travis Richter, Panther, Dion TImmer, KLP, and Sullivan King on the LP.
Snaisl will be starting his The Shell Tour in November with support by Funtcase, Boogie T, and Squnto. At select dates, there will be 12th Planet, Bro Safari, Herobust, Spag Heddy, Downlink b2b Space Laces, Saymyname, Krimer, YOOKiE, and Yultron. He'll be stopping by the Hollywood Palladium on November 24 and at the Observatory in Santa Ana on Novmber 25.
Snails – Facebook / Twitter / Soundcloud
Snails – The Shell Tracklist:
01. Snails – The Shell
02. Snails – Smack Up ft. Foreign Beggars
03. Snails & Big Gigantic – Feel The Vibe ft. Collie Buddz
04. Snails – Into The Light ft. Sarah Hudson
05. Snails & Waka Flocka Flamer – WFSU
06. Snails & HYTYD – To The Grave ft. MAX
07. Snails & NGHTMRE – Only Want U ft. Akylla
08. Snails – The Rise ft. Varien
09. Snails – The Anthem ft. Liam Cormier & Travis Richter
10. Snails – Russian Roulette ft. Panther
11. Snails & Dion Timmer – Forever with ft. KLP
12. Snails – King Is Back ft. Big Ali (Snails & Sullivan King Metal Remix)