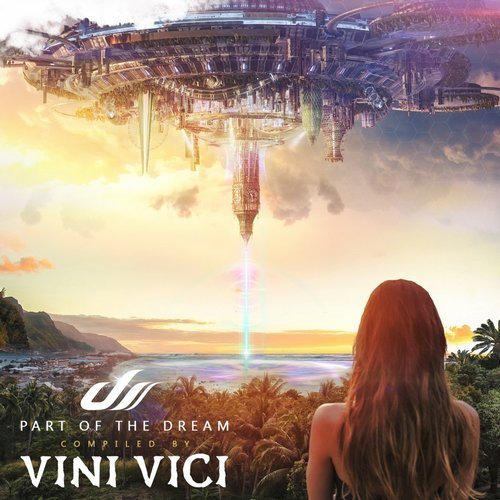 Looking for some new music to get in the mood for Dreamstate later this month? Take a listen to the 18 track "Part of the Dream" compilation album put together by Vini Vici. The collaboration between Dreamstate, Iboga Records, and FMBooking in launching this new imprint has led to a taste of what's to come from the record label. Aviram Saharai and Matan Kadosh include eleven unreleased tunes in the album from some of the best psytrance producers today.
Songs by Amin van Buuren, Liquid Soul, Phanatic, Christopher Lawrence, GMS, Astrix and Ace Ventura, Waio, Coming Soon!!!, Zyce and Morten Granau, and Freedom Fighters are a part of the compilation this year.
So if you're still looking for some Thanksgiving weekend plans, head over to the NOS Events Center for two days of psychedelic psytrance!
Vini Vici – Facebook / Twitter / Soundcloud
Part of the Dream – Compiled by Vini Vici Tracklist:
1. Vini Vici – Part of the Dream (Continuous DJ Mix) (01:47:35)
2. Armin van Buuren & Vini Vici – Great Spirit (feat. Hilight Tribe) (07:37)
3. Off Limits & Wilders – White Dwarf (08:13)
4. Symbolic – Function of Time (08:13)
5. Vini Vici – Ravers Army (07:25)
6. Liquid Soul – Wake Up (07:33)
7. Bryan Kearney – Adrenaline (Phanatic Remix) (06:18)
8. Christopher Lawrence & Orpheus – Cosmic Dust (06:29)
9. GMS & Shanti V Deedrah – Techno Culture (06:01)
10. Astrix & Ace Ventura – Valley of Stevie (08:41)
11. Static Movement – Namaha Shiva (07:42)
12. Jordan Suckley – Ritual (Waio Remix) (06:39)
13. Coming Soon!!! – D.M.T (05:35)
14. Gaudium – Let Us All Unite (07:12)
15. Zyce & Morten Granau – Techno Kids (06:55)
16. Freedom Fighters & Outsiders – Sticklights (07:04)
17. Animato & Ticon – The Given Moment (07:25)
18. Vini Vici & Pixel – Flashback (08:00)
19. Ghost Rider – Make Us Stronger (07:44)