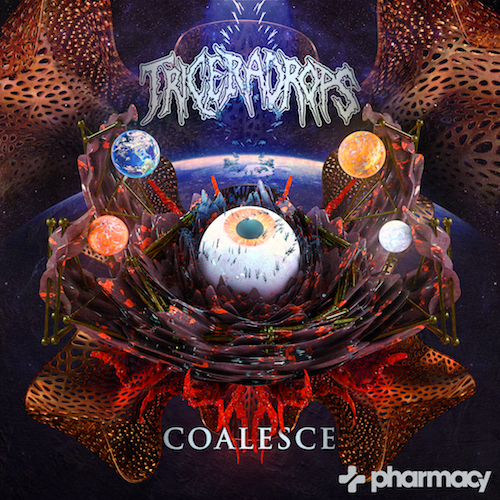 Today is a big day for Los Angeles based artist Triceradrops as his debut album "Coalesce" was released through Christopher Lawrence's Pharmacy Music record label. To celebrate the 11 psytrance tracks, Julian Noriega, Pharmacy Music, and Pulsar Music are having an album release party in Los Angeles this Saturday, February 17th. Be sure to email full names to Coalesce@pulsarmusic.net to get the official invite which will include information and directions to the event on Saturday.
Playing alongside Triceradrops that night will be No Cliu, Sidekicks, Barakuda, Kahn, Hanz Dwight, End Of Everything, and a back to back set of Triceradrops vs. No Cliu. Artwork and decor will be done by Psydye and M. Lazar, with sound by I Want Lasers. The 21+ event will run from 10pm-6am.
Read on for an interview with Triceratops about "Coalesce", the event this weekend, and what to look for from him in 2018!
Hey Julian, thanks for your time. How was 2017 for you?
Hello! Thank you for having me. 2017 was definitely a roller coaster of a year for me. Started it off strong with Dreamstate at Belasco and from there on picking up more shows to continue the hype and build stronger relationships with others. I took 2017 as a big learning experience with it all learning more about how it all works being my own manager basically. Traveled a lot in 2017 and it was just awesome to see my frequencies making people react the way they did. 2017 was a HUGE year for psytrance with everything Dreamstate has being doing but most importantly the underground scene. A scene I'm proud to be a part of! Pulsar and Psytribe are my mains. Pulsar being the group to bring me up first and later releasing music and playing the events with Psytribe! Our scene has only been growing and shifting. Not everyone thinks for the better but we embrace anyone willing to come scope it out whether it's the indoor shows or outdoor shows in the Mojave Desert or La Jolla Forest. Oregon Eclipse Festival was a major piece of history for psy seeing such a HUGE lineup to be in USA like that. We all drew inspiration from that week of craziness! But yeah, I got to grow both as a person and producer this past year, pushed and crossed thresholds I thought I'd never cross before. I thank everyone who was a part of it for the good and the bad.
Your new album "Coalesce" is out on Pharmacy Music. What made you decide now was the time to create an album?
I've always had the idea to do an album but after the success with Dreamstate and the underground it was time to push myself to become part of that next caliber of artists around the world. Show them we got noise coming out of LA! I almost decided not to because I was told maybe splitting the album into EPs would be better promo for me, so I was headed into that direction for a bit until I ran into some problems with releasing some tunes. After venting and explaining the issues to a friend, he just said "Fuck it dude, just do the fucking album, you're only a few songs away. Who says you can't do it?" So that day around June, I gripped reality by the balls and started to work up until a few weeks ago I finally decided which tracks were going on the album and learned new ways to master them. This is something special to me so I wanted this all to be my own ear of quality.
How did you first get in touch with Christopher Lawrence's label?
When I was producing for fun, I caught the attention of a remix competition Pharmacy did for Christopher & John 00 Flemming's track called "Beyond The Limit". This was before I drunkenly thought of the name Triceradrops, that's when I was planning to just be J Noriega. So I made the remix and I was already late on the deadline, so I had nothing to lose and I sent the email anyway and said "I know I'm late, but feedback from you guys would be great to me anyway". Couple of weeks later I received that email saying that I was selected as a winner and that I was the favorite overall. I called everyone, my rave family at the time! That was the spark to the fire you see burning today.
You have a show celebrating the album's release coming up on February 17th in Los Angeles What can you tell us about that?
I can tell you that it's being thrown by my crew Pulsar and it's going to be a really fun underground party. I'm getting 2 hours of stage time, 45 minutes of those 2 hours will be a back to back with fellow Pharmacy artist No Cliu. Stacked lineup with 4 of the artists are on the album. They worked and deserved to be on the line up.
Email Full Names To —> Coalesce@pulsarmusic.net (to receive official invite w/ info & directions – on day of the party!)
facebook.com/events/398035943968641
Presales are currently available for those interested!!!
What else is on the horizon for 2018?
New music for sure. I already am working on new EPs to branch out to other labels into the psychedelic scene. This year, expect more techno as well 128-136bpm stuff under "Noriega", that's another love for me. So keep your eyes peeled for the future and expect quality.
Favorite Song of 2017:  Reign for sure
Best track to play at peak time: Transfiguration of The Mind or Asphyxiate
Unexpected remix to switch things up: Dennis Slim vs. Radioactive Cake- Evil Radio (Triceradrops Bootleg)
Vocalist you'd most like to work with: George Fisher (Corpsegrinder)
Upcoming artist to watch for in 2018: All the LA Pharmacy artists for sure. Kane Michael as well with that techno.
Triceradrops – Facebook / Twitter / Soundcloud
Triceradrops – Coalesce (Album) Tracklist:
01. Triceradrops – Kill The Doubt / Hellucinogen
02. Triceradrops – Embrace
03. Triceradrops vs. Sidekicks – Hitech Pirates
04. Christopher Lawrence – Faith In Future (Triceradrops Remix)
05. Triceradrops – Transfiguration Of The Mind
06. Triceradrops – Sine Illusion
07. Triceradrops vs. No Cliu – vo Triuth
08. Triceradrops & Barakuda – Nightwalker
09. Triceradrops – Reign
10. Triceradrops – Candice
11. Triceradrops vs. Diabolus – Asphyxiate