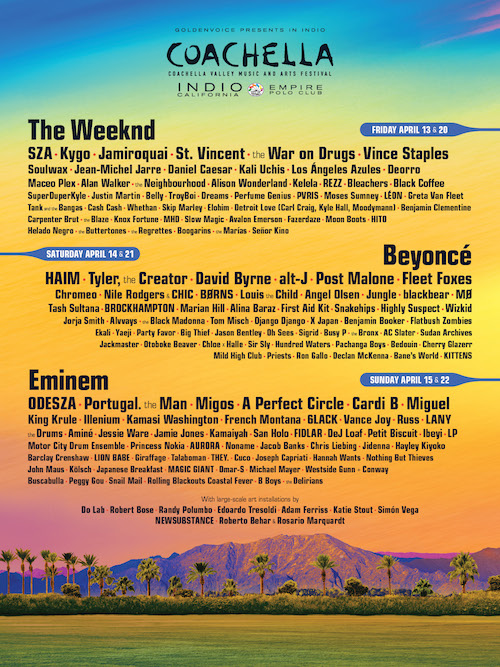 If you missed out on yesterday's Coachella 2018 performances, fear not! The live stream will be back up and running in just a few short minutes. Scheduled to be on one of the four live stream channels today and tomorrow are Ekali, Django Django, Party Favor, Snakehips, Chromeo, Louis the Child, San Holo, Illenium, Odesza, and Soulwax.
Also performing throughout the rest of the weekend will be Marian Hill, Nile Rodgers and Chic, MØ, Tyler the Creator, HAIM, Post Malone, Beyonce, alt-J, French Montana, Portugal. the Man, and Migos.
Tickets for both weekends of the 19th Coachella Valley Music and Arts Festival sold out in a mater of hours when they went on sale in January. The event takes place on April 13th, 14th, and 15th and April 20th, 21st, and 22nd at the Empire Polo Club in Indio.
Coachella – Facebook / Twitter / Website
Coachella 2018 LIVE Channel 1
Coachella 2018 LIVE Channel 2
Coachella 2018 LIVE Channel 3
Coachella 2018 LIVE VR
Saturday, April 14th:
03:35 – Marian Hill (1)
03:35 – Declan McKenna (2)
03:35 – WizKid (3)
03:35 – WizKid (VR)
04:15 – Nile Rodgers and Chic (1)
04:15 – Chloe x Halle (2)
04:20 – Ekali (3)
04:20 – Ekali (VR)
04:45 – Django Django (2)
05:10 – Nile Rodgers and Chic (VR)
05:15 – Flatbush Zombies (3)
05:20 – First Aid Kit (1)
05:30 – Angel Olsen (2)
06:05 – Party Favor (3)
06:05 – Party Favor (VR)
06:10 – BØRNS (1)
06:15 – BROCKHAMPTON (2)
07:00 – Snakehips (3)
07:05 – Chromeo (1)
07:05 – Chromeo (VR)
07:10 – MØ
08:00 – Tash Sultana (2)
08:00 – Alina Baraz (3)
08:05 – Tyler the Creator (1)
08:45 – Louis the Child (3)
08:50 – Benjamin Booker (2)
09:15 – HAIM (1)
09:35 – Alvvays (2)
09:40 – Blackbear (3)
10:10 – Post Malone (1)
10:10 – Post Malone (VR)
10:20 – David Byrne (2)
10:25 – Jungle (3)
11:10 – Beyoncé (1)
11:10 – Fleet Foxes (2)
11:20 – Highly Suspect (3)
12:05 – alt-J (2)
12:05 – X Japan (3)
Sunday, April 15th:
03:35 – Noname (3)
03:40 – Lion Babe (1)
03:40 – Magic Giant (2)
04:10 – San Holo (VR)
04:20 – THEY. (3)
04:25 – Nothing But Thieves (2)
04:40 – LANY (1)
04:40 – LANY (VR)
05:05 – San Holo (3)
05:10 – Dej Loaf (2)
05:45 – Vance Joy (1)
05:45 – Vance Joy (VR)
06:00 – Amine (2)
06:00 – Petit Biscuit (3)
06:30 – Jessie Ware (1)
06:30 – Petit Biscuit (VR)
06:50 – FIDLAR (2)
06:50 – French Montana (3)
06:50 – French Montana (VR)
07:35 – Aurora (2)
07:35 – Jacob Banks (3)
08:00 – Portugal. the Man (1)
08:00 – Portugal. the Man (VR)
08:20 – Kamasi Washington (2)
09:15 – Illenium (3)
09:25 – 6LACK (2)
09:55 – Odesza (1)
09:55 – Odesza (VR)
10:10 – Soulwax (2)
10:15 – Ibeyi (3)
11:05 – Migos (1)
11:05 – Migos (VR)
11:10 – Kamaiyah (2)