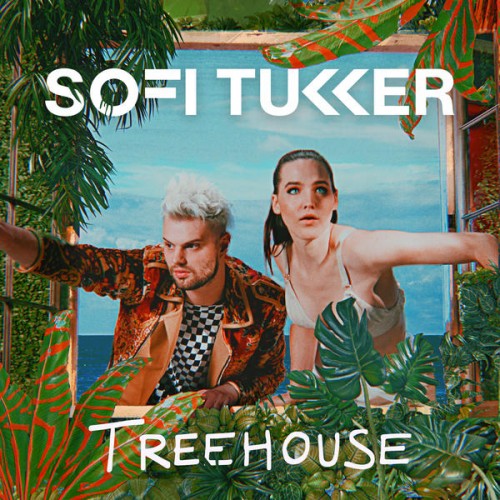 I first heard of New York duo SOFI TUKKER a few years back with their Grammy nominated song "Drinkee". Then, their track "Best Friend" with Nervo, The Knocks, and Alisa Ueno was heard around the world in a commercial announcing the new iPhone X last September, and was also included in the FIFA 18 soundtrack.
Sophie Hawley-Weld and Tucker Halpern have now released their debut studio album titled "Treehouse" on Ultra Records. The LP features 10 playful and catchy tracks, eight of which are solo original mixes and two that are collaborations. A few of my favorites from the album are "Energia", "My Body Hurts", and of course "Best Friend". Another track from set in "Johny" was used in the FIFA 17 soundtrack. And still another one of their singles "That's It (I'm Crazy)" was in the iPhone 8 Red Special Edition commercial.
Chances are, you've already heard one or two SOFI TUKKER tracks in the last few years but just didn't know it. They're currently in the middle of their Treehouse World Tour, see event dates here. Now's a good time to jump on board and follow this talented duo!
"Treehouse is about the childhood spirit of play. We want our music to be like that magical, welcoming place from childhood, where you go to escape with your friends and make your own rules together. Treehouse is about grown children who lift each other up, inspire each other, encourage each other, and play together. Everything is fair game and all aspects of our selves are accepted. Everyone shines, everyone is invited, and you are free to be any way and anyone you want to be."
SOFI TUKKER – Facebook / Twitter / Soundcloud
SOFI TUKKER – Treehouse (Album) Tracklist:
01. SOFI TUKKER – Fuck They (Original Mix)
02. SOFI TUKKER – Energia (Original Mix)
03. SOFI TUKKER – Benadryl (Original Mix)
04. SOFI TUKKER – Batshit (Original Mix)
05. SOFI TUKKER – Good Time Girl ft. Charlie Barker (Original Mix)
06. SOFI TUKKER – Johny (Original Mix)
07. SOFI TUKKER – My Body Hurts (Original Mix)
08. SOFI TUKKER – The Dare (Original Mix)
09. SOFI TUKKER – Baby I'm A Queen (Original Mix)
10. SOFI TUKKER – Best Friend ft. NERVO, The Knocks & Alisa Ueno (Original Mix)