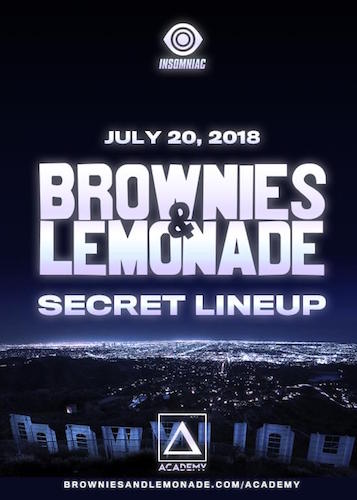 In the past few years, Brownies & Lemonade have become one of the premiere event producers in organizing shows for up and coming artists, as well as the staging the Los Angeles and USA debuts of numerous artists, such as Jai Wolf, Louis the Child, Manila Killa, Ekali, and Medasin. Most of their lineups aren't announced ahead of time, but that hasn't stopped huge numbers of fans from showing up to the events put on by Kush Fernando and Jose Guzman.
This Friday, July 20, the B&L crew will be putting on another big show at Academy LA in Los Angeles. This event also has an unknown lineup, but their tweet about it might shed some clues as to who could be performing.
"After reevaluating many things from our last big show, we decided we wanted to provide y'all with a premiere B&L experience and soon…
So we're officially back in a BIG way this Friday. We're bringing a certified legend along with a stacked rare lineup. We're doing it at one of LA's newest, state of the art mega venues with guaranteed entry, professional security, & 21+. And it's with Insomniac. Like they say, what doesn't kill u only makes u stronger. 
😇"
Tickets for the 21+ show are currently $25 with doors opening at 10pm.
Brownies & Lemonade – Facebook / Twitter / Soundcloud / Website