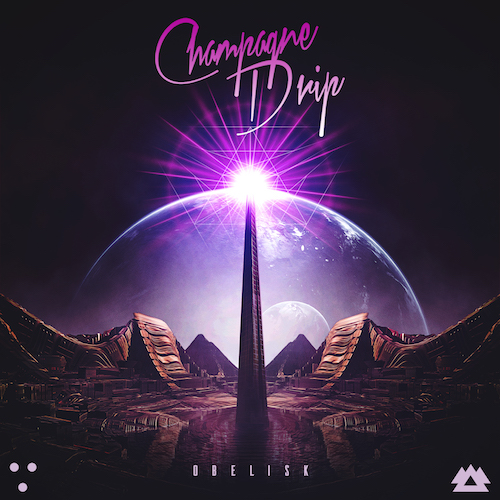 Champagne Drip has released a genre bending EP titled "Obelisk" from Wakaan. While the name might sound new, Sam Pool had previously produced under the name SPL for over 10 years, releasing drum & bass, dubstep, and trap tunes on record labels such as Barcode, Tech Itch, Evol Intent, Sub Human, Rottunn Recordings, and SMOG Recordings.
The Los Angeles based artist includes four freeform bass tracks on the EP: "Nerf This", "Argent Energy", "The Portal", and "Axis Mundi". Champagne Drip has previously released songs on Bassrush Records, Circus Records, Deadbeats, Quality Goods Records, Mad Decent, and now embodies WAKAAN's 'weird and wonderful' mantra with his new EP.
Read on for an interview with Champagne Drip about his name change, his favorite track on the EP, and a few upcoming artists to keep an eye on!
Appreciate the time, Champagne Drip. Some people might recognize you from your SPL alias from back in the day. Why the change to Champagne Drip?
I was feeling stagnate as SPL and thought it would be good to try something new. I learned so much along the SPL journey it was fun to apply that to a fresh project.
Describe the freeform bass style that you've become known for.
This is the question I'm probably the worst at answering because my style is a result of what happens when I sit down in my studio and search for anything I think sounds good and moves me. I'm definitely inspired by the electronic music I grew up on in the 90s as well as psychedelic experiences with music.
Your new EP "Obelisk" was released through Wakaan. How did you get together with the label?
Liquid Stranger is an artist that I go back with for many years. He brought his team to me and as we started working more closely together, Wakaan became an obvious outlet for my music. I think the label really fits what I'm onto musically.
Which track was your favorite one to work on?
Axis Mundi was super vibey to work on. Most of the track was written in a few hours and I was really feelin' it.
What else can we expect from you in 2018?
I have a few remixes and collaborations on the way and I'm trying to have another EP out by the end of the year. So far this is looking really realistic.
Favorite Song of 2018 so far: I don't have a favorite track. It's constantly shifting and so dependant on my mood.
Best track to play at peak time: G Jones & Eprom – Hysteria
Unexpected remix to switch things up: For me, it's all about my weird live edits that I've made that nobody else has.  Right now I have a remix of Konflict – Messiah that is doing some damage.
Vocalist you'd most like to work with: Maynard James Keenan
Upcoming artist to watch for in 2018: If you don't know already, PEEKABOO is on fire right now. Keep an eye out for Zeke Beats, LSDREAM, and Chee too if you haven't yet.
Take a listen to Champagne Drip's "Obelisk" EP below!
Champagne Drip – Facebook / Twitter / Soundcloud
Champagne Drip – Obelisk EP Tracklist:
01. Champagne Drip – Nerf This (Original Mix)
02. Champagne Drip – Argent Energy (Original Mix)
03. Champagne Drip – The Portal (Original Mix)
04. Champagne Drip – Axis Mundi (Original Mix)