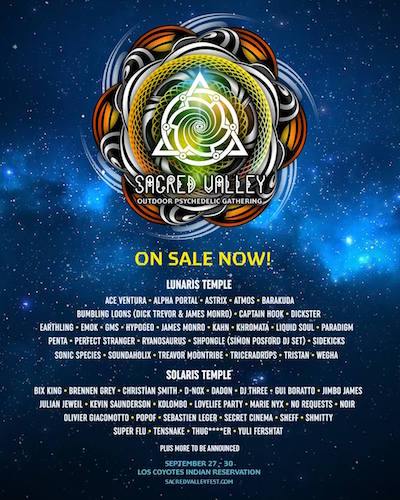 Insomniac and Psytribe USA have announced Sacred Valley Festival, a new outdoor psychedelic experience taking place Thursday, September 27th through Sunday, September 30th. The festival will take place on 50 acres of the Los Coyotes Indian Reservation in Warner Springs, which is in northern San Diego. There will be two stages of non-stop 24 hours of music, sound camps, and curated exploratory experiences that pay respect to the local lands and people.
Scheduled to perform over the course of the event are Ace Ventura, Astrix, Barakuda, Captain Hook, Earthling, Emok, GMS, Gui Boratto, Khromata, Liquid Soul, No Requests, Sebastian Leger, Shpongle, Tensnake, and Triceradrops.
"A third space will host guest speakers, health and wellness seminars, philosophers, yoga sessions, and other activities, including nature walks guided by the local Native American peoples.
A 4-Day Festival Pass grants access into the festival and campsites. Campers are free to set up in two distinct areas—Camp Lunaris and Camp Solaris—each with its own unique vibration of music and psychedelic exploration. Please note that all cars arriving to Sacred Valley will need either a General Car Parking Pass, Campsite Parking Pass or RV Parking pass. Only one parking pass is needed per vehicle.
Camping opens at 10am on Thursday, September 27. Music begins at 12pm on Thursday and will end at midnight on Sunday, September 30. All campers must depart the reservation by 12pm on Monday, October 1."
Tickets for the 21+ festival are currently at $159.95 with two tiers of pricing left, unless they sell out.
Make sure to enter 2300 Camino San Ignacio Rd, Warner Springs, CA 92086 as the address rather than seraching for Los Coyotes!
Sacred Valley Festival – Facebook / Twitter / Website
Lunar Temple: Ace Ventura, Alpha Portal, Astrix, Atmos, Barakuda, Bumbling Loons (Dick Trevor & James Monro), Captain Hook, Dickster, Earthling, Emok, GMS, Hypogeo, James Monro, Kahn, Khromata, Liquid Soul, Paradigm, Penta, Perfect Stranger, Ryansaurus, Shpongle (Simon Posford DJ Set), Sidekicks, Sonic Species, Soundaholix, Treavor Moontribe, Triceradrops, Trista, Wegha
Solaris Temple: Bix King, Brennen Grey, Christian Smith, D-Nox, Dadon, DJ Three, Gui Boratto, Jimbo James, Julian Jeweil, Kevin Saunderson, Kolombo, Lovelife Party, Marie Nyx, No Requests, Noir, Oliver Giacomotto, Popof, Sebastian Leger, Secret Cinema, Sheff, Smitty, Super Flu, Tensnake, Thug****er, Yuli Fershtat