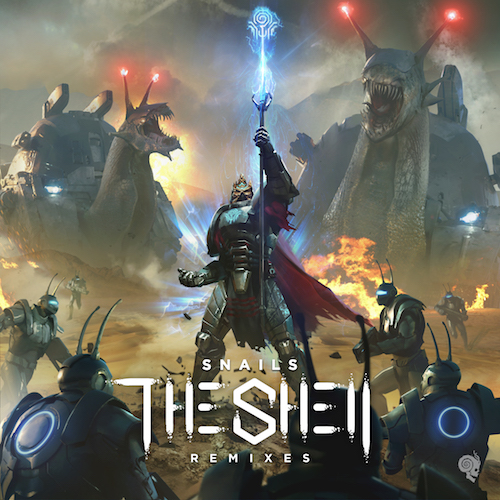 I've been hearing about the impending release of SNAILS' "The Shell" remix album for quite a few weeks now. The 10 track LP was finally put out today through his own record label Slugz Music. The original album was released last October and featured collaborations with Foreign Beggars, Big Gigantic and Collie Budz, Sarah Hudson, Waka Flocka Flame, HYTYD and MAX, NGHTMRE and Akylla, Varien, Liam Cormier and Travis Richter, Panther, Dion Timmer and KLP, and Sullivan King.
Giving each of their own unique bass spins on a track from the album are SVDDEN DEATH, Space Jesus, Soltan, Virtual Riot, Kompany and IVORY, Kill the Noise, UBUR, Megalodon, Funtcase, and Mastadon. The futuristic basslines and heavy metal influences found throughout the album will have you headbanging in no time!
Vomitsquad don Frédérik Durand will be heading out on his THE SHELL 2.0 Tour next month with a brand new stage from Beama Visuals (who have also worked with Excision) that is being called a "holographic bass music experience powered by groundbreaking production". PK Sound will be bringing the bass, so be sure to come prepared!
Support will come from SVDDEN DEATH, HEKLER, and UBUR, in addition to Liquid Stranger, Cookie Monsta, VOYD, and two unknown guests on select dates (though it looks to be 12th Planet and Kill The Noise!). The tour kicks of at Red Rocks Amphitheater in Colorado with his own festival called Sluggtopia, then see the Canadian artist in action on Saturday, October 20th at the Hollywood Palladium!
"It's finally here!!! So excited to finally share THE SHELL REMIXES album featuring some of the best/my favorite artists in electronic music right now out now on Slugz Music. Every song received its own unique twist and about to destroy the dancefloor and your speakers! Love yall – Fred (Snails)"
SNAILS – Facebook / Twitter / Soundcloud
SVDDEN DEATH – Facebook / Twitter / Soundcloud
Space Jesus – Facebook / Twitter / Soundcloud
Soltan – Facebook / Twitter / Soundcloud
Virtual Riot – Facebook / Twitter / Soundcloud
Kompany – Facebook / Twitter / Soundcloud
IVORY – Facebook / Twitter / Soundcloud
Kill The Noise – Facebook / Twitter / Soundcloud
UBUR – Facebook / Twitter / Soundcloud
Megalodon – Facebook / Twitter / Soundcloud
Funtcase – Facebook / Twitter / Soundcloud
Mastadon – Facebook / Twitter / Soundcloud
SNAILS – The Shell Remixes (Album) Tracklist:
01. SNAILS – Smack Up ft. Foreign Beggars (SVDDEN DEATH Remix)
02. SNAILS – Feel The Vibe ft. Big Gigantic & Collie Buddz (Space Jesus Remix)
03. SNAILS – Into The Light ft. Sarah Hudson (Soltan Remix)
04. SNAILS & Wacka Flocka Flame – WFSU (Virtual Riot & Snails Remix)
05. SNAILS – To The Grave ft. HYTYD & MAX (Kompany & Ivory Remix)
06. SNAILS & NGHTMRE – Only Want U ft. Akylla (Kill The Noise Remix)
07. SNAILS – The Anthem ft. Liam Cormier & Travis Richter (UBUR Remix)
08. SNAILS – Russian Roulette (ft. Panther Matumona (Megalodon Remix)
09. SNAILS – Forever ft. Dion Timmer & KLP (FuntCase Remix)
10. SNAILS – King is Back ft. Big Ali (Mastadon Remix)