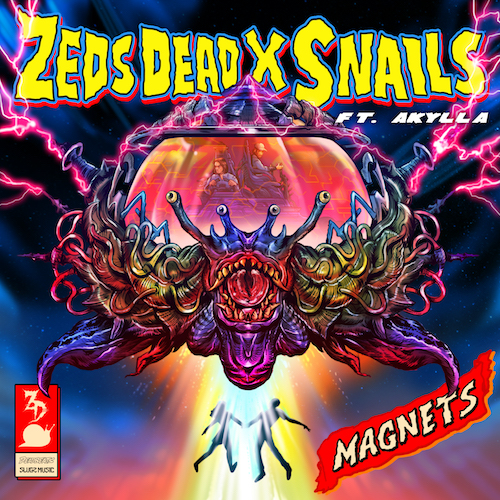 A handful of Canadian artists are behind a rollercoaster of a bass track called "Magnets". The song is from dubstep titans Zeds Dead and vomitstep originator SNAILS and features a powerful vocal performance from Akylla. From the highs of the arpeggiated synths to the lows of the booming bass, this tune will have you wishing you took a Dramamine before you pressed play. The song was co-released by SNAILS' Slugz Music and Zeds Dead's Deadbeats record labels.
When asked to describe the track, SNAILS says that "'Magnets' is all about putting together beautiful melodies and vocals with intense basslines to create a powerful love song. The mix of all our styles complimented each other exactly how we wanted and so happy how the song came out."
Toronto natives Dylan Mamid (DC) and Zach Rapp-Rovan (Hooks) debuted the track at their DeadRocks show at Red Rocks Amphitheater in Colorado a few months ago before playing it again at Electric Zoo, on their radio show Deadbeats Radio 066, and Night Owl Radio 162.
Montreal resident Frédérik Durand just started his 52 date North American tour The Shell 2.0 after recently releasing a bunch of remixes from his album "The Shell".
The vocals of Winnipeg natives Sherry St. Germain and Saratonin might sound familiar, as they've been featured on tunes from Excision's albums "Apex" and "Virus", as well as on SNAILS and NGHTMRE's "Only Want U" from SNAILS' "The Shell" album.
Zeds Dead – Facebook / Twitter / Soundcloud
SNAILS – Facebook / Twitter / Soundcloud
Akylla – Facebook / Twitter / Soundcloud