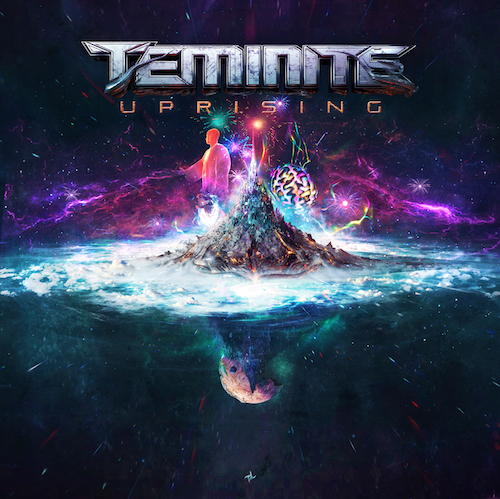 Teminite has released "A New Dawn" as we get ready for the arrival of the second part of his "Uprising" album. The United Kingdom has been pushing out some great bass music artists over the years, and the Leeds resident is certainly catching up to the best of them. Sam Norris began his journey as a 16 year old bedroom producer who would later win a couple of remix contest from Barely Alive/Disciple and Pegboard Nerds/Monstercat.
Read on for an interview with Teminite as he talks about his musical influences, how his sound has progressed since his early producing days, and some of his favorite songs!
Hey Teminite, thanks for your time in answering a few questions. For those who are just hearing about you for the first time, give us a little background on yourself.
I've been playing music ever since I was very young. Both of my parents are music teachers, so I was constantly surrounded by music whilst growing up. It didn't take me long to discover that I had a passion for composing. When I was 13, I started making electronic music, and fell in love with the creative freedom I had with a DAW. I had never really been able to record the ideas in my head before, so it was amazing to finally hear my ideas being played back to me. When I was 15, In January 2013 I created a Soundcloud account and called myself 'Teminite'. Then, in 2014 I managed to win two remix contests, one held by Barely Alive and Disciple and one held by Pegboard Nerds on Monstercat. This helped me kickstart my following, and really helped me making a name for myself. From then on I've been releasing music fully independently for the last few years, creating the music that I want to hear.
Who have been some of your biggest influences in shaping your musical style?
My main influences for the last 5 years have been Skrillex, Knife Party, Pegboard Nerds, and Haywyre. These artists have all inspired me so much. The main aspect of their music that has inspired me most is their ability to combine strong melodic ideas with heavy bass sound design. For the last year in particular, my influences have changed a lot however, I'm now being heavily inspired and influenced by jazz music. A band called Snarky Puppy has been my main inspiration for the last year, but a couple of honourable mentions would be Knower and Anomalie.
A few months ago, you put out a live performance video of "State Of Mind". What was the process in creating the video? 
Creating the video was quite a bit of work, but I believe it was definitely worth it for the end result. I travelled to London and filmed it on a rooftop of someone's house. I'd never done anything like it before, and doing the whole song in one take without messing up was a challenge for me, but I'm very happy with the take I got. You can expect many more live videos in 2019.
Two years ago, you released your first album "Inception". Next month, "Uprising (Tier 2)" will be released, with "A New Dawn" part of the set. How has your sound progressed since your first album and why did you decide to release "Uprising" in two parts? 
Since the 'Inception' album, my sound has not only progressed a lot in terms of sound design, but also in terms of musical composition. My song 'State Of Mind' is the best example of a track that is a lot more musically advanced than my music used to be. I am also starting to use a lot more live instruments, and making my music 'playable', in contrast to Inception, where I didn't consider the aspect of playing the music live at all.  Also, 'Uprising' has a real meaning to it, some of the tracks represent a time in my life where I was recovering from a low period (hence the title 'Uprising'), therefore as an album, it means way more to me emotionally than my previous album. The reason why the album is being released in two parts, is because I wanted to have a short break during the summer, to then enjoy the full release in autumn. 
What does the rest of 2018 look like for you?
The rest of 2018 will be release the remainder of my album, maybe releasing a remix or two also. But mainly working hard on the new stuff for 2019, which will be very focussed on live performance.
Favorite Song of 2018 so far: Nothing has dropped heavier than Torque by SPACE LACES for me this year. The sound design on that tune is unbelievable. 
Best track to play at peak time: Teminite – Uprising
Unexpected remix to switch things up: Black Tiger Sex Machine X Lektrique – Death (Teminite Remix)
Vocalist you'd most like to work with: I'd love to work with Foreign Beggars, I have never featured any rap vocalists on my songs so far, but I would like to change that.
Upcoming artist to watch for in 2019: My favourite up and comer who will do great things in 2019 is Chime, he's killing it at the moment.
Take a listen to Teminite's "A New Dawn" below!
Teminite – Facebook / Twitter / Soundcloud