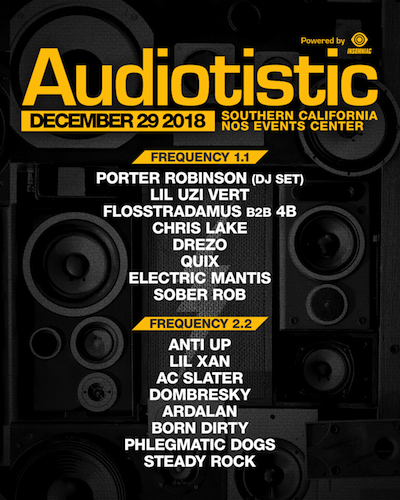 Audiotistic will be making its long awaited return to Southern California on Saturday, December 29th. The Insomniac run festival will be taking place at the NOS Events Center in San Bernardino. The Frequency 1.1 stage will host the likes of Porter Robinson, Lil Uzi Vert, Flosstradamus b2b 4B, Chris Lake, Drezo, QUIX, Electric Mantis, and Sober Rob. Frequency 2.2 stage will see Anti Up, Lil Xan, AC Slater, Dombresky, Ardalan, Born Dirty, Phlegmatic Dogs, and Steady Rock on the decks.
Tickets for the 18+ event are currently $83.99 total, with the festival running from 6pm-2am.
Combo tickets for both Audiotistic Southern California 2018 and Countdown NYE 2018 (taking place on Monday, December 31st) are also available for $179.98 total.
AUDIOTISTIC SOUTHERN CALIFORNIA 2018 TICKETS
COMBO AUDIOTISTIC/COUNTDOWN TICKETS
Audiotistic – Facebook / Twitter / Website
Frequency 1.1 Stage
Porter Robinson (DJ Set), Lil Uzi Vert, Flosstradamus b2b 4B, Chris Lake, Drezo, QUIX, Electric Mantis, Sober Rob
Frequency 2.2 Stage
Anti Up, Lil Xan, AC Slater, Dombresky, Ardalan, Born Dirty, Phlegmatic Dogs, Steady Rock