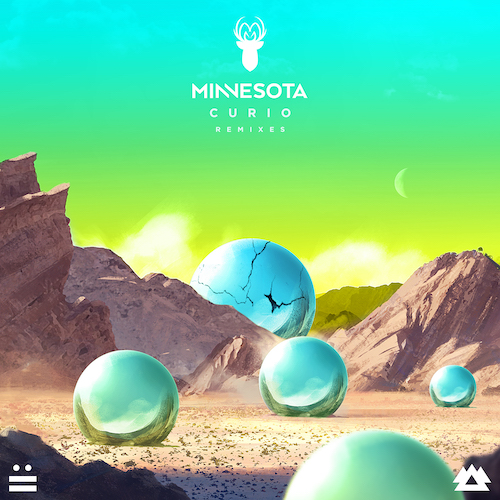 Earlier this year, Minnesota released a striking bass heavy EP titled "Curio" on Liquid Stranger's record label Wakaan. Berkeley based DJ and producer Christian Bauhofer has now put out a stunning remix package featuring the likes of Pigeon Hole, Esseks, PartyWave, and um.., who put their spin on tracks like "Dark Crystal", "Desert Diamond", and "Technique". The remixes use deep wubs and wobbles, warped distortions, and intricate drum work throughout the impressive EP.
Piegon Hole Canadian duo Lee Napthine and Colin McCue previously caught my attention with their "Noise Parade" EP, and be sure to check out "Wolves" if you haven't already. Brooklyn based Esseks, whose real name is Sam Eckstein, put out his own EP a few days ago in "Broken Thought", which was also released from Wakaan.
PartyWave, also known as San Diego native Corey McCarley, released an album called "Meraki" last week, as well as a mix to support his tour of the same name. um.., which consists of Los Angeles based duo Ben Bruce Dylan Gold, had their track "Oatmeal" included in the "We Are Deadbeats Compilation Vol. 3" from Zeds Dead's imprint Deadbeats.
Minnesota – Facebook / Twitter / Soundcloud
Pigeon Hole – Facebook / Twitter / Soundcloud
Esseks – Facebook / Twitter / Soundcloud
PartyWave – Facebook / Twitter / Soundcloud
um.. – Facebook / Twitter / Soundcloud
Minnesota – Curio (Remix Album) Tracklist:
01. Minnesota – Dark Crystal (Pigeon Hole Remix)
02. Minnesota – Desert Diamond (Esseks Remix)
03. Minnesota – Technique (PartyWave Remix)
04. Minnesota – Technique (um.. Remix)