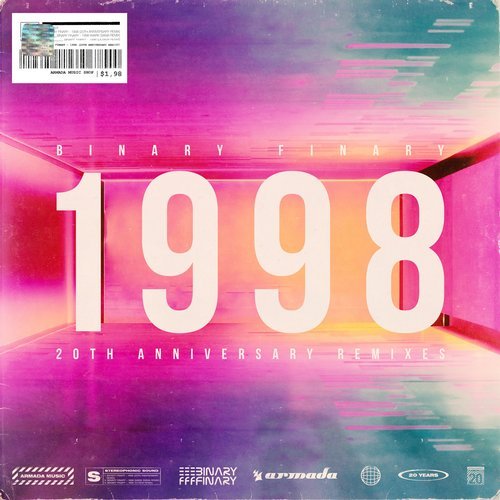 It's been 20 years since Binary Finary released their classic trance anthem "1998", and now we have a handful of remixes to celebrate the 20th anniversary of the influential tune. United Kingdom natives Stuart Matheson and Matt Laws (with Australian Sasha Vatoff later joining as the main performer) launched a Kickstarter last year to create limited edition vinyls of the remixes, and stated that "1998 was the first piece of purely instrumental electronic dance music to enter the UK charts top 40. It cemented itself into history with its unique melody and uplifting energy. 20 years later it still gets crowds jumping around, hands in the air, hairs on the back of the neck standing up."
Accompanying the powerful and striking 20th Anniversary remix from Binary Finary are versions from Mark Sixma and Dosem that were released on Armada Music. The Dutch artist's remix is highly energetic and ready to tear up the dance floor instantly. Spanish native Marc Dosem's version is more on the melodic techno side and perfect listening for both a relaxing night in or getting into the groove at a club.
Binary Finary say that "We are just really humbled that the little project we started all those years ago on a Yamaha workstation is still gaining attention and music plays all these years on. We are excited to hear the new remixes being played out at events across the globe. Really exciting and truly fitting for a 20th birthday party."
Armin van Buuren, Above & Beyond, Andrew Rayel, Ferry Tayle, Tom Staar, and Plastik Funk have all supported the various remixes.
Binary Finary – Facebook / Twitter / Soundcloud
Mark Sixma – Facebook / Twitter / Soundcloud
Dosem – Facebook / Twitter / Soundcloud
Binary Finary – 1998 (20th Anniversary Remixes) Tracklist:
01. Binary Finary – 1998 (20th Anniversary Remix)
02. Binary Finary – 1998 (Mark Sixma Remix)
03. Binary Finary – 1998 (Dosem Remix)