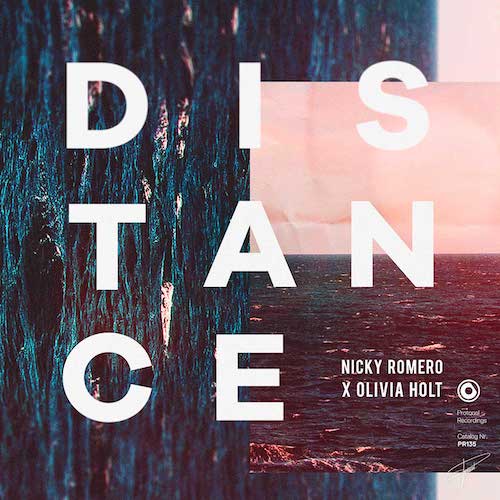 Nicky Romero and Olivia Holt's "Distance" is a soft and melodic track that will start off the week just right. The Los Angeles based artist has been seen on Disney shows such as Kickin' It and I Didn't Do It as well as Marvel's Cloak & Dagger, in addition to having her own solo music career. The tropical house vibes and rhythmic percussion provided by Nick Rotteveel with the captivating and heartfelt vocals of Holt give this song the catchiness needed to be heard on the radio.
When asked about working with Holt, Romero tells Billboard Dance that "I'm really proud of this collaboration with Olivia Holt. She has an incredible voice and has been so supportive throughout the entire creative process. The emotion in 'Distance' really connected with me from the first time I heard the demo. I know the fans will be able to connect in their own way, which is what inspires me in the first place." The new song marks the first release of 2019 for Romero and the third overall from his Netherlands based imprint Protocol Recordings.
Romero has also announced the return of his residency at Las Vegas nightclubs Hakkasan and Omnia, saying "I couldn't be more excited to return home to Omnia and Hakkasan in 2019. The energy and fans in these clubs is unmatched and the entire team involved create such an incredible experience for the fans and artists. I'm honored to be playing along side my friends Tiesto, Zedd, Steve Aoki, Martin Garrix, Calvin Harris and the entire artist line up. These will be some of the best performances of my career and I'm looking forward to kicking it off this spring."
Dutch native Romero played the song on his radio show Protocol Radio 337 last week.
Nicky Romero – Facebook / Twitter / Instagram / Soundcloud
Olivia Holt – Facebook / Twitter / Instagram / Soundcloud