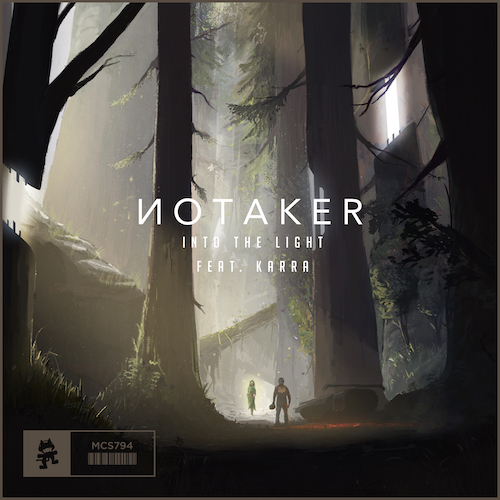 The first time that St. Louis native Notaker and Los Angeles based vocalist KARRA worked together was on "Who I Am" with Declan James from his 2017 EP "Genesis". Fifteen months later, David Nothaker and Karra Madden come together again for "Into The Light", released by prominent Canadian record label Monstercat. The light and airy vocals of KARRA are deftly combined with the ethereal and magical soundscapes provided by Notaker.
The talented producer has previously caught my attention with songs like "The Storm", "Shimmer", and "Infinite". KARRA's notable voice can be heard in tracks like "Smoke & Fire" with Cuebrick and "Traces" with Apek, and also as a songwriter on Gareth Emery and Standerwick's "Saving Light" featuring HALIENE.
Regarding "Into The Light", Notaker says that he's "Beyond proud to finally share one of the most ethereal pieces I've ever created. When writing 'Into the Light' I felt almost like I was wandering through an other worldly enchanted forest. Using the sounds of birds chirping and footsteps through the grass, I wanted to give the listener the experience of being in that place I imagined when writing this. I hope you guys enjoy this beauty."
Notaker played the song on Dancing Astronaut's The Radar 120, and it was also featured on Monstercat's Call of the Wild 233.
Notaker – Facebook / Twitter / Instagram / Soundcloud
KARRA – Facebook / Twitter / Instagram / Soundcloud